Texas Football: Struggles Mack Brown and Longhorns Must Overcome in 2012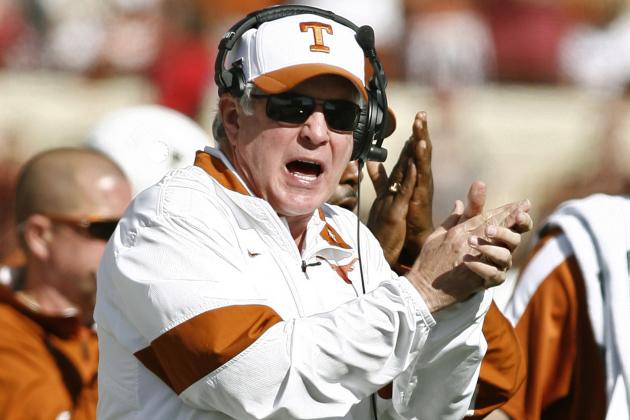 Erich Schlegel/Getty Images

Every team in the nation has its vices, whether it be receivers with butterfingers or defensive players that miss tackles, that make fans and coaches alike cringe. The Texas Longhorns are no exception to this phenomena and have supplied their fans with plenty of those cringe-worthy errors over the past two seasons.
After the oftentimes painful rebuilding process that has taken place in Austin, this season is already being touted as the year Texas begins to reclaim its spot as the country's premier program. But first these issues that have plagued this team of late need to be resolved, or else Mack Brown could find his head on a spike outside DKR before December.
Have yourself a look at what Brown and his Longhorns need to improve on to keep his head off that proverbial spike.
Begin Slideshow

»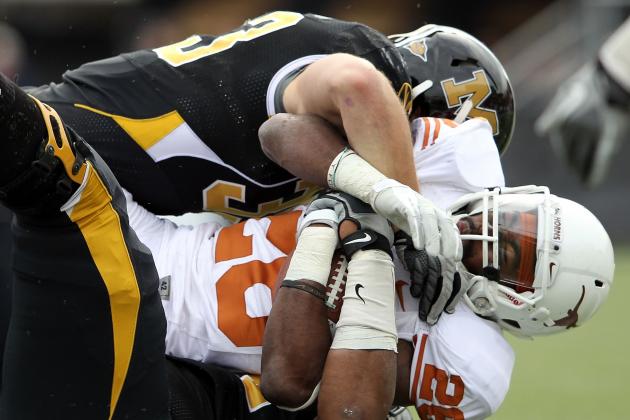 Jamie Squire/Getty Images

If there is one thing above all that Texas needs to improve upon this season, it is its offense in the red zone, where it scored a touchdown about as often as Nickelback gets a "like" on Facebook.
In 2011, the Longhorns ranked ninth in the Big 12 in red-zone offense by scoring an abysmal 71.7 percent of the time and scoring a touchdown only 50.9 percent of the time. It's especially bad when you note that Texas turned the ball over on downs seven times down here, meaning they could not even do it when they were desperate.
Plain and simple, this degree of futility on the opponent's doorstep is completely inexcusable. Not only is not being able to score in the red zone a significant blow to the offense's confidence and rhythm, but the defense as well because it has to go out there with the feeling that it has no room for error.
Somewhere between the benefit David Ash gets from a full offseason and the hope that the Longhorns will find a player that can run the Wildhorn—2011's most effective formation in the red zone—Texas should be able to find more success when they are knocking on the door. If not, things could get ugly real quick.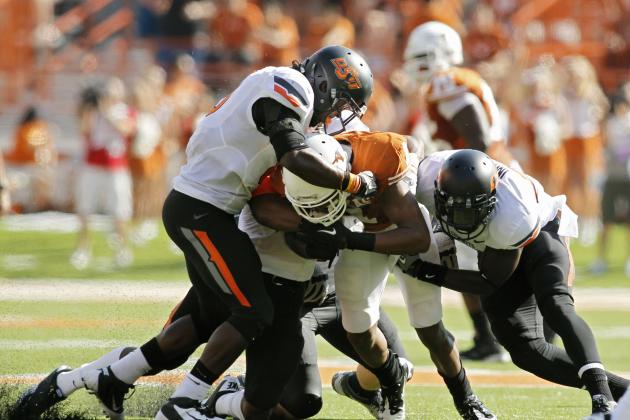 Erich Schlegel/Getty Images

No matter how it comes about 3rd-and-long is more often than not a drive killer, and the Longhorns need to avoid it as much as possible if they hope to live up to the expectations in 2012.
Much like it was in the red zone, Texas struggled on third down all through last season as they converted only 40.1 percent for a first down. Much of these struggles on the most critical down can be attributed to the fact that Texas faced a lot of 3rd-and-long situations, which are especially hard for a team that is built around the run.
Though the running backs are talented enough to rip off a big-gainer on 3rd-and-long once in a while, converting a 3rd-and-long usually falls on the quarterback. This is fine for a team such as USC because it has Matt Barkley, but David Ash is simply not good enough to consistently deliver on obvious passing downs. Even further this is where he is most likely to throw an interception, which was a problem for him last season.
This is not a team built to consistently handle long third-down situations, so first and second down need to be positive. This means the offense needs to show supreme discipline by avoiding costly penalties and stupid mistakes like botched hand-offs and fumbled snaps. For the coaches, this means they need to call pass plays on the earlier downs to spread the field for the running backs.
Third-and-long situations are unavoidable throughout a season, but minimizing mental mistakes and avoiding being one-dimensional/predictable will keep them to a minimum and will greatly help this team.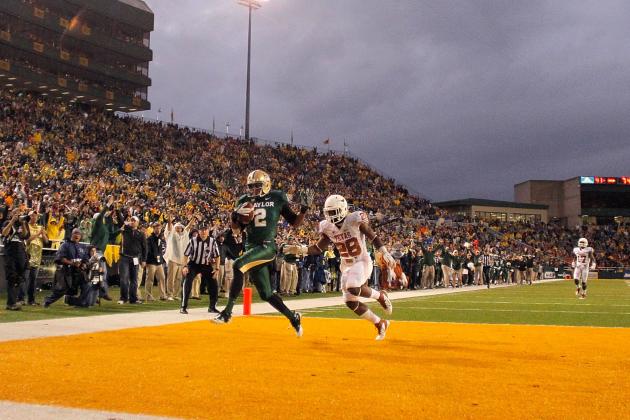 Sarah Glenn/Getty Images

Hard to find something for which to harp on this defense, but if the Longhorns' loaded defense has a weakness, it is that it has given up big plays.
If last season's conference-leading defense has a wall of shame, it most definitely includes Kendall Wright's 59-yarder from RG3, Dominique Whaley's 64-yard run and Jeremy Smith's 74-yard run to name a few. As good as this defense is, it is very vulnerable to giving up the big play due to its aggressive nature and the lack of help after a tackle is missed or broken.
The aggressive nature of this defense is what makes it so good, so you cannot fault it for that or even pretend that you want it to change. However, these big plays need to at least be reduced and coordinator Manny Diaz knows it.
Giving up the big play is another one of college football's unavoidable occurrences; it is more a matter of minimizing how often they do happen. Most of the onus of preventing big plays falls on the secondary, but the front seven also needs to do its job in containing opposing players before they reach the second level. At that point, anything can happen.
With the beatdowns at the hands of Baylor and OU most likely seared in their brains forever, there is little doubt that these defensive players and coaches will shore up in the big play department this season.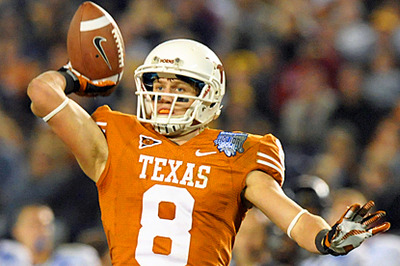 US Presswire
Only one year removed from the Greg Davis era, the last thing Texas fans need to see this year is another offense riddled with oddly-timed bubble screens and double-reverses that lose a mile.
For all of his strengths as an offensive mind, the one thing to worry about with offensive coordinator Bryan Harsin is him into getting too "cute" with his play-calling. To his credit, most of what he called worked to perfection and made WR Jaxon Shipley a cult favorite to take over the quarterback position.
Like last season, with the quarterback position still very iffy, 2012 is likely to feature some more of Harsin's elaborate displays of trickery. This is great so long as it does not get out of hand, as it did with Davis.
At the same time, Harsin should be able to be able to get the ball moving in a more conventional manner thanks to the presence of three very talented running backs. On top of that the Wildhorn should be back at Harsin's disposal as well, which will allow him to use that trademark creativity in a less risky manner. Basically, the offense's ability to score touchdowns should be much less dependent on a wide receiver's ability to throw in 2012 than it was in 2011.
This is by no means a knock on Harsin or his play-calling. Just a statement that this team should be good enough to allow Harsin to keep more of the smoke and mirrors in his back pocket until they are more useful (think 2007 Fiesta Bowl).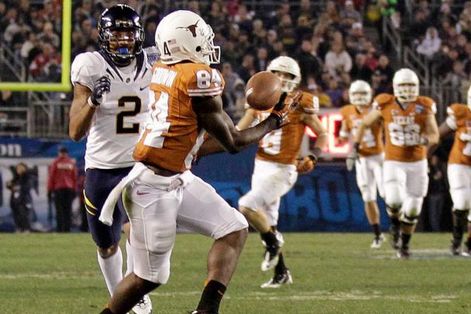 Lawrence Peart/Associated Press
One area Texas desperately needs to improve this season is dropped passes by the wide receivers.
There is nothing more frustrating than watching a quarterback—especially a very average one like David Ash—throw a perfect rainbow a receiver only to watch the intended target let it slip through his grasp. Two of the main culprits in this department were Marquise Goodwin and Mike Davis, who are supposed to be the leader of the receiving corps.
Dropped passes are back-breakers. They frustrate the receiver, they frustrate the fans, they frustrate the coaches, but most of all they frustrate the quarterback and take a chunk out of his confidence. This passing game will have enough problems this season without David Ash losing confidence in himself because his receivers drop the ball. Also consider that this passing game is likely to take the lion's share of the criticism when this team takes a loss, so the last thing they need is to fan those flames by dropping balls.
At least this issue is easily identifiable and has a seemingly simple solution: catch the bleeping ball.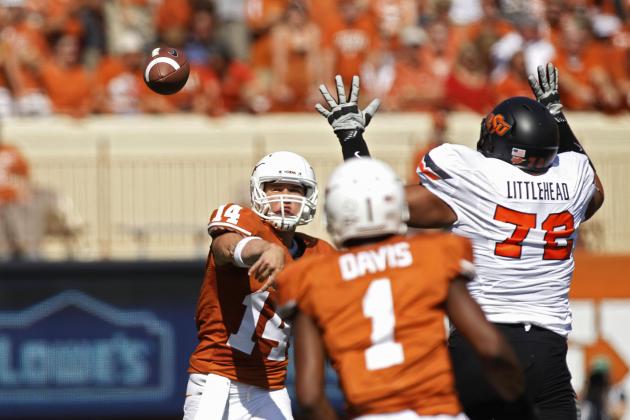 Erich Schlegel/Getty Images

Unfortunately for David Ash, his entire season will be judged on how many times he throws the ball to the other team.
Last season, the tandem of Ash and Case McCoy combined for 15 interceptions against only 12 touchdowns. And considering that these two were not called upon to throw near as often as quarterbacks with a comparable number of picks, this needs to be shored up.
Between a defense that depends on the freshness of its members and a running back group that is bound to fumble the ball due to the sheer volume of touches, there is just simply not much room for error from the quarterback position. This is especially true because there is not much reason to be believe that any of Ash's backups will be able to do much better should he implode like Garrett Gilbert did last season.
This program and its fans were spoiled by Colt McCoy's insane level of efficiency, which may or may not be fair to his successors. Nonetheless, Ash has to grasp that he does not need to force things with the talent he has in his backfield and on the opposite side of the ball. In other words, he just has to be perfectly average. That's it.