Tottenham Hotspur's Conflict of Interest: Finding a Head Coach, Not a Manager
June 19, 2012

Michael Regan/Getty Images
In a sport filled with large egos from players to managers to owners, Tottenham appear to be trying to circumvent (or circumcise, depending on your view) this seemingly understood philosophy in their managerial search.
In the post-Harry Redknapp landscape, Chairman Daniel Levy appears to be reaching back in time. He's looking to find a manager who doesn't mind just handling the players at his disposal, rather than having a significant say in who walks through the club's doors.
In a sense, it makes sense because of UEFA's overbearing FFP (Financial Fair Play) rules set to "reign in" club spending. With a sporting director back in place, counting pennies becomes a factor in players coming and going.
In another sense, it's a bit emasculating to managers within the realm of football. Managers often have a specific goal in mind when the transfer window opens as to what the clubs needs to do to strengthen the squad.
Without the ability to have a significant say in matters, a manager might often feel like he's being given a do-it-yourself kit with no instructions.
Certainly not all sporting directors (or directors of football) are nearly as involved in the team building or structuring end of things. But, as Liverpool's run with Damien Comolli showed, getting the wrong pieces can have a disastrous effect on the squad.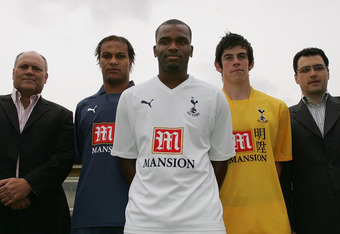 Hamish Blair/Getty Images
Tottenham fans might remember what that feeling was like. Martin Jol was aggrieved while Spurs manager, then sporting director, Comolli ignored Jol's requests for players in specific areas.
For sure, Comolli's transfer dealings were hit and miss. This 2010 article detailed (at the time) the current prices that players bought under Comolli would fetch on the transfer market.
If the goal was to bring in a positive revenue stream or be close to even, then Comolli would be labeled successful. Often that success was on Comolli's scouting rather than Jol or Juande Ramos' wanting of certain players.
However, it took time for some of the players on the list of Comolli signings to make good on the promise they showed elsewhere. While this is fine for Levy or the next sporting director, the manager has to use the squad in his possession to make good on the pitch.
When Redknapp took charge, he would only take the position if Comolli and the sporting direct position was eliminated from the club. Levy more than likely swallowed hard and pulled the trigger.
With Redknapp gone, Levy would not miss the chance to reinstate a sporting director.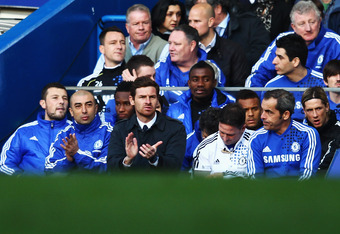 Clive Mason/Getty Images
Therein lies the main conflict: Can Tottenham find a manager that can coexist with the model that Levy wants to use?
Already Roberto Martinez and David Moyes would seem to be out of the running given the very nature of the setup presented.
Martinez is believed to have turned down the Liverpool manager's position due to the proposed management structure being implemented by Fenway Sports Group.
Moyes, meanwhile, would suffer the cruel irony of having left a place with no money to buy players with and instead having plenty of money but little say in proceedings, a track that seems incredibly unlikely to suit the Everton boss.
Thus, it will fall to less forceful managers than those two to fill the position. Andre Villas-Boas has been mooted as a possible successor, as has Laurent Blanc.
AVB has obviously got experience dealing with players being forced upon him (Fernando Torres, anyone?) while Blanc may be alright with the idea considering he is currently the French national squad boss and not in a management position at a club.
What's worrying is that it's simply more a matter of X's and O's as opposed to Johnny's and Joe's for the manager. Not many managers could stand the idea of having as little say as likely to be the case at Tottenham.
A failure to get rolling right out of the gates will be a sign that the squad members are not in the right frame of mind and it could easily make the transition process extremely difficult before the summer transfer window closes.
It is a tricky tight-rope for all parties involved, one that Tottenham must get right or risk becoming the next Aston Villa or Everton, and falling out of line with the rest of the clubs at the top of the table.