US Open Golf 2012 Leaderboard: 17-Year-Old Beau Hossler Proves He Belongs
June 17, 2012

Ezra Shaw/Getty Images
There are many familiar names near the top of the U.S. Open leaderboard, but one that stands out is amateur Beau Hossler.
The course at Olympic Club is playing as difficult as any tournament in recent memory. Some of the top players in the world missed the cut, while others are struggling to avoid double bogies.
However, the 17-year-old Hossler is performing as well as anyone competing this weekend.
He turned some heads on Thursday after he finished with a par score of 70. As expected, he faltered a little on Day 2, but held his own with a 73. Simply making the cut would have been enough to leave satisfied, but the young man has kept performing.
With a third-round score of 70, Hossler finds himself only a few shots off the lead on the final day of the U.S. Open. Not bad for a high school junior that finished second in his state tournament.
While his score is impressive, the most surprising aspect of Hossler's game is his attitude. On the biggest stage of his career, he has remained calm and collected. With plenty of opportunities to collapse, he never did. 
In Round 2, he finished the front nine four strokes over par. However, eight pars and a birdie on the back nine kept him alive. On Saturday, the cameras started to follow the youngster as he became a national phenomenon. The bogeys came, but he then followed every one of them with an immediate birdie.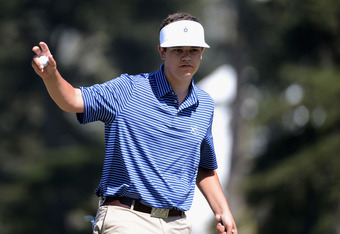 Harry How/Getty Images
Hossler has shown with his game that he can be a successful professional. Although his accuracy has not been great, he continues to show that he can save himself from a variety of situations. He has a great ability to get greens in regulation and has sunk long puts throughout the tournament.
As he gets older, he should get stronger and more consistent. At that point, there is no limit as to how good he can become.
Coming into the Open, there was a lot of talk about 14-year-old Andy Zhang. However, while Zhang missed the cut, this tournament did highlight a great teenager.
If he can keep his confidence, Hossler will be a fixture at major tournaments for years.