New York Mets: What We Have Learned About the Mets in Latest Month of Play
June 16, 2012

J. Meric/Getty Images
From ESPN's Sports Center to the subway streets of Manhattan, no one believes in the New York Mets.
I've said it before, and I'll say it again. Following Johan Santana's terrifically inspiring performance against the St. Louis Cardinals on June 1, general coverage of the New York Mets is still held with a grain of salt.
As Santana became the first pitcher to ever throw a no-hitter whilst wearing the blue and orange jersey of the New York Mets, ESPN was given a perfect opportunity to perhaps bridge into a profile segment on the exciting and lovable group of ballplayers who compose one of the most compelling teams in 2012 baseball.
Instead, ESPN focused their coverage on the controversial call of ruling Carlos Beltran's would-be double a foul ball.
Columnists and media pundits dwelled on the "missed call" and pointed to other instances of botched officiating in the history of the no-hitter. Rather than looking at the other 26 hard earned outs Santana recorded in his more than impressive showing, it was negativity that highlighted this performance.
After 50 years of hardship and an improbable run of flagship pitchers unable to close out the historic performance needed for a no-hit showing, this is what the folks at ESPN chose to focus on?
In the 2012 New York Mets, you have a group of young players rebounding from organizational financial crisis and the loss of star player Jose Reyes to a divisional rival.
With the guise of collaborative effort at the forefront of this team's identity, the team is coming together and approaching each game with confidence.
Perhaps that's why this team has actually been successful.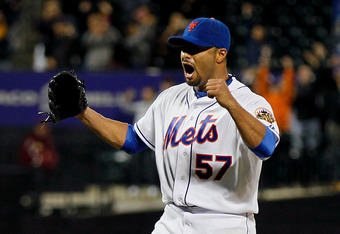 Mike Stobe/Getty Images
The players on the current team have certainly not been fans of the New York Mets forever, and none of them knew that they would be picked up by this particular organization when they declared for the MLB draft.
But, what brings them together is that they now put on the orange and blue hat at the beginning of every day of work.
This is their franchise, this is their team and many of them feel as if this their times.
Even if no one else in the world believes it.
When Johan Santana threw his final changeup of the June 1 game, a rush of electric emotion came over my being. I felt invincible. My father and grandfather had both gone their entire life without seeing a no-hitter by their beloved Metropolitans, and it was beginning to feel as if it was never going to happen.
Until it finally did.
As the entire team rushed the field and players like R.A. Dickey flashed their smiles of compassionate and poetic understanding, it all began to sink in.
Maybe this team could be for real.
Quickly, from my fraternity house in Eugene, Oreg., I put down my slice of authentic New York pizza I had happened to order for the game and frantically called my dad.
"LET'S GO METS! LET'S GO METS! LET'S GO METS!" were the words that carried over the phone from the Pacific Northwest to my home in Southern California.
My grandpa was the next one to hear my thrill. It's just been one of those years for the Mets.
There are two extra wild card positions that can earn a team a spot in the playoffs this season. With their winning record (35-30), the New York Mets have as good of a shot at clinching the inaugural positions as anyone else in the National League.
If that's what this season can come down to for the club, there is more than enough reason to celebrate.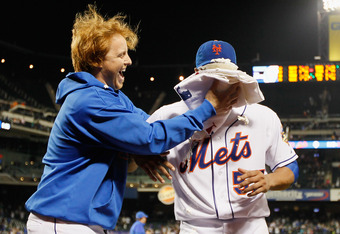 Mike Stobe/Getty Images
Coming into the Subway Series against the New York Yankees, the Mets had been working to solidify their identity as a team. Centered around youth and strong pitching, their thoughtful resilience was beginning to unfold as a story central to the narrative of the 2012 MLB season.
Unfortunately, the Yankees swept the Mets.
Much of the momentum they carried was beginning to feel as if it may fizzle and fade, as Santana gave up two homeruns to Robinson Cano in a crushing 9-1 defeat.
The Mets went on to a 4-2 loss by Dillon Gee and a late 5-4 loss surrendered by Dillon Gee.
The most hyped game of the season was arguably an interleague battle between sudden star and New York Mets ace R.A. (C.Y.) Dickey (9-1) and David Price (8-4).
The two pitchers led their respective league in wins coming into the game, but that wasn't going to stop Dickey. With confidence, the Mets offense came into the game and shelled the Rays for a wildly impressive nine-run performance.
In the game, Dickey took command of the 2012 MLB record for most consecutive scoreless innings pitched (32.2 IP) while setting the franchise record process.
He didn't surrender a walk, which is wildly impressive for a knuckleball pitcher. He also had his career-best performance in strikeout's with 12, inspiring the @RADickheads twitter account to spell his name with slightly too many K's.
Perhaps the most impressive part of his day was the fact that he threw his second career one-hitter. Manager Terry Collins quickly tried to get the Mets their second no-hitter in two weeks as he appealed the ruling of B.J. Upton's infield single as an error on behalf of David Wright.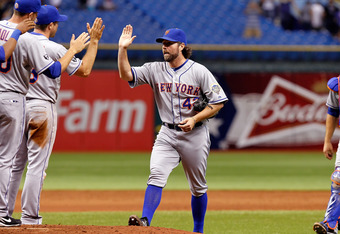 J. Meric/Getty Images
Either Collins was specifically asking for the MLB to continue to help write the "Amazin' Mets 2012" movie, or he was blatantly asking the MLB to remind the organization that it doesn't believe in them.
Either way, it was an interesting decision for the Mets skipper.
"If anybody deserved a no-hitter or a perfect game tonight, it was him," Collins told ESPN.com.
Collins was only echoing the sentiments of the rest of the country, who all seem to be riding his bandwagon. This ESPN article, for instance, discusses his Cy Young candidacy.
As does this article on Bleacher Report.
Meanwhile, we can only assume that Dickey will challenge San Francisco Giants pitcher Matt Cain for the starting spot on the National League squad in the upcoming All-Star Game.
"He's at a different level right now. It's amazing what he's been able to do," Wright said. "It just seems like each outing he's getting better and better. It's fun to be a part of."
First he climbs a mountain. Then he publishes the beautifully written memoir.
Now this.
Dickey has been unstoppable as of late.
And, in my opinion, so have the Mets. They have been a pleasure to watch, sans the poor play from Mike Nickeas and the injury troubles of Jason Bay.
The team is coming together. Kirk Nieuwenhuis is finding his swing and hitting homeruns, Scott Hairston is hitting .428 with five homeruns in his last 11 games and the Mets are rolling.
The Mets are currently in third place in the NL East, but that has proven to be one of the more competitive divisions in baseball.
Behind only the San Francisco Giants for the first wildcard spot with 35 victories, they're now tied with the Atlanta Braves for rights to the second spot.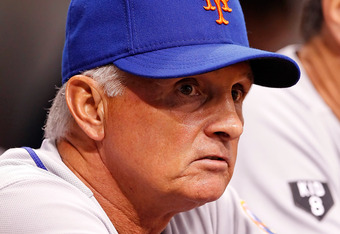 J. Meric/Getty Images
The Mets are playing like a team this June, even if no one believes it.
We've learned lots about the Mets so far in June, but what is perhaps most impressive is the way that they've been able to rally around the team and play like a real club.
As long as they continue their hot streak into the second half of the season, we may be seeing the Mets in the playoffs for the first time in quite a few years.