NBA Finals 2012: Changes Russell Westbrook Must Make to Get Back on Track
June 17, 2012

Ronald Martinez/Getty Images
Russell Westbrook has received a lot of unnecessary criticism for his performance over the last two games, but he can still make some adjustments to get off to better starts and shoot more efficiently.
Critics were quick to blame Westbrook for the loss in Game 2, but the stats do not support this mudslinging. 
Westbrook went for 27 points, eight rebounds and 11 assists in Game 1. In Game 2, he again posted 27 points and eight rebounds, as well as dishing out seven assists. 
The statistics that justifiably draw criticism are his shooting percentages. He has shot 40 percent from the field and 20 percent from behind the three-point line this series.
Here are the three adjustments that Westbrook can make in order to shoot more efficiently in Game 3 and for the remainder of the series.
Defer to Kevin Durant Early
Now that the Thunder are playing on the road for the next three games, it will be important to get Kevin Durant going early. 
Westbrook is a fantastic player, but Durant is the best player on the Thunder. For the bulk of the first quarter, the Thunder should look to get Durant in isolation or pick-and-roll situations. 
If Durant heats up early, space will clear up for the rest of the Thunder players. The extra room will benefit Westbrook more than any other player and he will finally get off to a quality start.
Westbrook went 1-4 in the first quarter in Game 1 and 1-6 in the opening period of Game 2. If he simply shoots less in the first quarter and lets Durant have those opportunities, both Westbrook and the team will get off to a better start.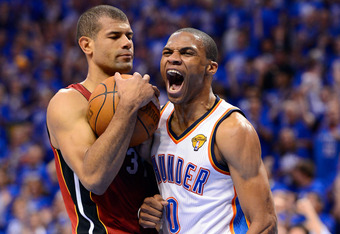 Ronald Martinez/Getty Images
Be More Patient
Westbrook has simply been forcing too many shots in the first two games.
His finished just six of his 13 shots at the rim in Game 2, according to HoopData.com, and finished with an overall shooting percentage of 38.5 for the game.
Westbrook can still be an effective player when his jump shot is not falling, but he needs to show more patience and savvy. The Heat easily read Westbrook's intentions when he put his head down and charged towards the basket, and multiple defenders often met him at the rim. 
He needs to slow down and read the defense better going forward, and be wiser about when he decides to drive.
Stop Shooting So Many Three Pointers
The simple truth is that Westbrook is not a good three-point shooter. 
He shot just 31.6 percent from distance this year and is a career 28.9 percent shooter from beyond the arc. 
This series, he has jacked up 10 three pointers and made just two. Westbrook has never shot efficiently from deep range, and this is not about to change this series. 
He needs to limit the amount of three-pointers he attempts going forward. Doing this, and the other two things mentioned, will ensure that he does not waste as many opportunities. This will ultimately help the Thunder win games.