MLB Trade Deadline: NL Central Buyers and Sellers
Mike Ehrmann/Getty Images
As July 31st approaches, teams in the National League Central will evaluate their team and need to decide whether to buy or sell at the MLB trade deadline.
With the addition of a second wild-card team in each league, more teams will still be in the race and be looking to buy. For the teams that are out of the race already, the increased demand for their players will help them bring in bigger packages than what they would have gotten in previous years.
The NL Central is one of the weaker divisions in baseball, which makes it difficult to figure out who is still in contention and who is out of it. It will be difficult for any team in this division to outlast any team from the NL East for the two wild-card spots, and San Francisco will also look to take one of those two spots.
So far this season, the St. Louis Cardinals and the Cincinnati Reds have been atop the division with the Pittsburgh Pirates not far behind. The other three teams in the division will need to get hot to get back into contention.
Who in the NL Central should look to buy at the trade deadline?
Which teams need to consider trying to trade away veteran players?
The trade deadline rarely disappoints, but the addition of the second wild-card team has less teams selling.
*Stats are from ESPN.com as of 6/17/2012
Cincinnati Reds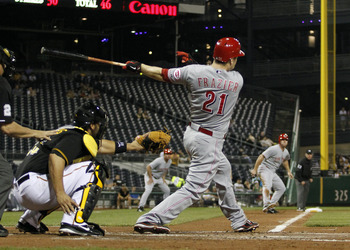 Justin K. Aller/Getty Images
38-27
First place in NL Central
Verdict: Buyers
It is difficult to figure out what a team like the Reds need to do in order to be playing in October.
After a tough loss last Sunday to Detroit, Cincinnati has won six straight games with good pitching and timely hitting even without two of their starting outfielders. For a while, the Reds lived and died by the home run. Now they are starting to get hits with runners on base and scoring runs without the long ball.
They are starting to get healthy and may not need to make any moves by July 31st. With third baseman Scott Rolen returning this week, rookie Todd Frazier will see time not only at third but in left field as well. He has been surprisingly productive, and the Reds need to find a way to keep him in the lineup with Rolen back.
They boast arguably the best bullpen in the National League and may get better when missing pieces return. Right-handed pitcher Nick Masset and left-handed specialist Bill Bray are on their way to returning to the bullpen after spending most of the season on the disabled list.
According to MLB.com: In the NL, Cincinnati's bullpen has the lowest ERA, tied for most wins, and has given up the fewest hits. If they did not play half of their games at Great American Ball Park, their numbers might be even better.
With a four-game lead in the NL Central, the Reds may look to improve their bench at the trade deadline. Right now, the bench provides very little production late in games. Frazier, rookie Devin Mesoraco, Ryan Ludwick, Miguel Cairo and Wilson Valdez make up Cincinnati's bench. Outside of Frazier, the rest of the bench has struggled to hit above .200.
Dusty Baker likes having a left-handed pinch-hitter but has yet to find a productive one this season. With the lineup and bullpen set, the Reds' only need appears to be a bench player. They do not have a lot of space on their payroll to add players, so they will look for a cheap option.
Pittsburgh Pirates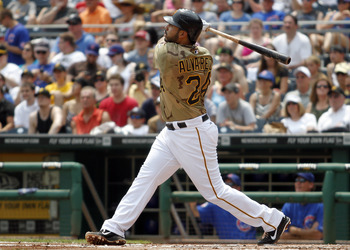 Justin K. Aller/Getty Images
34-31 ( four games behind)
Second Place in NL Central
Verdict: Buyers
After a second straight season with a strong start, Pirates fans are hoping the team will have its first winning season since 1992.
Last Sunday, the Pirates moved into a tie atop the NL Central but lost four games in the standings in the past week. Now Pittsburgh needs to figure out a way to end their streak of losing seasons.
They made a couple of moves in the offseason to bolster their pitching staff by acquiring A.J. Burnett from the Yankees and signing Erik Bedard. With one of the best bullpens in the National League, the Pirates have a starting rotation that has been surprisingly good.
The team's biggest problem has been their inability to score runs. Outside of Andrew McCutchen and Neil Walker, this team has trouble getting on base. The Pirates are not a team that has offensive stars in their farm system, so they will need to acquire players to improve their offense.
Pedro Alvarez, a former top prospect, leads the team with 12 home runs, but his batting average was not above .200 until today. McCutchen leads the team in just about every other offensive category.
With Clint Barmes struggling offensively and defensively, the team's biggest need is at shortstop. Eight errors and a .188 batting average has Pittsburgh looking to replace Barmes in the lineup. Josh Harrison has been a slight upgrade and could be a good player, but the Pirates are finally in contention and need to make a big trade.
With their pitching, Pittsburgh could become a legitimate contender with a couple moves to improve their offense. They may not make the playoffs this season, but the possibility of a winning season should encourage management to make some changes to the current roster.
St. Louis Cardinals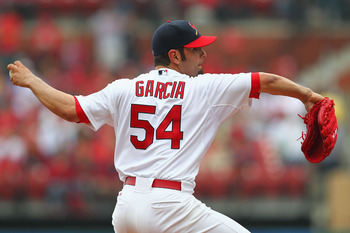 Dilip Vishwanat/Getty Images
34-33 (five GB)
Third place in NL Central
Verdict: Buyers
The defending World Series champions have battled injuries throughout the first half of the season, but they remain in contention in the NL Central. After spending the majority of the first two months in first place, the Cardinals have started to struggle recently.
With Lance Berkman, Chris Carpenter, Jaime Garcia and other key pieces missing, the Cardinals need to decide how long they can wait before they make a move. Carlos Beltran (.309 batting average, 19 home runs, 48 RBI) was a great signing in the offseason, and Allen Craig (.340 batting average in 27 games) has been a solid replacement at first base.
In St. Louis, the offense has not been their problem. They could improve certain spots in their lineup, but it has been one of the best in the league this season. Kyle Lohse and Lance Lynn are the only starters with an ERA under 3.00. The team has had to deal with injuries in their pitching rotation and need to improve if they hope to get back to the postseason.
Before his injury, Garcia struggled on the mound. In 11 starts this season, he went 3-4 with a 4.48 ERA after being one of the Cardinals' best pitchers last season. After undergoing Tommy John surgery last year, Adam Wainwright has been just as disappointing with a 4.75 ERA. He has shown signs of returning to his old form, but he has not consistently pitched well over the period of a couple starts.
Even with Lynn and Lohse off to great starts this season, the Cardinals have too many holes in the rotation to make the playoffs. Jake Westbrook has been just as shaky as Garcia and Wainwright, and the team has dealt with too many injuries to the front end of their rotation.
The team expected Wainwright to struggle after having major surgery last season, but Carpenter and Garcia will be mysteries when they return from the disabled list.
With a lineup that ranks among the league's best, St. Louis needs to look to improve their pitching. The Cardinals made great moves at the trade deadline last year, so I expect them to be busy again this season.
Milwaukee Brewers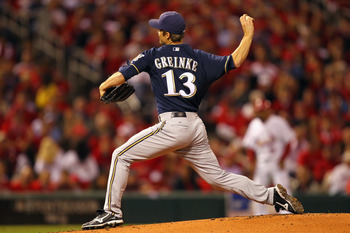 Dilip Vishwanat/Getty Images
30-36 (8.5 GB)
Fourth place in NL Central
Verdict: Sellers
Last year's NL Central champions are too far back in the division to even think about making some trades to get back into contention.
Every year, teams come back from large deficits to make the playoffs. After losing Prince Fielder in the offseason, it seems like the Brewers are out of it already. Ryan Braun and Corey Hart have provided the most offensive support for the team, but the rest of the lineup has not produced consistently.
Coming off of an outstanding 2011 season, Rickie Weeks has taken a big step back. Sporting a .177 batting average, he has not helped the Brewers overcome the loss of Fielder. A season after hitting above .300, Nyjer Morgan has been almost as disappointing as Weeks. He is hitting a mere .229 while hitting near the top of the lineup. Both players provided lots of energy for Milwaukee last season but are not being as effective this year.
The Brewers need to look at the market and see what they can get for some players. Starting pitcher Zack Greinke, a free agent after this season, will be their most valuable asset. The former Cy Young winner boasts a 7-2 record and a 2.96 ERA, but he has not committed to staying with the team for the future.
Greinke has been a top pitcher in the league for years, and the Brewers normally win when he pitches at home, where he is 15-0 the last two seasons. Milwaukee could keep him and hope he re-signs with the team, but a team could offer them a deal too good to refuse.
Despite a 5.06 ERA this season, left-handed starter Randy Wolf may generate some interest around the league. His career ERA is over a full run lower, and he would bring veteran leadership to a team making a run at the postseason. With a $10 million team option next season, the 35-year-old pitcher will most likely be moved. He will not bring the same type of talent Greinke would bring, but it would be smart for the Brewers to get what they can for him.
Trailing by so many games this early in the season, Milwaukee needs to start thinking about the future. If they can get Greinke to agree to an extension before the deadline, they will keep him. If not, they need to see what they can get for him.
Houston Astros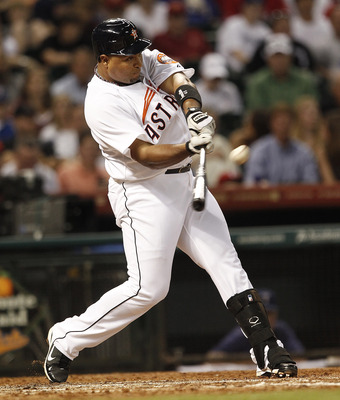 Bob Levey/Getty Images
27-39 (11.5 GB)
Fifth place in NL Central
Verdict: Sellers
Just like the past few seasons, the Astros will be selling come July 31st. With a couple attractive veterans, they need to pull the trigger on some deals.
Even though he has had a couple injuries this season, first baseman/left fielder Carlos Lee continues to draw interest from contending teams. While he has only four home runs this season, he has a .301 batting average with great plate discipline. In 50 games this season, he has 15 walks and only 11 strikeouts.
After being activated from the disabled list on Sunday, the Astros would be smart to trade him soon. With a good batting average, his trade value can only go down at this point. Another injury would diminish the value they would get in return, and a team who needs a right-handed hitting left fielder, like Cleveland, may be willing to give up some prospects right now to help fill some offensive needs.
Left-handed starting pitcher Wandy Rodriguez may be their most valuable asset. Playing on a losing team, his 3.35 ERA is impressive. Even with his team's lack of success, the past three seasons he has pitched around 200 innings each season.
Due $13 million next season and a $13 million option in 2014, Rodriguez will have to be traded to a team with room on the payroll for a high-priced pitcher. At 33, some teams may not be willing to trade too much for him. The Yankees have been linked to him in the past, but they may not go after him this season with their starters pitching well (via Hardball Talk).
Closer Brett Myers is another potential candidate to be traded. A former starter, he switched to being the closer this season. With a 1.99 ERA and no blown saves, he may be an attractive option for some teams. He can close out games, pitch in the middle or even make a spot start.
With his move to the bullpen, he agreed to restructure his contract. He will make $11 million this season and could potentially make $10 million next season. He has a vesting option for next season that requires him to finish 45 games this season. That being said, the team who trades for him would more than likely not use him as their closer.
Houston started the season 22-23, but they followed it up with an eight-game losing streak. By falling out of contention that quickly, they are now trying to see what kind of value they can get in return for their veteran players.
Chicago Cubs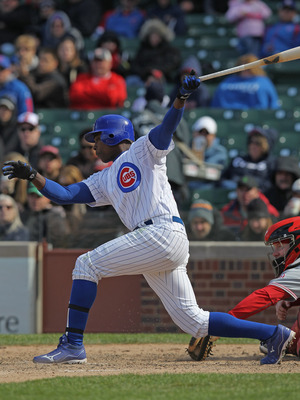 Jonathan Daniel/Getty Images
22-44 (16.5 GB)
Sixth place in NL Central
Verdict: Sellers
When Theo Epstein came to Chicago, he started a rebuilding process. With the season already over for the Cubs, he needs to decide what players are worth keeping.
By trading setup man Sean Marshall and outfielder Marlon Byrd, the Cubs are committed to trading away veteran players for prospects.
Shortstop Starlin Castro has enormous talent, but he has also irked manager Dale Sveum with some mental lapses on the field. The Cubs have said Castro is not untouchable, so a team could give Chicago an offer they cannot refuse. A star like Castro is tough to find, and they would be foolish to give up on him at this point in his career.
Due $18 million per season through 2014, Chicago fans hope the team can find a taker for left fielder Alfonso Soriano. After signing a huge deal in 2007, he has yet to live up to his contract. Fans in Chicago have seen him struggle to play left field, and a trade may be best for everyone involved. He is on the verge of having his best all-around offensive season in years for the Cubs (.271, 12 home runs, 41 RBI) but his contract will make it tough to find a team interested in him.
They also have starting pitchers who may draw interest from contending teams. Matt Garza has been the more publicized pitcher on the trade block, and he will most likely be traded by July 31st. His 4.04 ERA is his highest since 2006, and a change in scenery would probably help him.
After getting $9.5 million in arbitration this offseason, Garza is a relatively cheap option for an established pitcher. Since he used to pitch in the AL East with Tampa Bay, a team like Boston could benefit from Garza's services.
Ryan Dempster has pitched under the radar for the Cubs, and he will draw interest as the trade deadline nears. A free agent after the season, Dempster provides experience for a team pushing to make the postseason.
The Yankees have also been linked to both pitchers, and they will evaluate their pitching staff when the time comes.
With Anthony Rizzo waiting in the minor leagues, first baseman Bryan LaHair may also be available. LaHair owns the highest batting average on the team and provides power (12 home runs). He strikeouts at a high rate, but his hitting will make him very attractive to contending teams. His team-friendly contract also makes him attractive, and the Cubs will look to see who is interested. With most AL contenders set at first base, he may have to stay in the NL.
Chicago is in rebuilding mode, and they will look to shed some payroll at the trade deadline. They will probably need to eat some of the money in a trade, but any money they save in a trade would help the rebuilding process.
Keep Reading