Pacquiao vs. Marquez: Timothy Bradley Deserves the Rematch Everyone Wants
June 16, 2012
Jeff Bottari/Getty Images
While the world wants to see the much-needed rematch between boxing star Manny Pacquiao and upset king Timothy Bradley, there are other forces at work that want a different fight.
Some fans and promoters are calling for a fourth installment in the war with Juan Manuel Marquez as Pac-Man's next fight. But that is the farthest thing from a good idea that I have ever heard of.
If boxing wasn't dead before, having Pacquiao fight Marquez before regaining his honor against Bradley would be the sport's death knell.
Despite the fact that there is more controversy over Pac-Man's fight with Bradley than there was in all three previous fights with JMM combined, Marquez's promoter, Fernando Beltran, told the Los Angeles Times that Pacquiao should fight Marquez next:
I'm speaking for myself, but it's a logical thing, and it makes more sense. It's not official, but I believe it's the fight the fans want more. And I know Manny will like the fight for the fans. The logical thing for the sport is for Manny and Juan to fight. I will work very hard to make this fight happen.
No. Wrong. Stop.
Mr. Beltran can work as hard as he wants, but this would be the biggest train wreck for Pacquiao's career. Even Manny's inept promoter Bob Arum has to know that this would be a bad choice for his fighter.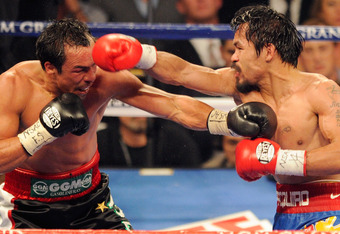 Ethan Miller/Getty Images
For as great as Pacquiao looked during the fight, he left the window open for interpretation one too many times, and it finally came back to bite him.
With as much tenacity as any fighter in history, there is no question that the rematch between Bradley and Pac-Man will not go the distance. Pacquiao would KO Bradley.
With that said, fighting Marquez would not only squash the controversy that surrounded the loss against Bradley, it would also give Pac-Man no real incentive to get back to his animalistic training and fighting style.
Manny Pacquiao, the fans and, most importantly, Timothy Bradley deserves this rematch.
Check back for more on boxing as it comes, and don't miss Bleacher Report's Boxing page or listen to Ring Rust Radio for all of the hot topics.