Milwaukee IndyFest 2012 Results: Reaction, Leaders and Post-Race Analysis
June 16, 2012

Chris Trotman/Getty Images
It may not be the Indianapolis 500, but Milwaukee IndyFest is one of the best events the IRL has to offer and all of the sport's biggest stars will be looking to reach victory lane on Saturday. This year's 500 winner, Dario Franchitti, has captured the pole at Milwaukee and is looking to win there for the second consecutive year.
There will be no shortage of competition, however, as the IndyCar circuit is about as deep as it has ever been. There are at least 15 drivers in the 25-car field with a great chance of taking the checkered flag and that should lead to a fantastic and unpredictable race. Literally anything can happen in the IRL and the Milwaukee race is going to prove that.
Check back here after the race for updates on the winner, the official finishing order and analysis on the happenings at Milwaukee IndyFest.
Where: Milwaukee Mile in West Allis, Wisc.
When: Saturday, June 16 at 1 p.m. ET
Watch: ABC
Starting Grid
1. Dario Franchitti
2. Justin Wilson
3. Ryan Hunter-Reay
4. Will Power
5. Rubens Barrichello 
6. Helio Castroneves
7. Josef Newgarden
8. E.J. Viso
9. Ryan Briscoe
10. Tony Kanaan
11. Scott Dixon
12. Simon Pagenaud
13. James Hinchcliffe
14. Takuma Sato
15. Marco Andretti
16. JR Hildebrand
17. Graham Rahal
18. Alex Tagliani
19. Katherine Legge
20. James Jakes
21. Charlie Kimball
22. Oriol Servia
23. Ed Carpenter
24. Simona De Silvestro
25. Mike Conway
Drivers to Watch
Dario Franchitti
No driver in the IndyCar Series is on more of a hot streak right now than Dario Franchitti. Not only did he win the Indianapolis 500, but he has slowly been moving up the standings and now finds himself in sixth place overall. Franchitti is one of the most successful drivers the circuit has ever seen, so it should come as no surprise that he will be attempting to defend his win at Milwaukee from last season.
Franchitti will be starting from the pole position, and while that doesn't guarantee anything, he generally runs very well from that spot. Franchitti has no problem with other drivers trying to track him down and pass him as he views it as a challenge more than anything. Franchitti should be a contender all day and will be tough to beat.
Will Power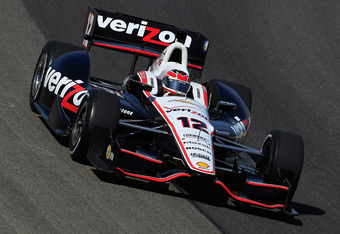 Chris Trotman/Getty Images
Franchitti may be the hottest driver in the IRL right now, but Will Power has been the most consistent this season. He already has three victories to his credit and has a big lead in the points standings over Scott Dixon. Power is starting near the front of the field once again this weekend, so the odds of him racking up another top-five finish, or perhaps even another win, are quite good.
Power has run well in essentially every race with the exception of the Indy 500, so I don't see why Milwaukee will be any different. Power has certainly come into his own this season and is continually trying to prove that he is the best in the business. A good run at Milwaukee will only bolster his case.
Ryan Briscoe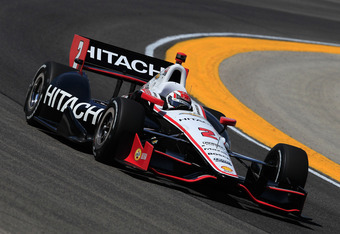 Chris Trotman/Getty Images
If not for bad luck, Ryan Briscoe wouldn't have any luck at all this season. The Aussie star has two poles on the year and has consistently started near the front of the field, but he has constantly had mechanical issues and other problems that have prevented him from finishing well on a regular basis. He is still eighth in the standings, but Briscoe is a guy who should be contending for a title at this point.
The Milwaukee race couldn't come at a better time for Briscoe as he has always is in the mix in this particular event. He won it back in 2008 and will look to do the same in 2012. Briscoe will have a lot of high-quality competition to deal with, but there is no doubt that he is among the favorites to reach victory lane.
Follow @MikeChiari on Twitter