Euro 2012 Rankings: Grading the Top 16 Players After 2 Rounds of Matches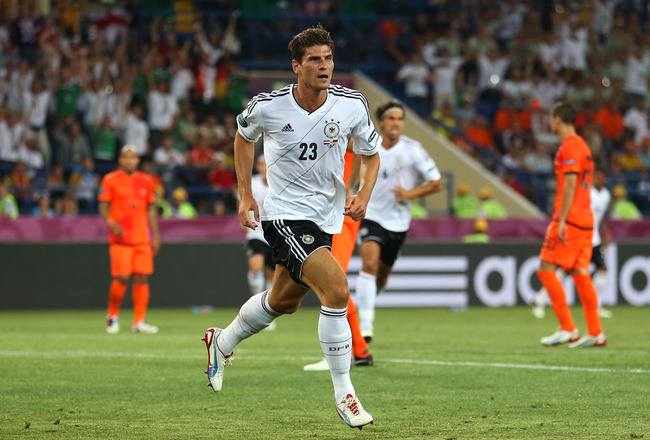 Julian Finney/Getty Images
Each team has now played at least two games at Euro 2012, and while no team has been brilliant, one or two are building momentum, and there have been a number of outstanding individual displays from the likes of Andrea Pirlo, Xavi Hernandez and Mario Gomez.
Which players have captured the eye and stood tall when others around them have wilted?
Who has the strength of character to lead their team to victory when all else has failed?
And who has just been brilliant?
Here I look at the top 16 players of Euro 2012 so far.
Read on for the complete rankings, and be sure to leave your top stars in the comments below.
16. Mesut Ozil (Germany)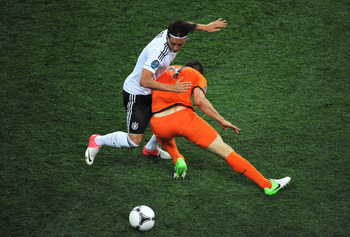 Christopher Lee/Getty Images
The reputation of one of the best midfielders in the world is growing. Mesut Ozil had a good season with Real Madrid but is having a great Euro 2012.
He has been instrumental in driving Germany, alongside Bastian Schweinsteiger, to the top of Group B as Die Mannschaft negotiate the Group of Death.
15. Lars Jacobsen (Denmark)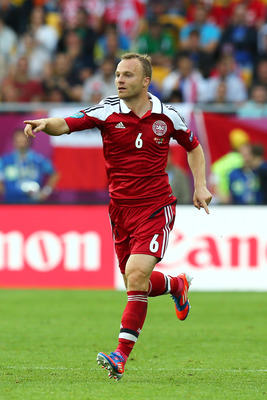 Martin Rose/Getty Images
Arjen Robben had a poor game against Denmark, as did Cristiano Ronaldo. So how did two of the world's best players fail to perform on the biggest stage against Denmark? The answer: Lars Jacobsen.
The 32-year-old FC Copenhagen defender is one of the standout players of Euro 2012 so far, and he will have to maintain those high levels when Denmark take on Germany in what could be a winner-takes-all game.
14. Mathieu Debuchy (France)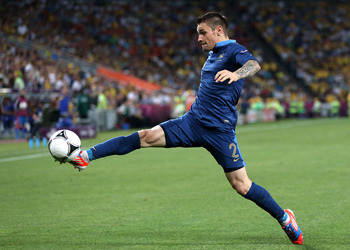 Julian Finney/Getty Images
Coming into Euro 2012, all the talk in France was of how Laurent Blanc was going to replace Arsenal's Bacary Sagna at right-back.
Roll on two games, and now some commentators are wondering if the Arsenal man will ever get his place back, such has been the high level of Mathieu Debuchy's performances.
The Lille player is comfortable across a number of positions, including right-midfield and centre-midfield, and his displays have been one of the highlights for Les Bleus so far.
13. Steven Gerrard (England)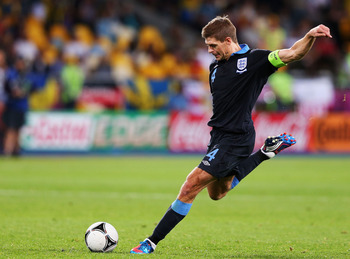 Alex Livesey/Getty Images
England's star performer of Euro 2012 has to be Steven Gerrard. The Liverpool player is playing in a deeper role for Roy Hodgson than normal and is showing unbeknownst levels of discipline in defending his back four with Scott Parker.
Unlike the Spurs man, Gerrard, however, has the the mandate to join in the attack when the moment presents, and his assist to Andy Carroll for England's first goal is just a small example of the kind of threat he presents as the tournament grows.
12. David Silva (Spain)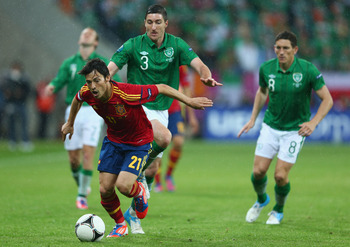 Michael Steele/Getty Images
Almost every Spanish player was outstanding in their 4-0 victory over Ireland, but David Silva was one of a number of players who was even above that sublime level.
His goal, the killing second of the game, was beautiful in its simplicity. Standing in front of three Ireland defenders and their goalkeeper, Shay Given, he danced one way and then jinked the other before passing the ball into the bottom corner with childlike ease.
So far, Euro 2012 has been a great tournament for the Manchester City star, and it can get better.
11. Christian Maggio (Italy)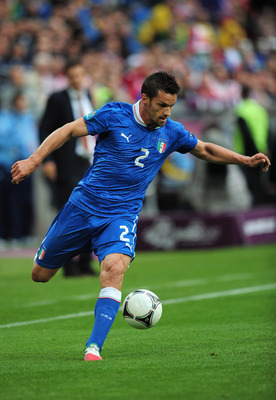 Jamie McDonald/Getty Images
Napoli's Christian Maggio is fast emerging as one of the best and most exciting defenders in Europe. The right-sided defender put in another brilliant display against Croatia to follow up on his standard setting display against Spain in Game 1.
Against the Croats, Italy put in an almost-perfect defensive display, and if it were not for an uncharacteristic mistake by Giorgio Chiellini, it would have been a classic Italian 1-0 victory.
10. Mario Gomez (Germany)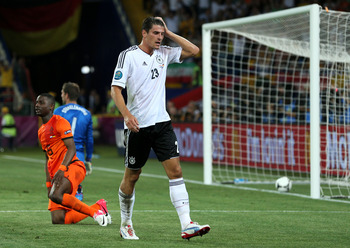 Ian Walton/Getty Images
Mario Gomez has always had to live with the media representation of him as a big-game choker.
In Euro 2012, he is putting that reputation to rest.
Three goals in two games against Portugal and Holland have put Germany on the brink of qualification to the quarterfinals, and he looks more than capable of adding to his haul.
9. Andres Iniesta (Spain)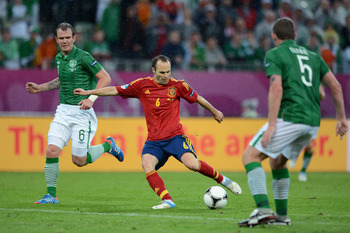 Jasper Juinen/Getty Images
There are many words that can be used to describe Andres Iniesta as a footballer, but the best, perhaps, is telepathic.
The Barcelona playmaker is one of the best passers of a ball in the world, and he has kept the high levels expected of him in Euro 2012.
Doing his best work in the final third of the pitch, Iniesta is blessed with the innate ability to find a player regardless of the pressure he is under.
He is as important to the Spanish cause as any player in Vicente del Bosque's team, if not more so.
8. Bastian Schweinsteiger (Germany)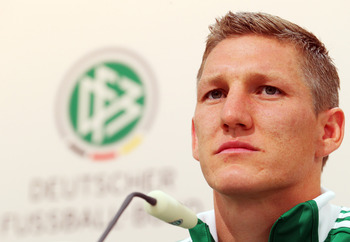 Joern Pollex/Getty Images
There are few players as intimidating as Germany and Bayern Munich captain Bastian Schweinsteiger, but what marks him out from the crowd is that he is able to back it up in terms of physicality and performances.
He was good against Portugal but stepped up his performances a level against the Dutch. He literally controlled midfield as Bert van Marwijk's two enforcers, Nigel de Jong and Mark van Bommel, both went missing.
7. Yohan Cabaye (France)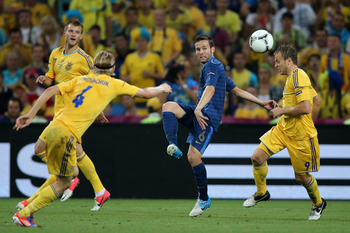 Ian Walton/Getty Images
The Newcastle United midfielder was the midfielder on show against England in France's first game and was again against Ukraine in Game 2.
Yohan Cabaye is such a simple player and rarely plays either himself or a teammate into trouble, such is his vision and ability to read the game.
Against Ukraine, he showed great maturity and patience, even though many French players and fans were starting to get agitated the longer they went without scoring, and he even popped up with the all-important goal to steady the ship.
6. Alan Dzagoev (Russia)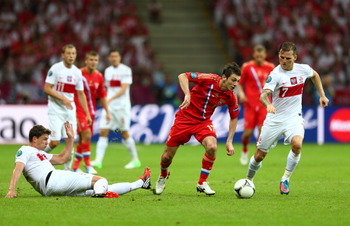 Michael Steele/Getty Images
The 21-year-old Russian has emerged as one of the stars of Euro 2012 with three goals in two games as Russia head Group A.
Deployed just behind the misfiring Aleksandr Kerzhakov, Dzagoev is the one true goal threat Dick Advocaat's side possess. He constantly leaves players in his wake and has an unnatural ability to ghost into danger areas undetected.
If Dzagoev can keep this level of performance up, he could be playing outside the Russian Premier League next year.
5. Daniele De Rossi (Italy)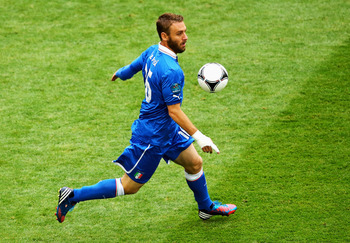 Christof Koepsel/Getty Images
Daniele De Rossi put in another great display for Italy in Game 2 against Croatia.
Along with Andrea Pirlo, he is the heartbeat of Cesare Prandelli's team and is doing it all while playing out of position at centre-back.
He is a leader of men, and with him at the back, Italy have a great chance of making it to the final.
4. Luka Modric (Croatia)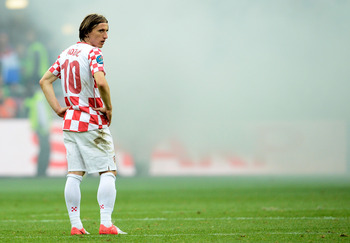 Claudio Villa/Getty Images
The little maestro from Zadar has been at his effervescent best during Euro 2012. Whether he is playing for a transfer from Tottenham Hostpur cannot be said. But what can be determined is that Luka Modric is a class act.
After playing some 50 games between club and country this season, he could be forgiven for having low energy levels.
But as anyone knows, "when the going gets tough, the tough get going," and Modric is one of a few players at Euro 2012 who can back their words up with performances.
3. Mario Mandzukic (Croatia)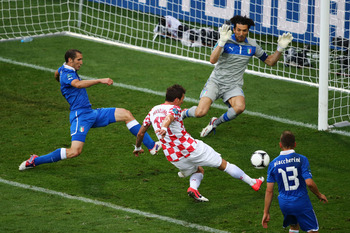 Christof Koepsel/Getty Images
The surprise star of the tournament has to be Croatia's Mario Mandzukic.
The 26-year-old Wolfsburg striker has terrified both the Irish and Italian defences with a couple of brilliant displays at the pinnacle of Slaven Bilic's 4-1-3-2 formation through great use of his strength, size and determination.
Scoring three goals in two games in any competition is hard work, but the giant Croat centre forward has emerged as a real threat that every team will have to take seriously going forward.
2. Xavi (Spain)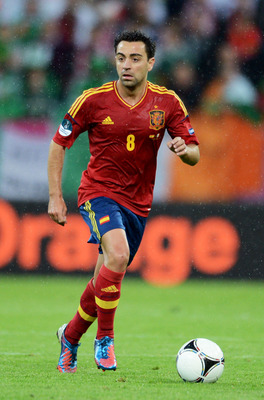 Jasper Juinen/Getty Images
What can you say about Xavi Hernandez that has not already been said?
Other than the fact that the little Barcelona conductor is the best and most important midfielder on the planet, he has been in sparkling form so far against Italy and Ireland.
He is at the heart of everything that is right about the way Spain play, from their incredible skill to their amazing fitness to their superb attitude.
He embodies La Roja and the game itself. It is a privilege to see this man play.
1. Andrea Pirlo (Italy)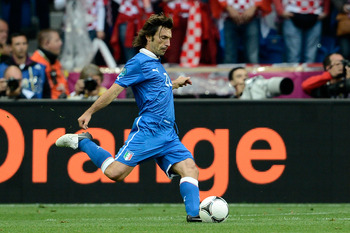 Claudio Villa/Getty Images
The most outstanding player at Euro 2012 so far has been Italy's Andrea Pirlo.
He is without a doubt the best central midfielder on show and brings such craft and imagination, backed with steel, to the role that he is the one true all-rounder playing in the competition.
Watch him play—with a deft touch and drop of the shoulder, he can change the entire direction and pace of the game and constantly dictate the tempo.
Against Spain in Italy's first game, he was brilliant, and he added to that with another great performance against Croatia and a phenomenal goal from a free kick to match.
If Cesare Prandelli can continue to set his team up around the 33-year-old, they will go a long way in this competition.
Keep Reading

Germany (National Football): Like this team?