France's Laurent Blanc the Manager to Take Tottenham Forward
June 16, 2012

Handout/Getty Images
It was a complete failure.
Tottenham's appointment of French coach Jacques Santini after Euro 2004 could not have been any more disastrous. Resigning after 13 games in charge and with a win percentage of 38 percent, the then 52-year-old left a club, who had put so much effort into getting their man, reeling in anger.
Spurs chairman Daniel Levy must have promised never to appoint a manager off of the back of a major tournament again - let alone a Frenchman.
But eight years on and with expectations at their highest, Levy will have to renege on that promise.
Currently guiding France through Euro 2012, Laurent Blanc is tailor-made for Tottenham. A coach who prides himself on attacking, fluid football and puts faith in flair players, the legacy of the so-called "Spurs way" can be continued.
Business-wise, it makes complete sense, too. Blanc's contract with France expires at the end of Euro 2012 and the odds that he will earn an extension are slim - not because of his performance, but because of his fraught relationship with Noel Le Graet, chairman of the French Football Federation (FFF).
Even if France win Euro 2012, it is not guaranteed that the Frenchman will stay, and if a deal cannot be agreed, then Blanc is free to sign with another team, eliminating the risk of costly compensation fees.
It would represent a significant change in direction for Spurs from the 65-year-old Harry Redknapp to the 46-year-old Blanc.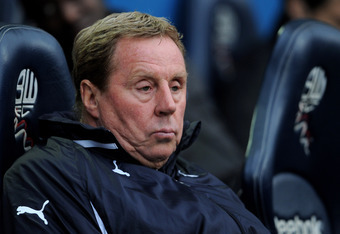 Michael Regan/Getty Images
The now-departed Redknapp was criticised for his archaic management, his limitations in the transfer market and his lack of tactical nous.
Blanc brings a modern philosophy into a game that is in rapid revolution. His ideology is born from the Pep Guardiola school of thinking: ball retention, quick pressing and playing out from the back.
Talking in 2010 after being handed the France job, Blanc said: "I want to build a team that can control matches as much as possible and that will impose its own style, a team game focused on attacking play, on its opponents."
The mindset is right for a Tottenham team that has such attacking talents like Luka Modric, Rafael Van der Vaart and Gareth Bale. And as for Kyle Walker and Benoit Assou-Ekotto, their marauding runs will be encouraged under Blanc.
During his time at Bordeaux, Marseille coach Didier Deschaumps said of Blanc's use of full-backs: "The really big difference is that their full-backs are really involved in their attacks. [Mathieu] Chalmé and [Benoît] Trémoulinas play really high up the pitch. Bordeaux, even putting to one side their set-piece ability, score 50 percent of their goals from crosses from their full-backs."
And his approach proved fruitful at Bordeaux, completing a league and cup double in 2009 whilst setting a new French record along the way for consecutive league wins.
It could have been a second Ligue 1 title in 2010 if the south-west side had not been distracted by speculation surrounding Blanc's departure to France, leading to an implosion that saw Bordeaux, top at Christmas, finish sixth - a situation now familiar to Spurs fans.
Since taking over the France job, however, Blanc has overseen a recovery far more successful than that of the French economy.
He has made a smooth move from the old guard, who failed so miserably in South Africa, to La Generation '87, and has given the French national team an identity that has seen them, after recently defeating Ukraine 2-0 in Donetsk, secure a 23-game unbeaten run.
True, Blanc does have some wonderful talent at his disposal with the likes of Franck Ribery and Samir Nasri, but the World Cup winner is proving he can handle their egos and unite a team that has been so infamously divided.
Add this to his three years with Bordeaux and the time he spent in England with Manchester United, and you have a manager who is clearly capable of continuing and improving upon what Redknapp has left.
Certainly, Blanc is open to a move and one which pays better than his current salary of €1 million a year.
"My intention is to carry on with the France team, but the fact remains, I have not extended my contract. If I get an exceptional offer, I could very well decide to leave for that club," he said in April.
Blanc is the right man for the job, but there will always be those haunting memories of a Frenchman, the European Championships and an expiring contract for Spurs.
For more follow me on Twitter: @JournoDec