NHL Draft 2012: Analyzing 15 Likely Draft Prospects for the Washington Capitals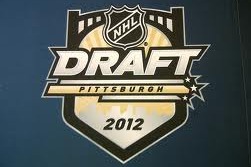 Courtesy of thehockeywriters.com
That saying "the rich get richer" might very well apply to the Washington Capitals.
Fresh off the team's best playoff run since they went to the Stanley Cup Finals in 1998, the Caps now find themselves in the enviable position of having two picks in the first 20 selections of next week's NHL Draft in Pittsburgh, No. 11 and No. 16 to be exact.
The trade the Caps made with the Colorado Avalanche for Semyon Varlamov certainly looks like it will pay off as the Caps acquired the No. 11 pick with that move.
There are many directions the Caps can go at the draft, but the general consensus seems to have the Caps selecting a defenseman and a right winger. There are, of course, some variations on this, but after reviewing countless mock drafts, forum posts and analysis of all sorts, that combo seems like the popular choice.
In reading through all these projections, I have identified 15 prospects who I feel are likely to be available at either No. 11 or No. 16 and would be a good fit for the Caps.
following is analysis of the top-15 likely draft prospects for the Washington Capitals. Video for each prospect is included.
At the end of the article, I will make my call as to who I think the Caps should select at No. 11 and at No. 16.
Begin Slideshow

»
Position: D
Team: Portland (WHL)
Ht/Wt: 6' 0"/192 lbs
Derrick Pouliot reminds me of Mike Green quite a bit. As you will note from the video, he has a nose for the net, exercises very good patience and is quite accurate.
From what I can also tell, he has deceptive speed, can run the power play very efficiently and has good hands.
He is not big enough and would need to bulk up to fit in with what I think the Caps need to do on defense.
Also, he is one of many offensive-minded defenders available in the draft. The Caps already have two such defenders on the roster now in Green and Dennis Wideman. One of them is likely to leave and it will probably be Wideman.
If the Caps are looking to replace Wideman with someone possessing a similar skill set, Pouliot might be a good selection.
If they are looking for a more physical defender, they are probably better served looking elsewhere.
Position: C
Team: Dubuque (USHL)
Ht/Wt: 6' 2"/175 lbs.
Strictly speaking, drafting a center is probably not as high a priority for the Caps as it might be for other teams.
But this guy has enough talent that the Caps would be rather foolish not to at least take a long look at him.
This Latvian was a scoring sensation in the USHL, averaging close to a point per game.
With excellent speed and great hands, Zemgus Girgenson would be a good fit for any team looking for a potential two-way center.
It would appear, however, that he is a few years away from being ready for the big time.
Still, he has tremendous upside and, once he is ready for the NHL, looks like he would absolutely be an impact player.
Position: D
Team: Red Deer (WHL)
Ht/Wt: 6' 0"/175 lbs
Watch the video above and you will quickly see why Caps fans would be thrilled to pick up Mathew Dumba in the draft.
He is always moving, has great hands, a cannon for a shot and hits like a freight train.
He is very much what the Caps are looking for in a defenseman.
He is another defender who could stand to bulk up a bit more, but he is very impressive.
A couple of sites are calling him the next Dion Phaneuf.
If that is true, and he falls to the Caps, folks in Washington would be very happy.
Position: RW
Team: Frolunda HC (Swe)
Ht/Wt: 5'11"/174 lbs
Seeing as how the Russian contingent has not yet led the Caps to the promised land, perhaps the solution is to get more Swedish players on the team, such as Nicklas Backstrom.
If so, Sebastian Collberg is the way to go.
I cannot stress enough how impressed I am with this youngster.
Collberg was a key reason Sweden took gold at the World Junior Championships
He has great speed and is a natural scorer with a fantastic wrist shot. He compares very favorably to Filip Forsberg, who many mock drafts have going in the top 10.
It would have been nice if Collberg had more ice time to look at on film, but his performance at the World Junior Championships was enough to make anyone take notice.
He may be a bit on the smaller side, and he has indicated his desire to remain in Sweden for a while longer, but that should not dissuade the Caps from selecting him if he is still available at No. 16.
Position: D
Team: Edmonton (WHL)
Ht/Wt: 6' 3"/200 lbs
Griffin Reinhart has a family lineage in the NHL as his father, Paul, played in over 600 NHL games.
Reinheart is exactly what any team would be looking for in a defenseman—which is why his availability at No. 11 would seem to be a long shot.
He has the exact height and weight any team would be looking for. He is very physical and has no problem dropping the gloves when the need arises.
With excellent mobility, good vision and no obvious weaknesses, Reinhart would be a steal for the Caps if he actually fell to them at the No. 11 spot.
Position: C
Team: Kitchener (OHL)
Ht/Wt: 6' 2"/183 lbs
With great size and even better acceleration, Radek Faksa is another center who the Caps should take a long look at and, if he is still available, perhaps pull the trigger on.
This youngster has a tremendous shot and is an absolute sniper.
He has good height, although he would certainly benefit from putting on some more muscle.
He likes to play physically and seemingly loves to crash the net.
All around, Faksa would add some physicality to the Caps on offense, while remaining a large scoring threat.
Position: D
Team: London (OHL)
Ht/Wt: 6' 2"/198 lbs
Olli Maatta is a dynamite prospect for the Caps as a defender. What has to be encouraging is that Maatta played for the London Knights of the OHL, so he would be familiar with the type of defense employed by the Hunter brothers.
What is also encouraging, as noted on the video, is that Maatta actually played in the Finnish pro league. That experience could make Maatta very appealing to many teams.
If there are concerns surrounding Maatta, it may be due to his having sustained a concussion earlier in the year.
As noted by mynhldraft.com, there is some desire for Maatta to be more physical. With his height and weight, that should not be a problem.
Still, all signs point to Maatta being an excellent defenseman and a prospect the Caps would have to seriously consider at No. 11 or 16.
Position: D
Team: Rogle (Swe)
Ht/Wt: 6' 1"/198 lbs
Hampus Lindholm is one of those prospects who had a very good combine and his stock rose as a result.
As can be seen from the video, Lindholm has good strength and carries himself with a level of maturity and confidence that most general managers will appreciate.
If you review his profile at www.draftsite.com, you will learn a bit about how Lindholm has good mobility and agility for his size and that most people feel he will get bigger and stronger.
While Lindholm will probably not be an immediate impact player, here is another available defender with great upside potential for the not too distant future.
Position: LW
Team: Jokerit (Fin)
Ht/Wt: 5'10"/161 lbs
How can you not be impressed with Teuvo Teravainen?
Teravainen has great speed and is deadly when in the slot. Watch the video and you will see what I mean. He just does not miss when he is between the circles.
He was so accurate that he led his team in scoring at the World Under-17 hockey challenge.
Caps fans would also love his Alexander Ovechkin-like energy and enthusiasm.
Obviously, his size and weight are going to raise red flags for many general managers.
With the skill set he has, Teravainen would be a great investment for a team, like the Capitals, looking to add depth and explosiveness on the wing.
Position: D

Team: Ottawa (OHL)
Ht/Wt: 6' 2"/203 lbs
Big, quick and possessing an absolute Howitzer for a slap shot, Cody Ceci is another defensive prospect in whom the Caps have to be very interested.
In looking at his prospect profile at mynhldraft.com, most scouts feel Ceci demonstrates very good hockey knowledge and insight, but that he needs to be more physical.
At 6'2" and 203 pounds, if Ceci wants to get more physical, he is going to be more than capable to do so.
It sounds like a bit more time in the OHL would benefit Ceci greatly.
Still, here is yet another defenseman, with all the tools to be an exceptional talent, who may very well be available for the Caps at either No. 11 or 16.
Position: C

Team: Belleville (OHL)
Ht/Wt: 6' 2"/205 lbs
At 6' 2" and 205 pounds, Brendan Gaunce has everything you would want in a center and he can play wing too if the need arises.
He is strong, very difficult to knock off the puck, is not afraid to drop the gloves and has a great shot.
According to Adam Kimmelman at NHL.com, one scout has said if he were building a team from the ground up, Gaunce would be where he would start.
That is quite an endorsement.
He is another player who will likely benefit from another year's worth of polish in the OHL.
When Gaunce is ready, the NHL team that drafts him will likely be very glad that they did.
Position: G
Team: Ufa-2 (RUS-JR.)
Ht/Wt: 6' 3"/193 lbs
There is no question that Braden Holtby has earned the right to be the Caps' starting goaltender for the 2012-'13 season.
But what about Andrei Vasilevski as a potential backup?
No one is exactly sure what will become of Michal Neuvirth. He would seem to be the logical choice to back up Holtby this season. If the Caps decide to package Neuvirth in some sort of deal to land a player by way of trade, then acquiring the man several are calling the best available goalie in the draft might not be a bad idea.
As demonstrated by the video clip, Vasilevski has great range and flexibility. In other videos I reviewed, he demonstrates good rebound control, something essential for anyone trying to make it as goaltender in the NHL.
No one can be sure exactly how long Vasilevski might remain in Russia, but if the Caps draft him, how tempting would the opportunity be to play with Alexander Ovechkin now?
Admittedly, this might be a stretch for the Caps as they have other needs, but Vasilevski has the size and skill to at least warrant consideration from the Caps.
Position: LW

Team: Djurgardens (Swe)
Ht/Wt: 5'11"/187 lbs
The creator of the video highlight reel for this slide feels that Pontus Aberg compares to Alexander Ovechkin.
I have to admit, when I watched the video, there are some similarities there.
He is a play maker who makes things happens with his hands and his skates and he possesses that lightning quick and deadly accurate wrist shot that the Great Eight has nearly perfected over the years.
His speed, and the effortless way in which he reaches top speed, is also something that should be quite appealing to the Capitals.
With his accuracy and skating ability, he is someone who would be a great asset in shootouts, as evidenced by one of the goals in the video.
Aberg will likely be available at No. 16 and the Caps might very well want to grab Aberg while they can.
Position: D

Team: Guelph (OHL)
Ht/Wt: 6' 0" /200 lbs
Matthew Finn is another excellent defensive prospect who has shown a ton of potential to be a scoring threat as well.
He has good size and strength, is solid on the penalty kill and can quarterback the power play very well.
His profile card at mynhldraft.com discusses his leadership abilities and the fact that he was named assistant captain for home games demonstrates this.
Finn probably needs to develop a more physical presence and learn to be a bit more effective at moving bodies out of the way.
Nevertheless, Finn shows a lot of promise for a Caps team looking to add depth and talent to the defense.
Position: D

Team: Peterborough (OHL)
Ht/Wt: 6' 2"/183 lbs
Last, but certainly not least, is Slater Koekkoek, an excellent defensive prospect who was a standout for Peterborough of the OHL.
Koekkoek has a lot of things going for him. One thing I noticed that has him moving up on my list is his willingness to get down and block shots, something the Caps did better than just about anyone this past postseason.
When you watch the video clip, you also have to be impressed with this young man's candor and his obvious desire to be the best he can be, sentiments echoed by his coach.
He is a solid skater who knows how to get himself into the best position possible.
Due to a shoulder injury that caused him to miss 40 games, Koekkoek has slid down many teams' draft charts, so much so that he did not even receive an invitation to the NHL's R&D camp.
That might be a good thing for the Caps because Koekkoek has a lot of the tools and skills Washington will be looking for in a defenseman as they try to build on the momentum they gained from the 2012 NHL playoffs.
While I would prefer the Caps grab Mathew Dumba here, I seriously doubt he will be available at No. 11.
However, by no means should they feel like they settled for Cody Ceci with this pick.
The Caps are going to have to let Ceci simmer in the OHL for a bit longer, but that is OK.
There is no denying this youngster's offensive ability and he has an absolute laser beam of a shot. But he does need to learn to be a bit more physical and develop an NHL skill set just a bit more.
Still, picking up Ceci at No. 11, if Dumba is gone by then, would work just fine for the Caps.
Backup Pick
If for some reason both Dumba and Ceci are gone, I think the Caps should take Slater Koekkoek—although they could probably grab him at No. 16 if they want to as well.
Everything I have seen from Koekkoek impresses me and his injury does not alter my opinion in the least.
I love the way he plays defense, his attitude and his shot-blocking ability.
Ceci is a better skater and is probably the safer pick here, but nabbing Koekkoek would not be a bad thing either, should the draft go that way.
The more I watch film on Sebastian Collberg and listen to him speak, the more impressed I am.
He is just a tremendous pure skater with immense skill, blazing speed and great instincts.
I also appreciate this young man's candor during his interviews and his honesty—to himself and the press—that he is not yet ready for the NHL and wants to stay in Sweden for a while longer.
It also does not hurt that one of his big influences, Alexander Ovechkin, might end up being his teammate.
It would have been nice to review more film on him, but he did not play enough to really gather a good library of his talents.
Go and watch video of him at the World Junior Championships and you will understand why I am sold on him.
When he is ready—and under the guidance of Ovechkin and Nicklas Backstrom—Sebastian Collberg just might be a star for many years to come.
Backup Pick
If Collberg is gone by the time No. 16 rolls around, I think the Caps should go with Pontus Aberg.
With a style that is half Ovechkin and half Teemu Selanne, Aberg has enormous upside potential and would fit in very well with the Caps.
His wrist shot is very impressive and his ability to go five-hole is equally impressive.
He also needs some more time in Sweden but, like Collberg, would flourish with the Caps, with Ovechkin and Backstrom offering him their expert advice, once he is ready.