US Open Golf Scores 2012: Beau Hossler and Most Surprising Stars of Round 2
June 15, 2012

Harry How/Getty Images
In a sport constantly looking for a young star with a better PR history than that of Tiger Woods, Beau Hossler was a diamond in the rough on Friday.
On a day that saw Phil Mickelson, Luke Donald, Rory McIlroy and Angel Cabrera forget how to golf, fans were also delighted to learn that emerging stars like Hossler can always show their face when least expected.
Golf is a sport that needed a bit of a facelift after the Tiger Woods debacle of a few years back, and when aging stars like Mickelson begin to under-perform, we look toward the youth and surprises of the tournament for rejuvenated hope and success in the U.S. Open.
These golfers hope to continue their success into Round 3 of the tournament, where they will have their surprise success tested on one of the most challenging courses in America.
Says one analyst: Expect surprises.
Beau Hossler
Hossler is 17-years old, goes to Santa Margarita High School, plans to attend the University of Texas in the fall and spent much of his Friday afternoon in a way very much unlike any of his classmates: leading the U.S. Open.
This is the second time that the kid from Orange County has competed in the U.S. Open, and he is the youngest person to qualify for the U.S. Open in two consecutive years since 1950.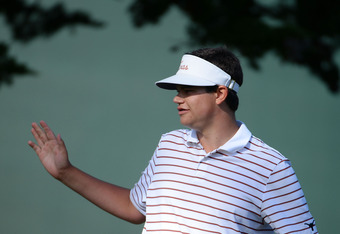 Harry How/Getty Images
Hossler, who ended his day at three-over par and tied for eighth, was dominant for much of the afternoon, including three birdies in Round 2 alone. He added that to three more from the previous day.
For many, just seeing Hossler succeed this far into the play would be enough to keep the media and fans talking his praise alike. What that discounts, however, is that Hossler still stands a chance of winning this tournament if he keeps up the impressive showing.
Hossler's mother, too, became a quick tab of attraction as she began to trend on both Twitter and Bleacher Report alike after one Twitter reporter posted a picture of her standing on the greens.
We live in a weird world.
Michael Thompson
Thompson came into Round 2 as the No. 1 golfer in the tournament after an especially impressive first round, but how many people actually knew who he was last week?
Thompson is a second-year PGA player who has been focusing on trying to get into this event for almost two years, he says. To imagine him coming out of the first round on top is equally unbelievable.
He lost some ground in the second round, sure, but he certainly did not tread water as he is still tied for fourth and is only one-over par.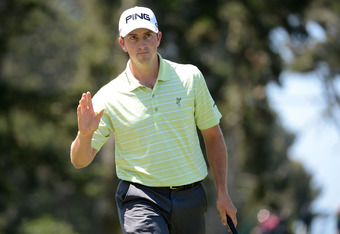 Harry How/Getty Images
While Thompson may have been initially thrilled just to be included in the tournament, he is now grappling with something: He, too, has a legitimate chance of winning the $8,000,000 purse and walking away as the champion.
All he has to do is play as well as he did on the first day on the tournament and continue to pray.
Nicolas Colsaerts
Colsaerts is our first foreign correspondent of the surprise stars in this tournament. The Belgian golfer had three amateur wins before he turned pro at 18 and has nine professional wins since then. His most recent win came at the Volvo World Match Play Championship, in which he beat Graeme McDowell by one stroke.
What's most surprising, however, is that he has never been heard of in the majors.
He was cut from the Open Championship in 2002 and then again from the U.S. Open last year, but now he finds himself tied for fourth going into Round 3. This is an incredibly impressive performance for Colsaerts so far.
| | | | |
| --- | --- | --- | --- |
| Place | Golfer | Score | Thru |
| T-1st | David Toms | -1 | F |
| T-1st | Jim Furyk | -1 | F |
| T-1st | Tiger Woods | -1 | F |
| T-4th | Graeme McDowell | +1 | F |
| T-4th | John Peterson | +1 | F |
| T-4th | Nicolas Colsaerts | +1 | F |
| T-4th | Michael Thompson | +1 | F |
| T-8th | Blake Adams | +2 | F |
| T-8th | K.J. Choi | +2 | 14 |
| T-8th | Fredrik Jacobson | +2 | 14 |
| T-11th | Beau Hossler | +3 | F |