Andy Carroll: 5 Reasons Roy Hodgson Was Right to Pick Him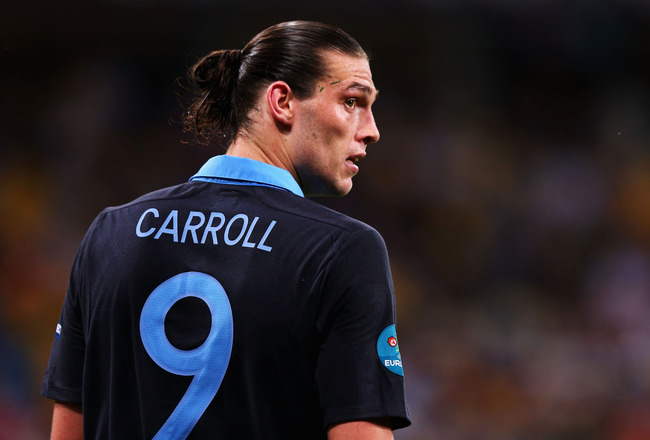 Alex Livesey/Getty Images
Many were surprised over Andy Carroll's inclusion in the English squad considering the striker's disappointing form at club level. Roy Hodgson cemented his trust in Carroll by featuring the $55-million striker as England's leading forward against Sweden on Friday. Andy Carroll surprised viewers around the world by scoring the opening goal in England's 3-2 win against Sweden at the Euro 2012 Group D match.
This season, Carroll had appeared in 47 matches and scored only nine goals for Liverpool. Nevertheless in May, Carroll played a vital role in Liverpool's comeback match against Chelsea after losing the FA Cup. The resurgence of his form justified the striker's part in the Three Lions campaign to win the Euros.
1. Extra Strike Force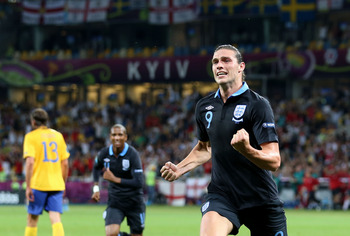 Scott Heavey/Getty Images
England has always had limited strikers who have been fit to play at international tournaments.
Andy Carroll is one English striker who is able to play as the lone central forward. He has the height, accuracy and stamina to provide a threat to the opposition.
The suspension of Wayne Rooney paved way for Carroll to win a spot in the first team. Alongside young Danny Welback and midfielder Alex Oxlade-Chamberlain, Carroll will be able to add extra strike force to England's attack.
England's 2012 squad of young and fast paced strikers provides an unpredictable threat that overshadows that of Alan Shearer and Michael Owen from England's Euro 2000 squad.
2. Aerial Assault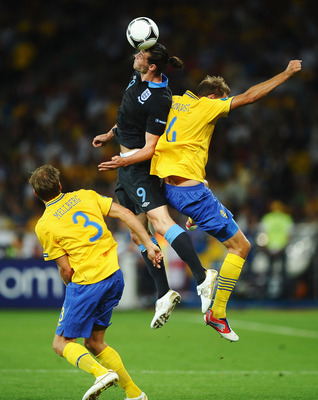 Laurence Griffiths/Getty Images
The 6'3" striker is always ready to use his height to head high crosses inside the penalty box. Carroll can also use his height to steal long and high passes from the opposition.
Roy Hodgson had clearly used the English No. 9's aerial power to increase the pressure on Sweden, as Andy Carroll scored a header to open up the scoreline on Friday.
3. Call-out More Midfielders to Attack
Christopher Lee/Getty Images
Carroll can also slow down play in the opposition's penalty area in order to draw out midfielders into attack. This helps to widen England's attack and bring more players into the center to receive crosses.
Midfielders can position themselves around the outside of the penalty box. Steven Gerrard, Theo Walcott, Ashley Young and Scott Parker will then be able to collect the rebound and recreate attacks.
The slow pace and control of the ball will create more openings up in the front for Carroll. The striker can only score goals if his teammates provide him with the necessary passes and through balls in front of the goal.
4. Familiarity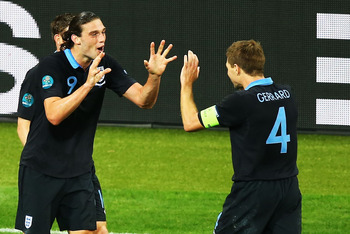 Martin Rose/Getty Images
Roy Hodgson was the manager of Liverpool from 2010-2011 and is somewhat familiar with Liverpool's current squad.
Hodgson has experience working with the striker's teammates Steven Gerard and Martin Kelley. While Gerrard, Downing and Kelley have experience working with Carroll, it will be simpler for the English manager to create strategies around the striker.
The familiarity also formed trust between the manager and players. This has indeed paid off as Andy Carroll started as the central striker and scored the opening goal of the match.
5. Ability to Break into Penalty Box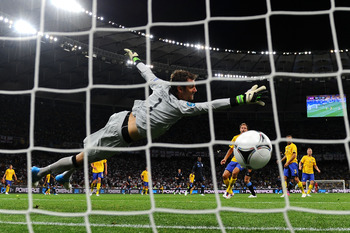 Laurence Griffiths/Getty Images
The striker has the physical strength and skill to break into the penalty box. His physical presence and defensive nature helps to block defenders and receive crosses in the center.
Former England striker Alan Shearer told Chroniclelive.co.uk that he believes Andy Carroll will succeed for England if they use him properly:
"But if you've got him in your team, you've got him in your team for one reason, and that is to get balls into the box. Because, if you get the right balls in, not many people will be able to stop him. If you do that, he'll score goals, whether that's at club level or international level." Said Alan Shearer.
Keep Reading

England (National Football): Like this team?