2012 NHL Free Agents: Ryan Suter Will Test Free Agency on July 1
June 15, 2012

Christian Petersen/Getty Images
Ryan Suter is the hottest defenseman on the free-agent market, and it has been confirmed by David Poile of the Nashville Predators that he will test free agency on July 1.
The report released by NHL.com states,
Nashville Predators general manager David Poile said Friday that he believes defenseman Ryan Suter will test unrestricted free agency on July 1, but added that he does not want to trade his rights before that date.

"Unless something changes in the near future, he's going to take a peek at July 1," Poile said during a media conference call following the trade that sent goaltender Anders Lindback to Tampa Bay, according to the Tennessean. "We're going to be in consistent contact with him, and I'm certainly hoping, as he said to me a week ago, that he's not going to make a sudden decision ... and we're going to have some conversations after he has talked to these different teams."
Suter is a rising star in the league and is emerging as one of the NHL's better two-way defenders. 
The 26-year-old currently carries a cap hit of $3.5 million. He is due for a huge payday considering what his partner, Shea Weber, already makes. He likely will earn an average cap hit of $6 to $7 million dollars next season.
Suter has expressed interest in signing a long-term contract so his family can settle down. With that in mind, it is widely expected that Suter will head to the Detroit Red Wings to take up Nicklas Lidstrom's mantle.
The Wings will have tons of money to spend and will look to retool and bolster their roster. Suter could conceivably walk into free agency on July 1 and sign a $60 to $70 million contract to be paid out over 10 seasons.
It is a feasible concept, and Suter would slot right into the Wings' blue line and help fill the massive void left by Lidstrom. Suter is a defenseman who would really help the Wings and is likely their No. 1 target.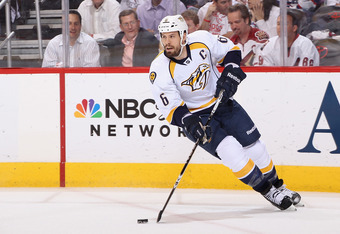 Christian Petersen/Getty Images
The interesting situation Nashville enters now is how it will deal with Shea Weber. Weber is an RFA and will hit UFA status in one year. With Suter leaving, will Weber be traded this summer or will he sign a one-year deal only to become a UFA and bolt next summer?
The Shea Weber situation is undetermined at this point, but the only thing that is for certain is that Ryan Suter likely will not be a Nashville Predator next fall.