Who Are the Heroes and Villains of NASCAR?
February 10, 2009
NASCAR is loaded with different personalities and different driver characteristics. Which leads to the question who are NASCAR's Heroes and Villains? Or are some of them neutral.
Here is my list of heroes and villains in Nascar.
HEROES
1. Mark Martin: I don't think this guy has ever really been in an on going altercation with anybody. Mark will race you clean or he wont race u at all. He is one of the drivers that will always be a hero and drivers respect him for that.
2. Matt Kenseth: Yeah he has had altercations here and there, but not ones that could define him as a villain. For the most part Matt will race you really clean and usually is not on anybodies bad side.
3. Bobby Labonte: This crafty ol' veteran likes to win the "right" way. Hardly ever will you ever see Labonte putting a bumper to someone and moving them out of the way. Bobby is probably the ultimate good guy or hero in Nascar. Bobby will go down as one of the cleanest racers ever.
4. Ryan Newman: This guy is one of the nicest guys you will meet off the track and race on the track. When the "rocket man" won the Daytona 500 last year he proved that good guys do finish first.
5. Dale Earnhardt Jr: Unlike his daddy Jr. wont lay the bumper like his daddy would and he proved that in the 2002 all star race in Charlotte. He had Ryan Newman sideways coming across the finish line with two to go. Instead of wrecking him or flying past him Jr. backed off and let Ryan Newman Get his car back under control and keep his position. Being respectful and letting Newman get control he killed his chances at a second straight all star win. Not to mention it does help being NASCAR's most popular driver.
Possible Heroes in The Future
1. David Regan
2. Martin Truex Jr.
3. Reed Sorenson
4. Joey Logano
VILLAINS
1. Kyle Busch: Kyle already wasn't a fan favorite before NASCAR traveled to Richmond International Raceway last year, and it didn't help that he spun out a 76 race win less Dale Earnarhdt Jr. on the last lap. Kyle Busch is NASCAR's ultimate bad boy and always will be until he learns to respect drivers and not drive carelessly half the time.
2. Kurt Busch: I guess it runs in the family. Kurt Busch was just like his brother. He got booed everytime he won a race especially at Bristol. He wanted a win no matter what the cost. Even if it meant taking out another driver.
3. Robbie Gordon: I think we can all agree on this one. And it was apparent that Robbie had an attitude problem after being black flagged at Montreal in a NASCAR National Series race he wrecked race leader Marcos Ambrose. He is probably one of the most hated guys on the Nascar Circuit.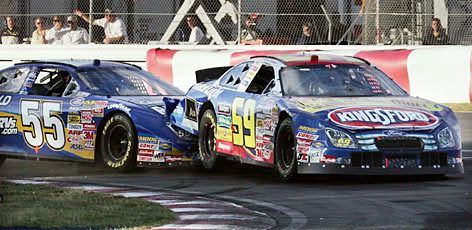 4. Denny Hamlin: He has taken the spot of ex-team mate Tony Stewart. Last year when things went wrong ordid not go well it seemed like he was blaming everybody in the Gibbs organization but himself, he even went as far as saying that his teams has a lot of problems THEY need to fix. If he keeps on that track he will be in trouble
5. Kevin Harvick: Harvick is another driver that had temper problems and he showed that at Richmond when he jumped over his car and another just to get at Matt Kenseth. He has also had problems with Kurt Busch, Juan Pablo Montoya ,and Carl Edwards. The question is though, will we ever see that side of Harvick again?
Possible Villains in The Future
1. Scott Speed (just don't have a good feeling bout him)
2. A.J. Allmendinger( i could see him being a hero too)
3. Juan Pablo Montoya
4. Joey Logano (He can be on both sides)
5. Sam Hornish Jr.(Could go either way)