Philadelphia Phillies 2012 Season Can Be Repaired, but at What Cost?
June 15, 2012

Rich Schultz/Getty Images
That sound you hear isn't the toilet flushing. Rather, it is the panic that has emancipated itself from the high hopes that were brought forth when the Philadelphia Phillies first took to the diamond in 2012.
Most people saw through the gilded exterior of the 2012 Phillies 40-man roster to a problem that was looming ahead. The problem is three-fold, and here, halfway through June, it has finally reared its ugly head.
The problem isn't that the Phillies are nine games behind the Washington Nationals in the N.L. East. The problem lies in the discarded waste laid forth by general manager Ruben Amaro Jr. in his quest to build a franchise that would be the king of the mountaintop, albeit a temporary mountaintop.
Die-hard fans and insiders, (yes, the die-hard phanatical fans in Philadelphia come first), both knew something was seriously wrong with the atmosphere in Philly. Ironically enough, while both contingents acknowledged something was wrong, no one knew what specifically was wrong.
Tired discussions of how a healthy Chase Utley and Ryan Howard could help this ballclub aside, the problem lies in GM Amaro Jr.'s management of this team.
First, Amaro Jr. was duped by Utley's own prognosis concerning the lower half of his frame.
Second, Howard's timetable to return has been unclear, and Amaro Jr. has not been forthright when it comes to public relations.
Third, no one in their right mind expected the Phillie rotation to pitch as splendidly as it did in 2011.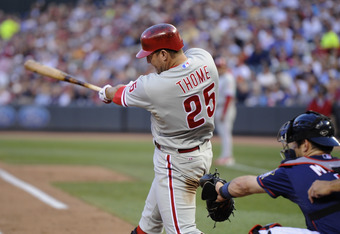 Hannah Foslien/Getty Images
The first two topics speak for themselves.
On the third topic, Roy Halladay, Cliff Lee and Cole Hamels are monsters. Yet, all of the reports out of Clearwater during the spring were focused on Halladay's diminished velocity, Lee's elbow concerns and Hamels' contract situation.
Thus far, the latter two issues have been more accurate than any reporting on Hamels' ability to function with his long-term status in Philadelphia in doubt.
As good as Vance Worley was as a rookie, his BABIP and other metrics suggest that he pitched over his head.
Also, while Joe Blanton has looked good periodically in 2012, nobody expected Blanton to fully earn the $8.5 million he is making this year.
Meanwhile, Amaro Jr.'s idea for fortifying the house that manager Charlie Manuel built was to give the aging Jimmy Rollins a lucrative deal that will likely backfire (if it hasn't already).
Furthermore, Amaro overpaid for a closer in Jonathan Papelbon, and bypassed power hitters like Josh Willingham, Michael Cuddyer and Jason Kubel for light-hitting Ty Wigginton, Juan Pierre and Jim Thome.
While I recognize that Thome has been on a tear during interleague play, he offers nothing as a full-time player at 1B once interleague is over. Also, his pinch-hitting statistics are worse than former Phillie Ross Gload's.
Needless to say, Amaro Jr. swung and missed big time with this roster.
Instead of locking up Cole Hamels with a long-term deal, he decided to sure up Jimmy Rollins at shortstop—a contract that Amaro Jr. will want to quickly forget come next season.
On the bright side, Placido Polanco, Shane Victorino, Juan Pierre, Jim Thome and Joe Blanton will likely be gone next year.
On the downside, so will Cole Hamels.
With that in mind, the Phillies can do three things to drastically help curb the downslide they are currently mired in.
First, trade Cole Hamels.
I know, it seems crazy. Even with Roy Halladay on the disabled list, the Phillies should trade Hamels to the highest bidder and receive the appropriate high-level prospects in return.
Then, in the offseason, the Phillies can turn around and re-sign Hamels (I know, nearly a pipe dream, but it can be done). By doing this, Amaro Jr. would be able to maximize his return for Hamels, and bring Hamels back to the red pinstripes in 2013.
Second, Amaro Jr. must move Jim Thome while he is hot. The Cleveland Indians would be the ideal situation, since their current DH, Johnny Damon, is swinging and missing at beach balls. The return on Thome may not be great, but it could be satisfactory.
Third, trade Shane Victorino and give Domonic Brown one more shot in the Show.
Victorino is not going to be back in Philly next season due to the contract he will likely get somewhere else, so why not move him for some long-term depth or a veteran reliever?
Amaro Jr. can also give former five-tool prospect Dom Brown one last chance to prove himself. It's not like Brown isn't tearing the cover off of the ball at Lehigh Valley.
While my three proposals are not likely to yield a playoff appearance for the Phillies in 2012, they are a realistic approach to saving the 2012 season while also keeping an eye on a rebound year in 2013.