Alex Rodriguez Holds the Key to an Unstoppable Yankees Offense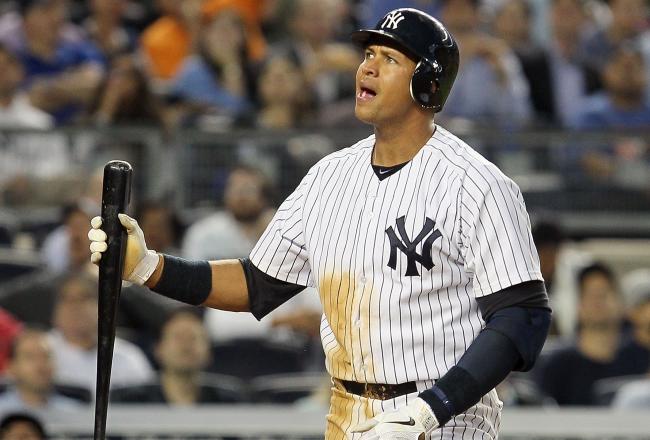 A-Rod is no longer baseball's most feared slugger. It's time for him to accept that and beat teams in other ways.
Jim McIsaac/Getty Images
The 2012 season has been a struggle for Alex Rodriguez, the rapidly-aging third baseman of the New York Yankees. For $30 million, the Yankees aren't getting a whole lot of production.
But contrary to how things may appear, it's not all bad.
A-Rod haters and fans alike should be able to appreciate the fact that he's at least staying healthy this season. His problematic right knee hasn't been an issue (yet), which may or may not have something to do with his offseason trip to Germany for the Kobe Bryant treatment.
Plus, A-Rod is actually having a halfway decent month of June.
Per Baseball-Reference.com, he's only batting .250 this month, but he's already up to three home runs and 11 RBI in 12 games. He'll enter this weekend's series against the Washington Nationals with a modest seven-game hitting streak.
These numbers don't look significant at first glance, but it's worth noting that A-Rod only had three home runs and eight RBI in 27 games during the month of May. He hit .314, but the production that the Yankees are paying him for wasn't there.
At the rate he's going this month, A-Rod could finish with upwards of 20 RBI, which would be a positive sign seeing as how he hasn't driven in as many as 20 runs in a single month since last June.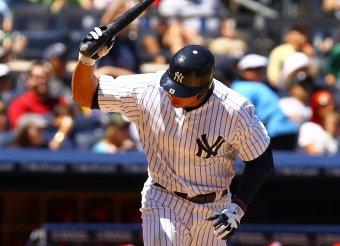 Al Bello/Getty Images
It would be great if he could keep the home runs coming too, but nobody should hold their breath on that front.
A-Rod's natural raw power is gone, and will probably never return. He didn't have to try to generate power in his younger days, and that's exactly what's changed for him in old age (by baseball standards, anyway). Generating power now takes extra effort.
No doubt that you've noticed as much while watching A-Rod this season.
The numbers very clearly suggest that he just doesn't have the same pop in his bat that he used to. It's concerning that he only has six doubles to go with his 10 home runs, and his ISO (a FanGraphs stat that measures a hitter's raw power) is all the way down to .158. That puts him in the same company as guys like Mike Aviles and Alex Rios.
The fact that A-Rod does indeed have more home runs than doubles is a sign of how hard he's trying to hit home runs. He's putting pressure on himself to drive the ball, which is understandable.
That's what the Yankees are paying him to do, and it's what he's used to doing.
But if he really wants to help the Yankees, what A-Rod needs to do is stop trying to hit the ball so damn hard. It's time for him to accept his loss of power and just worry about getting hits, especially in situations when all the Yankees need is a hit.
Consider this: In games in which A-Rod has collected at least one RBI, the Yankees are 17-0 this season. Simply put, when he pulls his weight, the Yankees win.
But he's just not pulling his weight often enough. When the Yankees need him to come up with a big hit, he has a tendency to make outs.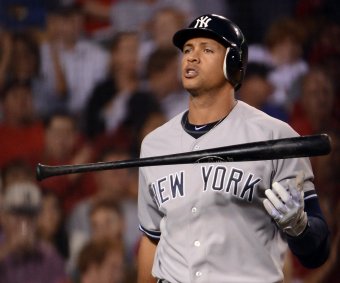 Harry How/Getty Images
With nobody on base, A-Rod is hitting .322 with a .496 slugging percentage and a .902 OPS, solid numbers by any set of standards. When men are on base, however, A-Rod is hitting .224 with a .364 slugging percentage and a .695 OPS.
He's just as bad with runners in scoring position. In those situations, he's hitting .213 with a .410 slugging percentage, not to mention a hideous .191 batting average on balls in play. With runners in scoring position and two men out, he's hitting .167 with a .333 slugging percentage.
In the past, A-Rod didn't have to change his approach at the plate with ducks on the pond. He went to the plate knowing that there was no pitch he couldn't drive, and he routinely cashed in plenty of runs every season exactly because he would drive the ball with ducks on the pond. Runs batted in used to come easy for him.
They're not now, and that's a sign that A-Rod needs to simplify things. He should approach RBI opportunities just looking to get hits. They need not be booming ones.
Yankee fans will hopefully remember what Bobby Abreu brought to the Yankees during his brief tenure with the team. By the time he was acquired by the Bombers in 2006, Abreu's power was long gone. You could say that he used it all up in the 2005 Home Run Derby—a sound theory.
Despite his long-lost power, Abreu managed to drive in 100 runs in 2007 and 2008, and was able to do it because he was money with runners in scoring position.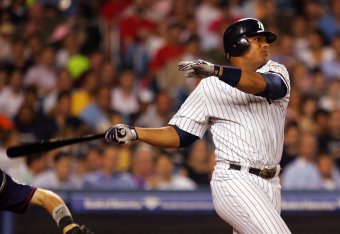 Jim McIsaac/Getty Images
In 2007, Abreu hit .286 with a .446 slugging percentage with runners in scoring position, using 50 hits to rack up 79 of his 101 RBI that season. In 2008, he hit .296 with a .450 slugging percentage, once again collecting exactly 50 hits. That year, he collected 67 of his 100 RBI by hitting with runners in scoring position.
Abreu didn't try to do too much with runners in scoring position in 2007 and 2008. He just took what he was given, and the fact that his BABIPs with runners in scoring position in those two seasons were well over .300 goes to show that he did a damn good job.
And because Abreu was so good at keeping the line moving, he was able to keep the scoring opportunities coming for the rest of the lineup.
It's not an accident that he scored a grand total of 223 runs combined between 2007 and 2008.
A-Rod could learn a thing or two from Abreu. Instead of trying to be the guy in the Yankees' lineup, he should focus on being just another cog. His focus should be on keeping the line moving.
A-Rod is hitting .328 with an .866 OPS when he bats third in the lineup, a spot that Joe Girardi has been penciling him into more and more in recent games, with Robinson Cano and Mark Teixeira directly behind him.
Over or under 100 RBI for A-Rod this season?
This is the best spot for A-Rod, and it's worth noting that Abreu spent much of his time with the Yankees in '07 and '08 batting third in the lineup. His presence in that spot was useful because he could both drive in the Yankees' table-setters and get on base for the big boppers.
This should be A-Rod's new lot in life. He's no longer capable of being the game's most feared power hitter, but he has it in him to be one of the game's peskiest No. 3 hitters.
He wouldn't be the same old A-Rod in this capacity, but he'd certainly be an upgrade over the current version of himself.
If A-Rod accepts this role and finds it in himself to take pride in it, both he and the Yankees' offense as a whole will flourish.
He still wouldn't be worth $30 million, but he'd be more worth $30 million than he is right now.
If you want to talk baseball, hit me up on Twitter.
This article is
What is the duplicate article?
Why is this article offensive?
Where is this article plagiarized from?
Why is this article poorly edited?

New York Yankees: Like this team?