Euro 2012 Schedule: Start Times, Live Stream and TV Info for Day 9 Action
June 15, 2012

Alex Grimm/Getty Images
We have arrived at the final match of group play as the stakes continue to get higher.
Group A will be on center stage again, and nothing has been decided yet.  
While the Russians look to be in a comfortable position atop the group with four points, a loss coupled with a Czech or Poland win would knock them back to the runner-up position in the grouping.
It's the difference between Germany and Portugal/Denmark…which is gigantic.
Yet Russia is in terrific shape to advance in some shape or form. The match everyone will be tuned to is the Czech Republic vs. Poland. A tie does Poland no good, they need to win. If they do as much, they'll be guaranteed a spot in the next round. A loss or tie and it's over.
Here are predictions for the action on Day 9 at Euro 2012.
Czech Republic (3 points) vs. Poland (2 points)
When: 2:45 p.m. ET
Watch: ESPN2
Where: Stadion Miejski (Wroclaw), Poland
Live Stream: ESPN3.com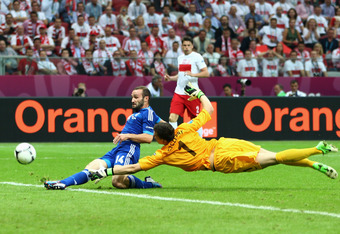 Michael Steele/Getty Images
The big storyline revolves around the health of Czech midfielder Tomas Rosicky.
He was unable to train on Friday, but coach Michael Bilek is remaining optimistic that he'll be able to suit up. Petr Cech will be a game time decision as well.
The other question mark is at goalie, where Wojciech Szczesny is back from his one game ban, but may not see the field after the impressive performance Przemyslaw Tyton displayed against the Greek.
The Czech Republic is going to need all the help they can get against a Poland team that knows they can't settle for a third-straight tie in group play.
The Polish starting lineup will remain the same, which combined with the home crowd should be enough to at least gain a draw.
But with an offensive attack that has looked horrific thus far, it's hard to imagine them putting up two goals against the bigger and stronger Czech defense that has been extremely physical thus far.  
Predictions: Czech Republic 1, Poland 1
Greece (1 point) vs. Russia (4 points)
When: 2:45 p.m. ET
Watch: ESPN
Where: National Stadium, Poland
Live Stream: ESPN3.com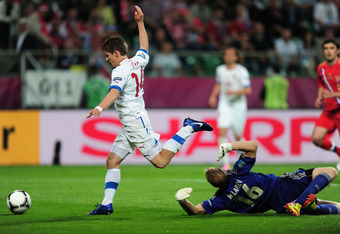 Jamie McDonald/Getty Images
While Russia may be making headlines off the field for its fans, the product on the field has been spectacular thus far.
They have played disciplined soccer, with sound game plans that have been executed properly. Alan Dzagoev has three goals in two matches and their keeper Vyacheslav Malafeev has been incredible on defense.
As for Greece, they can't get off to yet another slow start for the third straight match. I don't understand how their energy level doesn't get amped up until later, It's a horrible habit and one of the main reasons they are a long-shot to advance.
They simply don't have the talent, toughness or focus of the Russians to think about pulling off the shocking upset.
Prediction: Russia 3, Greece 1