UFC 147: 5 Fights That Could Make the Card Worthwhile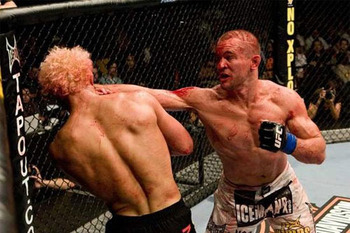 Courtesy of MMAmania.com
Chris Lytle, the king of fight night awards, was a guest of MMA Junkie Radio and gave the world an update on his life post-retirement. While in the studio, "Lights Out" was asked if he would ever get back into the Octagon.
Here's the only condition in which I'd take a fight. Let's say it's about four days out (from a UFC) event, and someone got hurt. And it was the right kind of fight, and they say, 'We need you Chris.' Then I might do it because I'm still in pretty good shape. And if I didn't have to go out and spend all day training, spend time away from my family, I'd do that. I'd hop in last minute. That wouldn't be too bad. That could be a possibility.
The thought of Lytle getting back into the cage on short notice makes us think about other notable fighters who might be willing to forego a full training camp and throw on a pair of gloves on short notice.
With UFC 147 appearing to be the weakest pay-per-view in recent memory, a late addition to the card could make the event purchase-worthy. Franklin vs. Silva II is a decent main event in a rematch from UFC 99. The current co-main event features top-five heavyweight Fabricio Werdum against once-beaten Mike Russow.
Aside from these contests, the card has no brand-name fighters, nor any ranked fighters of any kind. This makes us wonder if there are any fights that could be booked on short notice that would make the card worth a $45 purchase.
Here's a look at five fights that are within the realm of possibility and might make the top half of the PPV buyable.
Chris Lytle vs. Erick Silva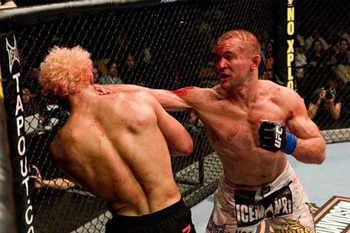 MMAmania.com
Since Lytle mentioned that he would come back on short notice in the event that the company needed him, I'm absolutely going to call in that favor for UFC 147. He's considered to be one of the most exciting fighters in the history of the sport—both dangerous on the feet and deadly on the canvas.
On the flip side of that coin is white-hot prospect Erick Silva. Silva is 3-0 in the UFC (I don't care what you think. I count the Prater fight.) and has put together first-round stoppages in each appearance.
Experience could play a major factor in this fight. Silva has recorded little more than five minutes of cage time in the UFC. Lytle, however, has more than five hours.
Lytle has never been submitted nor knocked out in his storied career, although he has been stopped due to cuts in the past.
Could Silva be the first to score a legitimate stoppage? Could Silva survive the deep waters of later rounds against a cagey veteran? These are the kinds of questions that make this fight so intriguing and such a great fight for the middle of a PPV.
Travis Browne vs. Roy Nelson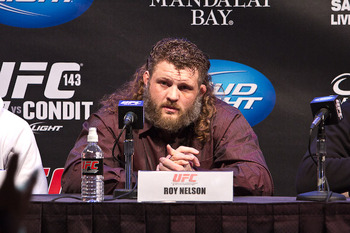 Courtesy of Sherdog.com
If UFC 146 showed us anything, it's that people love to watch heavyweights stand and bang. With power that cannot be emulated at the lower weight classes, the big boys of the UFC are known for delivering highlight reel moments that satisfy.
Although UFC 147 features a heavyweight contest already, Mike "The Snoozemaker" Russow is not the kind of fighter whom fans are willing to pay for.
My next suggestion sees two men who are known for their knockouts: Travis Browne vs. Roy Nelson.
Browne recently destroyed Chad Griggs at UFC 145 in a performance so dominant that it sent Griggs running to another division. "Hapa" has never tasted defeat, and he holds a signature KO win over Stefan Struve.
Nelson is a rankings' gatekeeper who never fails to bring the excitement to the cage. In fact, "Big Country" has scored memorable knockouts in each of his four UFC wins.
I'm aware that Browne is already scheduled to fight Ben Rothwell at UFC on Fox 4, however, a bird in the hand is worth two in the bush. Browne was an alternate for UFC 146, and he's in the middle of a training camp now, so he would be ready in the event that he were called on. And when have you ever known Nelson to turn down a fight?
Donald Cerrone vs. Diego Sanchez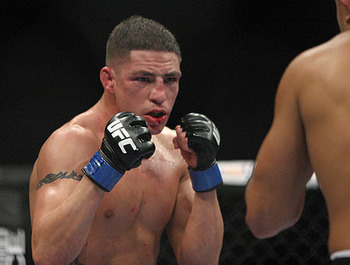 Courtesy of heavy.com
After his February loss to Jake Ellenberger, TUF winner Diego Sanchez announced that he's heading back to the lightweight division. With four months off since his last contest, he should be ready to make the drop if asked.
What better lightweight to welcome him back than the ultimate workhorse—Donald Cerrone?
Cerrone showed fans that he's ready to take any fight on short notice, as he fought five times for the UFC in a calendar year. His biggest achievement during that period was systematically shutting down the momentum of rising contender Dennis Siver.
Sanchez has a speed advantage, and I'd argue he's better on the feet. However, Cowboy is no slouch in the standup game. Additionally, Cerrone has a fierce grappling game that has scored him major submission wins.
If you're looking to add an exciting fight that fans aren't willing to miss, Cowboy vs. Nightmare is a sure thing.
Alexander Gustafsson vs. Glover Teixeira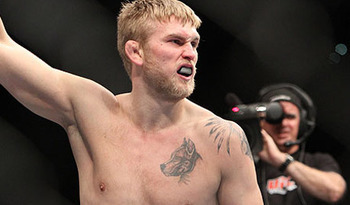 Courtesy of AllianceGym.com
Shogun Rua doesn't want to fight Glover Teixeira, and who can blame him?
The monster has only had one fight in the UFC, but he destroyed AKA fighter Kyle Kingsbury in an embarrassing manner. Not only that, but Teixeira has first-round knockouts over former UFC fighters Ricco Rodriguez, Marvin Eastman and Sokoudjou to his credit.
Still without an opponent, Alexander Gustafsson has been aching for a step up in competition. While Teixeira may not have a spot high on the official rankings, it's clear that will not be the case for long.
Could the Swede prove that Teixeira is little more than a bag of hype? Would Teixeira overpower the technical style of Gustafsson? The cream rises to the top, and this is a fight where we would crown a new top prospect in the light-heavyweight division.
I originally wrote this slide as Teixeira vs. Evans, but let's be honest: Rashad Evans is the kind of fighter who feels like his feces has no odor. If Shogun can refuse this fight, you'd better believe that Suga would do the same.
Strikeforce Middleweight Championship: Tim Kennedy vs. Luke Rockhold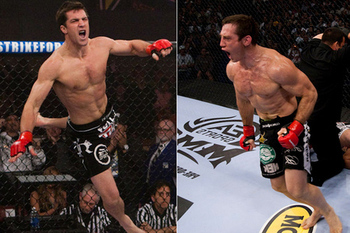 Courtesy of MMAmania.com
This is easily the biggest stretch on this list, but if you're looking to add value to a PPV, you can do no better than a title fight.
Strikeforce middleweights Tim Kennedy and Luke Rockhold are rare diamonds in the rough of a dying brand. Kennedy and Rockhold are both criminally ignored when it comes to ranking the top 10 of their division, as each man has a legitimate claim to a spot. Their fight should be an exciting scrap with an overflow of heart and determination.
Currently, this fight is scheduled for early July, but the Zuffa brass might be able to pull some strings and perform some persuasive negotiations to get it moved. Getting them moved onto a UFC PPV can only mean good things for the long-term viability of Strikeforce. It will put them in front of new faces and subconsciously remind us that they belong in the UFC.
Don't worry about the July 14th Strikeforce card being without talent in the event of a fight being moved. The co-main event features a second title fight between Nate Marquardt and Tyron Woodley which could be shifted into top billing.
Keep Reading