MLB: Why the Baltimore Orioles Should Not Be Buyers This Trade Season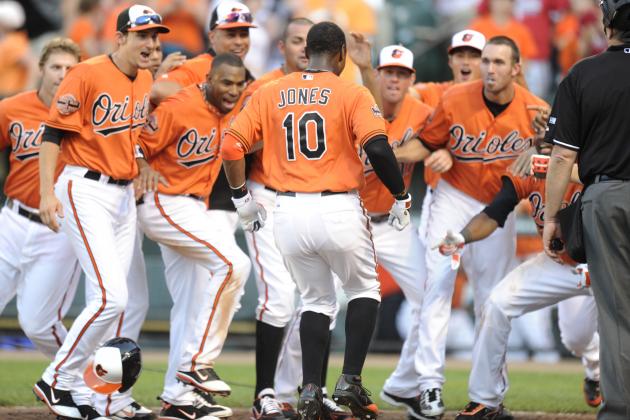 Mitchell Layton/Getty Images

Halfway through June, the Baltimore Orioles are 37-26. Their success has many experts and fans speculating that the O's will be buyers this trade season and will look to add a veteran pitcher soon, but trading away prospects for a few months of an aging star doesn't make sense for this ball club.
The Orioles are rumored to be interested in Chicago's trade pieces Ryan Dempster and Alfonso Soriano. These two will more than likely be mentioned many times in the coming months as teams begin to fall out of contention.
I know that for the first time in a long time the O's are looking like contenders, but trading away what little depth Baltimore has in its farm system would cost the team dearly in the years to come.
Begin Slideshow

»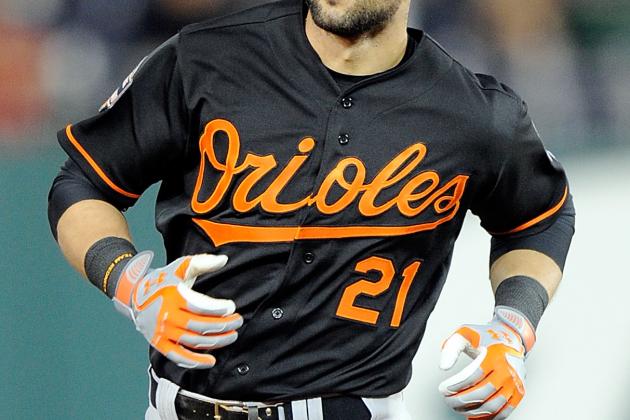 Greg Fiume/Getty Images

Right now the O's are having success without some key players.
Star outfielder Nick Markakis is on the road back after breaking his hamate bone. Once he returns, the O's will be adding a Gold Glove winner with a career .363 OBP.
Despite there not being a time table set for Nolan Reimold's return, the Orioles remain hopeful that he will play again for them this season. The budding star had an OPS of .960 before going on the DL months ago.
The return of these guys to the lineup will have the same effect of adding a veteran bat at the deadline.
There have been injuries to some key pitchers as well.
Last year, Zach Britton won 11 ball games for the Orioles. He is fine-tuning his stuff at Triple-A after working his way back from shoulder issues sustained in Spring Training. Once he is able to get some quality innings under his belt in Norfolk, he will return to Baltimore's rotation.
A return of Britton would give the O's another steady arm to go with Wei-Yin Chen, Jason Hammel and Brian Matusz. If Britton could become that fourth option, it would make little sense for the O's to add a pitcher like Ryan Dempster, who lacks power stuff needed to succeed in the postseason.
Reliever Matt Lindstrom is also close to returning from a torn ligament in his middle finger. Lindstrom will give the O's that extra power bullpen arm most contenders look to add at the deadline.
With three key players close to returning and the possibility of Reimold contributing post All-Star break, the O's will be receiving that mid-season boost desired from a trade without having to deal the prospects.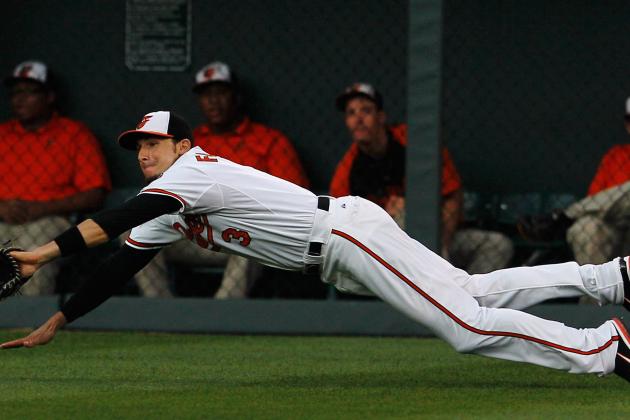 Rob Carr/Getty Images

One reason the Orioles should ride things out with the current club is the extra Wild Card.
It is easier to make the playoffs this season, plain and simple. The O's could actually make the playoffs while finishing third in their division.
In years past, the O's would have desperately needed to make a move to finish ahead of the Rays, Red Sox, Angels and other teams vying for a playoff spot. Now they can afford to lose out to one of these teams and still be playing in October.
The extra spot gives the Orioles a little cushion in their run to the playoffs, which means they can afford to see how things pan out with the current roster.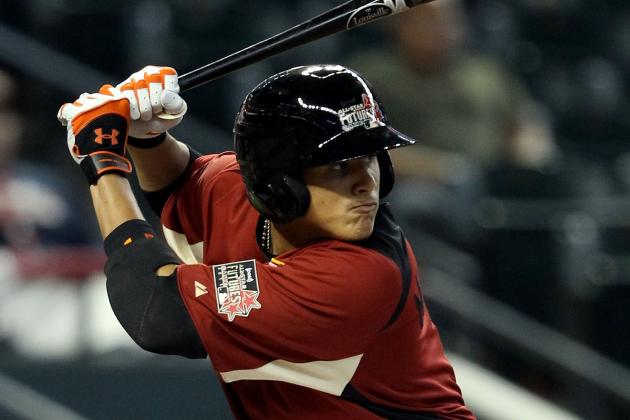 Christian Petersen/Getty Images

Unfortunately for Baltimore, the only players worth adding during a playoff push are going to carry a hefty price tag.
Adding a Dempster would be nice, but would it make the O's rotation elite? Absolutely not; we are talking about a career NL pitcher who has spent the past decade pitching in the light-hitting NL Central.
He would likely cost the O's a mid-level prospect and a major league-level piece. A possible package might include Jake Arrieta and Jonathan Schoop. That deal would more than likely hurt the Orioles in the long run.
To add an ace pitcher, it would cost the O's much more. A guy like Cole Hamels, who the Phillies will most likely try and resign rather than deal, would demand a package of prospects so large it would completely deplete the Orioles' farm system. I'm talking a Pedro Strop-, Manny Machado- and Dylan Bundy-type package.
A similar deal took place when the Expos sent Cliff Lee, Grady Sizemore and Brandon Phillips to Cleveland for Bartolo Colon, and look how that turned out.
I would rather see the Orioles stay put than deal young pieces for an older pitcher along the lines of Dempster, who probably wouldn't help all that much this season anyway.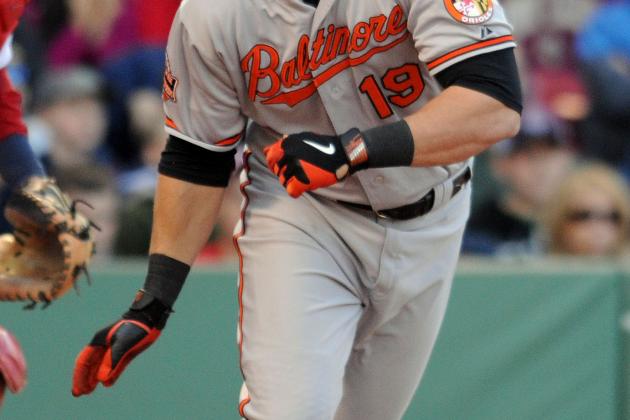 Darren McCollester/Getty Images

Andy MacPhail started it, and the Dan Duquette and Buck Showalter regime is following through with a plan that includes drafting and developing talent while making smart moves that help the team in the long run.
The O's have to be careful and avoid shipping out young talent for a small short-term gain.
The goal shouldn't be to make the playoffs just this season. It should be to build a winning ball club that can compete for years to come.
Making impulsive trades is one of the quickest ways to set a team back. It's the main reason the Orioles should stay put this trade season.