FYI WIRZ: NASCAR's Matt Kenseth and Dale Earnhardt Jr. Talk Fast Michigan
June 15, 2012

Matt Kenseth's consistent finishes boosted his team to the top spot in the NASCAR Sprint Cup standings this week with Dale Earnhardt Jr. in second, just 10 points behind.
The long Sprint Cup season continues with Race 15 this Sunday with the Quicken Loans 400 on the 2.0-mile tri-oval track at Michigan International Speedway.
Fans not in the Brooklyn, Michigan stands on June 17 can view the action at 12 p.m. ET on TNT.
Newly repaved surfaces like Daytona, Pocono and now Michigan have produced smooth fast laps. The wide track with 18-degree banking at Michigan International Speedway gives new meaning to wicked fast as NSCS cars breached the 200 mph mark in testing this week.
Five-time NASCAR Sprint Cup champion Jimmie Johnson summed up his experience on the new surface. "It is quite a rush for the driver to be going this fast," Johnson said.
The top-five drivers in Sprint Cup—Matt Kenseth, Dale Earnhardt Jr., Greg Biffle, Denny Hamlin and Jimmie Johnson—had speedy words of anticipation for the fast Michigan track.
Matt Kenseth has stayed in the top 10 all season after winning the Daytona 500. The 2003 champion is always a threat to be first to the checkered flag.
Matt Kenseth (No. 17 Ford)
"Michigan is one of my favorite tracks throughout the season and I always look forward to going to Michigan since it's in the Midwest," Kenseth. "We participated in the tire test here in April and saw some pretty quick lap times. There was a ton of grip, and I assume it would be a little faster as the track gets dusted off and rubbered in, so speeds should pick up a bit. When we were in race trim, we were almost four seconds faster than we were racing last year, which is quite a difference. Racing at Michigan is a big weekend for us since the area is the headquarters for Roush Industries and Ford Motor Company."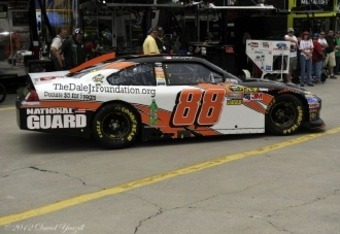 It may not seem like Dale Earnhardt Jr. wants to win more than his devoted legion of fans, but victory lane is at the very top of his to-do list. Still, his 11 top-10 finishes this year beat all NSCS drivers.
Dale Earnhardt Jr. (No. 88 Chevrolet)
"I'm looking forward to going to Michigan and testing there for the day," Earnhardt said. "With the repave some things might be similar to Pocono. We learned a lot during the five days up there and hopefully we can go to Michigan with some of that stuff we learned and have a strong car."
Greg Biffle occupied the top of the points pile for weeks, but slipped off the summit to third place when he had equipment failure at Pocono. He and the No. 16 team have been consistent in season 2012.
Greg Biffle (No. 16 Ford)
"I'm looking forward to Michigan," Biffle said. "It's one of my favorite tracks and we've run really, really well there in the past. It's another track that's been repaved, so we'll have another whole day of testing this week to get our cars going good for the weekend. Again engines are going to be an issue with the high rpms, but we'll just have to wait and see how MIS turns out."
Denny Hamlin continues to have a better year than his past point battles and that may carry over into the Chase for the Sprint Cup. Hamlin and team are confident.
Denny Hamlin (No. 11 Toyota)
"I'm not sure what to expect at Michigan. I know it's going to be fast."
"You never know how a race is going to play out. Obviously, all of these tracks that are getting repaved, it's tough to make a tire that wears off enough to get a lot of passing, and most people are forced to run one groove, but Michigan is so wide and fast that hopefully it will give guys the opportunity to move around a little bit. That was always the best part about Michigan—moving your car around during the course of a run to see where it is at its best. For me, that's what I hope happens on Sunday."
Jimmie Johnson has achieved five straight championships in his No. 48 race vehicle with the precision of machine. After a slow start he and team have nabbed two wins in about one month. Twelve races remain before the Chase contenders are set for the 10-race playoffs.
Jimmie Johnson (No. 48 Chevrolet)
"I talked to Matt Kenseth and Jeff Gordon. There are different ways that we describe things and the expression that both Jeff and Matt had on their faces when they described the speed at Michigan; I know it's going to be exciting! It's just going to be blistering fast."
"When I think of Michigan and Pocono, there are really three or four cars that are in the mix every time. I think the repave shuffles that up some and brings more guys into the mix, so it could have an impact."
"We will have a good show for Sunday, if last weekend's race is any indication."
FYI WIRZ is the select presentation of topics by Dwight Drum at Racetake.com. Unless otherwise noted, information and all quotes were obtained from personal interviews or official release materials provided by NASCAR and team representatives.