Jeremy Hellickson: Tampa Bay Rays Hurler Takes Home AL Worst of the Night Award
June 15, 2012

Al Messerschmidt/Getty Images
Something was up with Jeremy Hellickson in his start against the Miami Marlins back on June 8. He only allowed one earned run, but he gave up five hits and walked seven in 4.1 innings of work.
His control is usually a lot better than that. Something was clearly amiss.
Whatever it was, Hellickson apparently didn't get the problem squared away before his start against the New York Mets on Thursday.
He didn't walk the ballpark, mind you. This time around, he just wasn't able to miss any bats.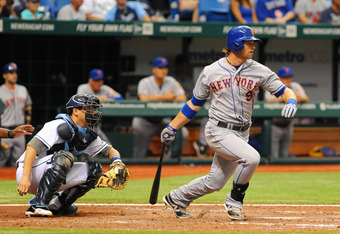 Al Messerschmidt/Getty Images
The Mets teed off against Hellickson, battering him around for eight earned runs on nine hits in 3.2 innings. They slugged three home runs off of him, two of which were hit by the incomparably awesome Kirk Nieuwenhuis.
Hellickson was forced to throw 93 pitches in his 3.2 innings. Per Baseball-Reference.com, he only got four swinging strikes among those 93 pitches. On a good day, he's capable of getting nine or 10 swinging strikes, mostly on his killer changeup.
After the game, Hellickson admitted that he just wasn't able to control his changeup.
"They didn't miss too many mistakes," he said, via the Associated Press. "I left some changeups up and they just didn't miss bad pitches. I just made too many mistakes."
The eight earned runs Hellickson allowed represent a new career high for him. He walked away with a game score of 10, which is about as bad as it gets. His previous low this season was a game score of 31. 
Combined between his last two starts, Hellickson has given up nine earned runs in eight innings of work, with 14 hits allowed and eight walks given up. It's fair to say he's hit a rough patch.
And this is very weird. Hellickson may not be the sexiest pitcher under the sun in terms of stuff or numbers, but he's a guy with an uncanny ability to get the job done on a consistent basis.
For example, check out this little tidbit from Rays Gameday on Twitter:
This marks just the 5th time (!!) in Jeremy Hellickson's career he's allowed more than 3 ER. Today marks his 46th MLB start.

— Rays GameDay (@RaysGameDay) June 14, 2012
For a young pitcher, that's pretty remarkable.
Given his track record, there's no reason to panic over Hellickson's recent struggles. There doesn't appear to be anything physically wrong with him, anyway. He just needs to rediscover his changeup command, which is something that ESPN's Buster Olney said Hellickson was working on before Thursday's start.
If he finds it again, he'll go back to being himself.
For now, I am bestowing American League "Worst of the Night" honors on Hellickson. Seeing as how he just had the worst start of his career, I'd say it's well warranted.
Here's hoping he gets his changeup back. I'd rather not have to make him a two-time winner when his next start rolls around.
If you ever want to nominate a player for the American League "Worst of the Night" award, hit me up on Twitter.