Manchester United Transfer Rumours: 5 Strikers Worth Considering This Summer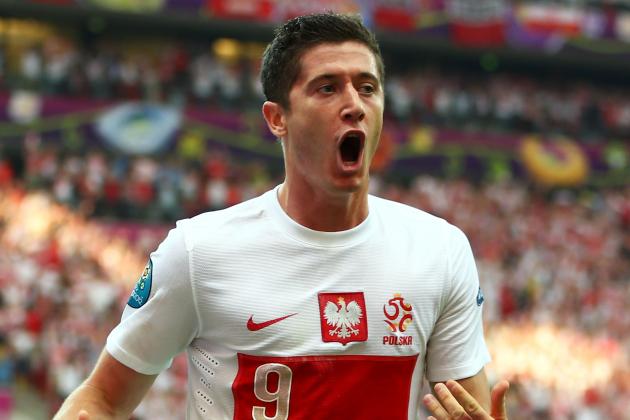 Michael Steele/Getty Images

Sir Alex Ferguson has acted swiftly and decisively this off-season, instantly looking to address the imbalances that plagued his beleaguered squad last term.
With Japanese phenomenon Shinji Kagawa already signed for a initial £12 million and wonder kid Nick Powell also joining in recent days for around £3 million, the old master is already beginning to play his hand.
In terms of future targets the central midfield berth is still patently lacking in true world class talent, and if rumours surrounding Luka Modric, Yohan Cabaye and Cheik Tiote indicate Ferguson's willingness to eradicate such weaknesses. A deal for Leighton Baines, in addition has been strongly suggested.
One position that has not been subject to such wild speculation is that of striker. With a relatively settled striking duo of Rooney and Welbeck last season growing into a formidable partnership, the problems, it seemed, were in other areas. However, with Dimitar Berbatov and Michael Owen almost certainly set for the Old Trafford exit door, and the young guard of Will Keane and Davide Petrucci, not quite ready for the step up maybe there is one more space in the attacking roster.
The criteria I have used is for either a player who has been linked to United or a move away, is a relatively feasible (although in some cases expensive transfer), and one who offers the team something different. In a general sense I feel all of the five players in this list could be broadly listed as "target men", as this is something that is severely lacking from a Rooney, Welbeck, Hernadez striking triumvirate.
The options are ranked from first to last. The next slide is the player I judge as most feasible as a signing and the last slide is the least realistic.
Begin Slideshow

»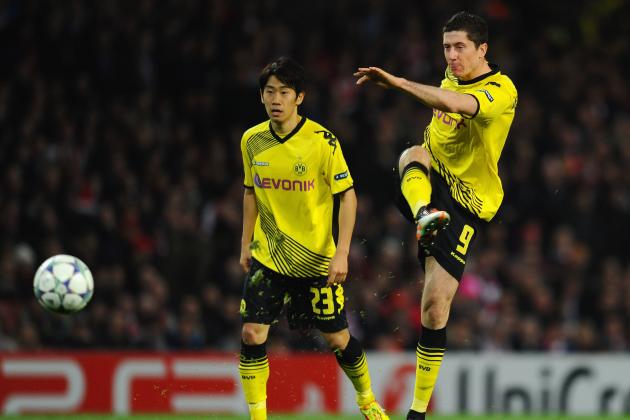 Mike Hewitt/Getty Images

In Poland's two opening games of Euro 2012, Robert Lewandowski, a relative unknown outside of Germany, has pushed his name into mainstream consensus.
A rangy player with supreme hold-up-play, Lewandowski has adapted expertly to the physicality of German league football (something that would stand him in good stead in England), scoring in excess of 30 goals for Borrusia Dortmund this season.
Rumours surrounding the Pole's prospective move to United have reached fever pitch in recent weeks and it is definitely a transfer I could envisage. Lewandowski's, superb hold-up game would be perfect foil for Wayne Rooney's attacking intent, added to this his superb finishing and you have a match made in red heaven.
The main roadblock to a deal would be Dortmund's reticence to lose another of their brightest stars in the same off-season (after Kagawa), to the same club.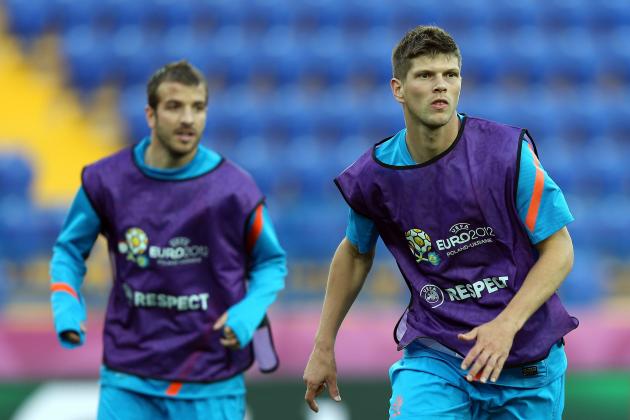 Julian Finney/Getty Images

Another Euro 2012 striker who we have seen decidedly less of on the pitch, Klaas jan Huntelaar's omission from the fancied Dutch team has coincided with their almost inevitable exit from the tournament.
The Dutchman has cut a desolate figure on the bench as compatriot Robin van Persie spurns yet another guild edged chance for Holland. Huntelaar himself, in the ilk of United legend Ruud van Nistelrooy, if nothing else is a finisher. In and around 24 yards he is prolific, as a dynamite season for club side Schalke in 2011/12 lays testament.
Part of the problem with Huntelaar's omission from the side in deference to his mis-firing colleague could be attributed to their relative statures in world football.
Where van Persie has cut a swathe through all before him in a brilliant last year for Arsenal, at the top level for Holland, Huntelaar's goal ratio is more prolific. Yet Huntelaar plays for Schalke. A high profile move to Real Madrid went awry and the Bundesliga side saved him from the nightmare just over a year later.
A Huntelaar move to United would be mutually beneficial in that it would improve the teams striking options, as well as raise his profile on the international stage.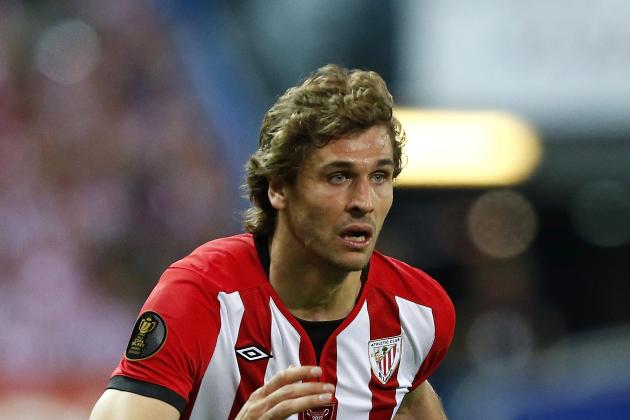 Angel Martinez/Getty Images

The third Euro 2012 striker on this list was delivered an even more stunning rebuff in his sides first group game, after his manager decided to play six midfielders and no strikers, with Cesc Fabregas as a makeshift forward!
The decision backfired as Italy managed to surprise the odds in holding Spain to a well-fought draw. To me, with Fernando Llorente on the pitch Spain would definitely have won.
Llorente gives his team a focus, as United found out to their cost this season after Bilbao knocked them out of the Europa cup. In the air Llorente is almost unplayable, which is another area of relative weakness in the current United side, with only Ferdinand and Vidic truly recognised aerial behemoths.
Bilbao will be 100% against selling, and given Ferguson's reluctance to pay over inflated fees a deal for a player with no resale value looks unlikely. Would he benefit Manchester United, however? Without a shadow of a doubt.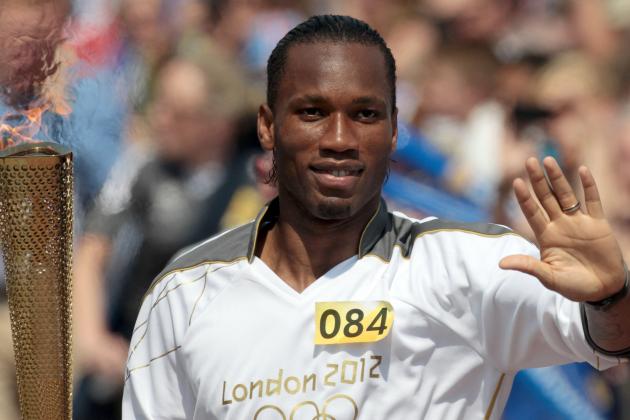 Matt Cardy/Getty Images

This might come a bit left-field and so far I have heard no viable rumours to attribute this to. In reality this, although making brilliant sense to me would absolutely flabbergast me if it came off.
A move for Didier Drogba, on a free transfer, however, with the current state of Manchester United's team makes brilliant sense. Drogba would bring a completely new dynamic to United's dressing room as well as an irrepressible winning mentality. His hold up play and desire has not wained with age, and against Barcelona in the Champions League I thought he was simply brilliant. Honestly I have no idea why Chelsea are letting him go.
In reality he will either go to China or the Far East for a mega-bucks pay day or maybe hook up with Mourinho at Madrid. He won't come to Manchester United but my god I want him to.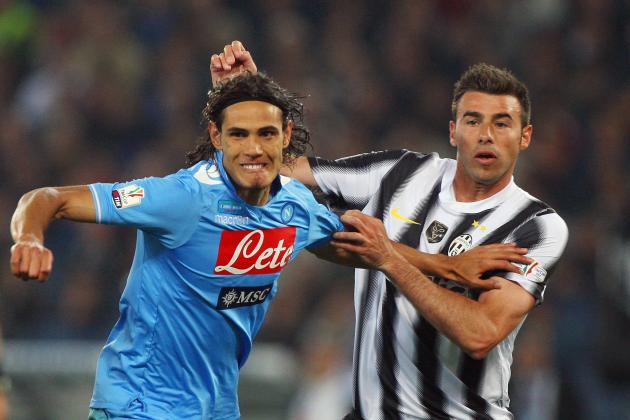 Paolo Bruno/Getty Images

A few months back Cavani to Manchester United (as well as Cavani to pretty much everyone else except Swansea) rumours were all the rage. In recent times the rumours have died back down, as Napoli try to cling on to their prize assets.
It is irrefutably true that Cavani would bring a new fresh dynamic to Manchester United, as well as the size and aerial prowess that the current forward line lacks. Although Cavani's relatively ponderous style flies in the face of the quick United attacking mentality, his class on the ball and undoubted contributions to Napoli over the last few years set him out as a contender worthy of analysis.
For the price that Napoli will demand for Cavani, however, clubs such as Real Madrid and Man City start as firm favourites for the Uruguayans signature if they can extradite him from Napoli. For United to justify what would be a club record signing, the player would need to adhere closer to their attacking system. In theory the transfer works better than it probably would in reality.