Classic Big Ten Football: Ohio State at Purdue, 2002
June 15, 2012

Jonathan Daniel/Getty Images
Every week, the Big Ten Blog will break down one classic game from the Big Ten's long, storied history. Today, we're going back a decade to one of the gutsiest—and most consequential—play calls in conference history
The slog of a strong conference can take down great teams, and on this cold, windy November afternoon in West Lafayette, it was threatening to take down a national championship contender.
Ohio State came into its game at Purdue undefeated and ranked second in the nation, but the momentum of the first half of the season—complete with convincing wins over Texas Tech and Washington State, both strong teams that year—was starting to wane.
Four of the Buckeyes' last seven wins had come by 11 points or fewer (and even that was a 27-16 win over a weak Northwestern squad), and pundits were starting to worry about whether or not Ohio State's offense had the firepower needed to win it all.
It also didn't help that star running back Maurice Clarett was nursing nerve damage in his left shoulder and wasn't 100 percent coming into the game. But Purdue was 4-5 coming into the game—a far cry from the likes of Wisconsin and Penn State, who Ohio State had snuck by earlier. Surely, a win was inevitable.
Whether it was just good preparation, good luck or just good juices flowing, Purdue was ready for Ohio State.
The Boilermakers drove into Ohio State's red zone before a sensationally ill-advised throw by Kyle Orton ended in an interception. And when Purdue returned the favor with a pick of its own, the Boilermakers capitalized and got on the board, 3-0. It took a miracle for Ohio State to get the snap off on a field goal at the end of the first half, and the score was equalized at the break.
The teams would trade punts, picks and poor play until the middle of the fourth quarter, until Brandon Kirsch, in for an ineffective Kyle Orton, hit Ray Williams for 58 yards on the first play of the Boilermakers' drive. Five Brandon Jones rushes later, Purdue was on Ohio State's 4-yard-line with a 3rd-and-3 awaiting. A touchdown would be crushing to Ohio State.
Instead, the Buckeyes got a sack, and Purdue took the 32-yard field goal and the 6-3 lead with under eight minutes left. It was on.
The two teams traded punts thereafter. Ohio State, having sputtered all day long, had just 3:10 and 46 yards between it and glory. That quickly turned into 3rd-and-14 at the 50 with 2:26 left. If the Purdue fans were feeling it before, they were tasting it now.
QB Craig Krenzel found Ben Hartsock along the sideline on third down, but he was stopped short and inbounds. With a clock running below two minutes and 4th-and-a-long-1 at the 37, Ohio State had no choice but to go for it.
So, surely it was time to give the ball back to the Buckeye workhorse, Maurice Clarett, and just keep this drive—oh wait, Krenzel's going back to pass, and he's looking long...
Holy Buckeye, indeed.
Purdue wasn't quite dead yet. Kyle Orton had guided the Boilermakers 19 yards to their own 39 and faced a 3rd-and-4 with under a minute to go. But a desperate heave-ho into double coverage found its way into Chris Gamble's hands, and that would be that.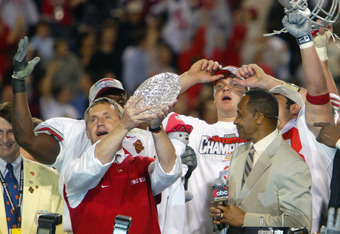 Jamie Squire/Getty Images
And the rest, as they say, is history. Ohio State picked up two more close wins against Illinois and Michigan to finish the regular season at 13-0 and in the BCS national championship against heavy favorite Miami. And just like every other game that season, Ohio State rose to the occasion and came away with the victory and the crystal football.
But what a call—especially from the staid and conservative Jim Tressel—to go for the whole ballgame, even with two minutes left on the clock and the ball far enough in Purdue territory that time really wasn't a factor for the Buckeyes yet.
What a throw by Craig Krenzel, facing a heavy blitz and stepping up in the pocket. And what a play by Michael Jenkins, with a defender literally hanging off of him for the entire route, to run right under where the ball was going and make the over-the-shoulder catch.
Purdue does have a bit of a happy ending in all of this: The Boilermakers won out against Michigan State and Indiana to become bowl eligible, then upended Washington 34-24 in the Sun Bowl to finish with a winning record. So yes, their hearts were ripped out there at home, and they didn't get a legendary upset, but hey, the pieces got put back together all right.
Doesn't make you feel better? Yeah, sorry, no. I understand.