Cleveland Browns Should Look to Move Seneca Wallace, Not Colt McCoy
June 15, 2012

Just a few days ago, Cleveland Browns quarterback Seneca Wallace told the assembled media to expect that either he or fellow quarterback Colt McCoy will be off the team by the time the regular season starts.
Yesterday, Browns team president Mike Holmgren backpedaled from Wallace's comments—somewhat—saying that as of now, they have no plans to seek a trade for either Wallace or McCoy, though he did concede that doesn't mean they "might not change something" at the position before September (via CBSSports.com).
ESPN Cleveland's Tony Grossi today examined Holmgren's words and determined they mean McCoy's time with the Browns is nearly up.
The team has yet to name a starting quarterback, saying of Brandon Weeden that "nothing gets handed to anybody" (via CBSSports.com). The odds aren't looking good that either Wallace or McCoy will win that job, and the team will have to decide what to do with the two remaining quarterbacks.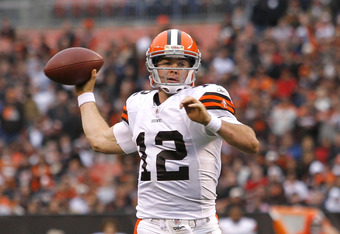 Matt Sullivan/Getty Images
I can see why the Browns, if they do seek to trade either Wallace or McCoy, would want to go with McCoy—he has more promise as a starter, and thus, interested teams can get more out of him, and in turn, the Browns can get more value in a trade.
However, if the Browns want to move one quarterback this year, I think it should be Wallace and not McCoy.
All indications point to Weeden eventually becoming the Browns' franchise quarterback and not just their starter. He has the maturity to handle the stresses of the position and the flat-out athletic talent (big arm, accuracy, seeming fearlessness) to take and maintain the reins at quarterback.
But he's still a rookie, and rookies do struggle.
Though Weeden may look impressive in practices and training camp, there's a big difference between team drills and a live game. Should Weeden end up on the bench, the Browns need to put in the quarterback who gives them the best chance to win—and that's McCoy.
McCoy's had only 21 starts in the NFL—not a large enough sample size to determine how talented a quarterback he really is. But he's clearly a better option than Wallace, who certainly doesn't have the capability to be a starter anywhere at this point in his career.
Wallace's job now is to go wherever Holmgren goes—Holmgren is clearly Wallace's biggest fan—and to take the field when all other options have been exhausted. The drop-off in talent from McCoy and Wallace wasn't terribly evident last season, but it's there.
I'm not saying the Browns should hold on to McCoy forever—if Weeden proves himself his rookie season, they then can try to move him for value. The most ideal situation in my estimation is to keep both Wallace and McCoy this year, move McCoy in the next and then hold on to Wallace as a backup who ideally never has to play.
But that's not likely the case.
The Browns are probably going to move one of their two veteran quarterbacks before the start of the season, and if they do so, it's likely to be McCoy. They can get more for him than they'd get for Wallace, and considering Wallace's ties with Holmgren and his apparent willingness to mentor Weeden, it makes more immediate business sense for McCoy to move on.
However, if the Browns want to have the best insurance policy possible in place this season, they'd be better served cutting ties with Wallace—or better yet, waiting until next year to make any changes to their quarterback depth chart.