Sweden vs. England Euro 2012: Attackers Who Must Step Up for Their Team to Win
June 15, 2012

Julian Finney/Getty Images
Sweden will take on England in an important Group D match, and both teams will need an improved offensive output in order to snatch a victory.
England was able to get a point against France while Andriy Shevchenko and Ukraine shocked Sweden.
Now, a loss could put either team in an extremely unfavorable position. 
Here are the goal-scorers that must have a solid showing in order to keep their team's tournament hopes intact. 
Ashley Young, Winger, England
The English barely tried to attack at any point against France, but when they did, Ashley Young was nowhere to be found.
Without Wayne Rooney, who is suspended for one more match, Young is England's most dangerous attacker.
They need him to be an outlet when they play defensive-minded football. He has the pace to make deep runs and the ability to score from distance. 
If Young is unable to improve his form against Sweden, then England's only hopes at getting a goal will be down to a set piece or an egregious error by the Swedish defense.
Zlatan Ibrahimovic, Striker, Sweden
There is no question that Zlatan Ibrahimovic is Sweden's best player, but he has often been disappointing on the international stage.
Despite grabbing the team's lone goal, his performance in the team's opening game left plenty to be desired. As ESPN Stats & Info notes, he had the most turnovers of any player in the opening round of games. 
Swedish captain Zlatan Ibrahimovic had five turnovers in today's match, most of any player in his tournament opener.

— ESPN Stats & Info (@ESPNStatsInfo) June 11, 2012
This statistic is clearly influenced by how often Ibrahimovic was on the ball, though he was still playing selfish football and often made poor decisions. 
For Sweden to have success against a stout English defense, he will need to get his teammates involved more and create chances, in addition to putting away the ones he receives.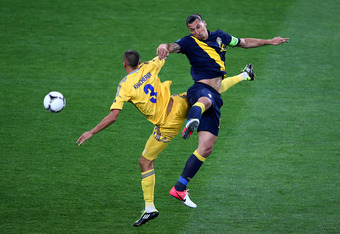 Martin Rose/Getty Images
Danny Welbeck, Striker, England 
The youngster has been given the difficult task of filling in for his suspended club teammate, and Danny Welbeck will need to come through for his country until Wayne Rooney returns.
Welbeck had little help up front against France, but the English will likely play less conservatively against a weaker Swedish side.
This will make Welbeck more comfortable up top and will allow him to make runs off the ball.
With more players pushing forward, Welbeck will have more opportunities. This game will provide an excellent stage for the 21-year-old to have a breakout performance.
Sebastian Larsson, Winger, Sweden
Zlatan Ibrahimovic cannot take on the English defense by himself and he will need help from Sebastian Larsson.
The Sunderland winger is a fantastic crosser of the ball and he will need to get free down the sideline against England.
Of all the Swedish attackers besides Ibrahimovic, he has the potential to do the most damage.
With his piercing runs and accurate crosses, Sweden can create enough chances to earn three points. He must be active and involved throughout this match in order for his side to get a positive result.