NL Worst of the Night: Brewers' John Axford Blows His 2nd Straight Save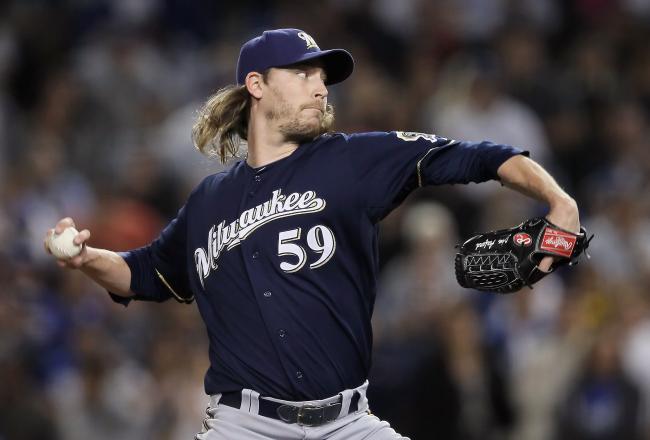 John Axford blew only two saves for the Brewers in 2011.
Jeff Gross/Getty Images
In what's been a rough year for closers throughout baseball, John Axford had managed to avoid the ninth-inning potholes that have sunk many of his fellow stoppers. That is, until now.
Axford blew his second consecutive save on Thursday, giving the Kansas City Royals a 4-3 walkoff win. That completed a three-game sweep over the Milwaukee Brewers.
Striking out the leadoff batter is a strong way for any closer to begin the ninth inning. And Axford set Mitch Maier on three straight pitches. But that third one bounced in the dirt for a wild pitch and Maier got to first base to set up the Royals' tying run.
Axford got the next two batters out, though Maier did advance to second base on a groundout. But the Brewers' closer walked Jarrod Dyson on five pitches, putting the winning run on base. That turned out to be costly, though Axford can't be entirely blamed for the losing result.
Axford did give up a single to the next batter, Brayan Pena. But if Brewers shortstop Edwin Maysonet had taken Norichika Aoki's relay and gone to third base or even home with a throw, Axford would have had a chance to get the next batter out.
Unfortunately, Maysonet threw to second base instead, with the speedy Dyson on third. Second baseman Rickie Weeks couldn't handle Maysonet's throw and then made a poor throw of his own, trying to get Dyson at home plate. Weeks' throw went wide, giving catcher Martin Maldonado no chance to tag out Dyson, who scored the winning run.
Watch the sequence of events here.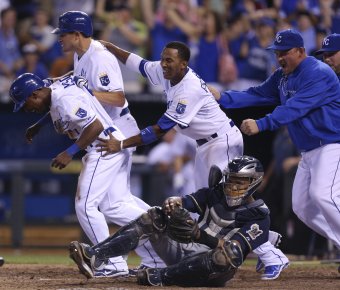 Jarrod Dyson scores the Royals' winning run Thursday night.
Ed Zurga/Getty Images
Axford summed up the bizarre nature of his blown save with reporters after the ballgame.
"Got the first three guys out," Axford said to the Milwaukee Journal Sentinel's Todd Rosiak.
"I guess that's just the way it's been going for me, at least right now. Even when I felt good today and was hitting my spots, except for one bad pitch, it still didn't work out in my favor."
As mentioned, Thursday's blown save was the second in a row for Axford. On Wednesday, he allowed the tying runs to score on a two-run triple by Alcides Escobar.
Axford has now given up at least two runs in three consecutive appearances. His ERA has jumped from 4.37 to 5.55 as a result. A big part of the problem has been his control. Over those last three outings, Axford has five walks in two total innings. One reason for Axford's wildness, according to MLB.com's Adam McCalvy, is that he might be overthrowing the ball.
However, with the Brewers slogging through a disappointing season, it's hard to blame a guy for wanting to try harder and get his team a win. In this case, Axford might help his team more by simmering down a bit.
Follow @iancass on Twitter
This article is
What is the duplicate article?
Why is this article offensive?
Where is this article plagiarized from?
Why is this article poorly edited?