St. Louis Cardinals: Re-Ranking Their Top 10 Prospects After 2012 MLB Draft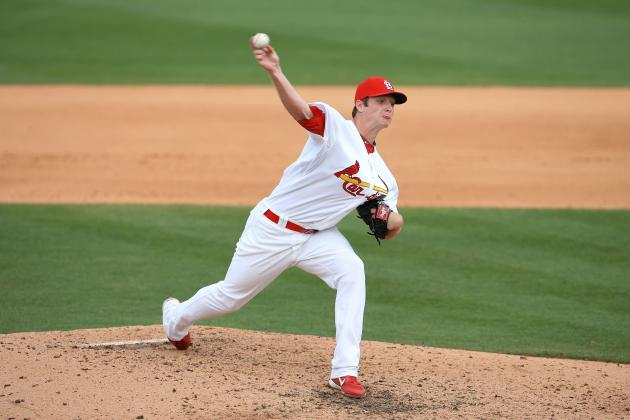 Doug Benc/Getty Images

The St. Louis Cardinals have been decimated by injuries to start the 2012 season. David Freese, Lance Berkman, Allen Craig, Jaime Garcia, Jon Jay, Skip Schumaker and Chris Carpenter have all spent time or are currently doing time on the dreaded disabled list.
As such, the Cardinals have had to plunder their farm system, particularly their AAA affiliate Memphis Redbirds. The Redbirds have basically had their wings clipped as it seems most of their regulars have seen time at the big league level this season.
All that said, the Cardinals have a very strong farm system and Cardinal fans should be excited for years to come with some of the prospects working their way to the show. Here is a look at the Cardinals top-10 prospects after the 2012 Major League Baseball draft.
Begin Slideshow

»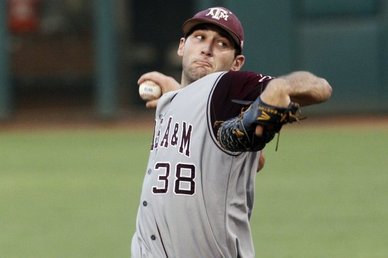 To be honest, any time a team makes you a No. 1 draft pick, you automatically make the top-10 prospect list in the organization until you prove otherwise. Michael Wacha, the Cardinals first pick in the 2012 Major League Baseball draft, gets the honor of being on that list.
The Texas A&M product brings a strong righty to the Cardinals organization. Credit St. Louis Post Dispatch columnist Derrick Goold with digging up a little info on the newest Cardinal top pick.
One preview he offers in his column comes from Kevin Goldstein of Baseball Prospectus:
Who he is: Wacha certainly passes the eye-test as a six-foot-six righty with long levers. His stuff is solid, with a plus fastball that sits in the low 90s and touches 95 and a true plus changeup, but his slurvy breaking ball needs considerable refinement. His delivery is easy and he throws a ton of strikes, which should help him speed through the minor leagues.

Draft skinny: Wacha's upside is as a No. 3 starter—more likely a No. 4—but his status as one of the safer picks will likely have him picked higher than this ranking.

Read more: http://www.stltoday.com/sports/baseball/professional/birdland/getting-to-know-michael-wacha/article_f8eaea9a-b576-11e1-95bc-001a4bcf6878.html#ixzz1xpVI9t6q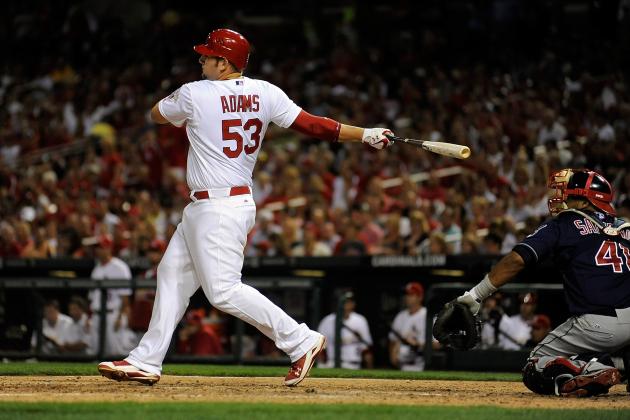 Jeff Curry/Getty Images

Matt Adams looks like he needs a beard, flannel shirt and a sharp ax. The guy simply looks like a lumberjack every time he steps in the box. Adams was forced into to duty earlier this season with Lance Berkman making his second trip to the DL.
Adams was hitting .340 at AAA Memphis with nine home runs and 27 RBIs in 37 games. Since his call up, Adams has been serviceable with a .254 average with two home runs and 10 RBIs in 21 games. He still needs a little more seasoning in Memphis, but the guy has big league power and should be a fixture at first base for years to come in St. Louis.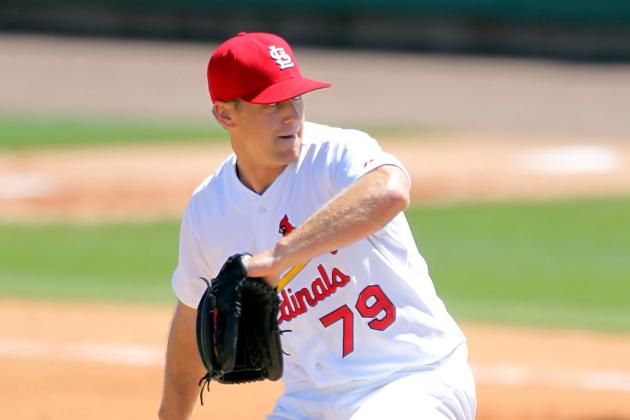 Marc Serota/Getty Images

Jordan Swagerty showed tremendous promise in his 2011 rookie season. He buzzed his way through three levels in the Cardinals farm system, finishing the season in AA Springfield. The collection of stats he amassed was very impressive.
He finished the 2011 campaign with a sparkling 1.82 ERA in 36 appearances, 12 of which were starts. While he only pitched 93.2 innings, he struck out an impressive 89 batters in that span and had a WHIP of 0.972. While he may not be facing big league talent on a nightly basis, Swagerty's numbers indicate good things are in his future.
His 2012 season was cut short due to having Tommy John surgery, but the Cardinals will be counting on him to continue to progress through the system as he has already and be on the bump in St. Louis within the next few years.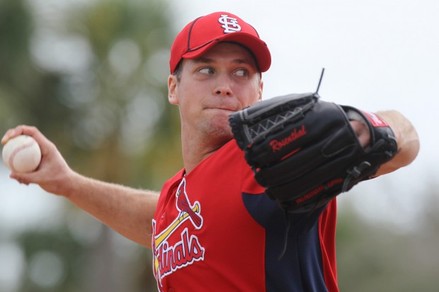 With a few seasons in the minors under his belt, it may not be too long until you see Trevor Rosenthal in a Cardinals uniform.
In his three-plus minor league seasons, Rosenthal has amassed 252 strikeouts in 248.2 innings to go along with a 19-14 record, mostly as a starter.
This season, Rosenthal has been solid, posting a 3.00 ERA in his 13 starts while working 72 innings. That said, he will need to cut down on the free passes having issued 33 walks in his starts this season. With all the injuries at the major league level, don't be surprised to see Rosenthal at AAA Memphis before the end of the season.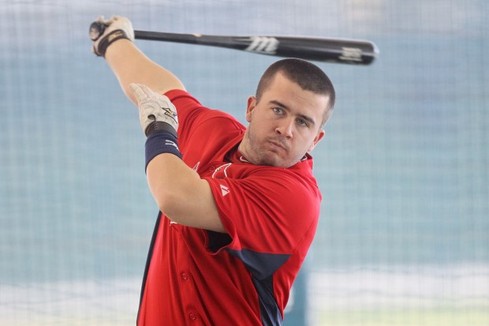 Zack Cox hit the ground running in 2011 splitting his season between A Palm Beach and AA Springfield. He compiled an impressive .306 average while cracking a respectable 13 home runs and driving in 68 runs in 135 games.
The Louisville, Kentucky native still needs some work with his glove, posting 24 errors at the hot corner. Cox has also suffered a bit with his bump to AAA Memphis, batting .209 so far in 2012. Some of the struggle could very likely be attributed to the fact the parent club has taken Matt Adams and Adron Chambers out of the Redbirds lineup which provided a little protection.
If Cox can replicate his 2011 form, it shouldn't be too long until he finds his way to the big leagues. It may not be the Cardinals as they currently have a guy named Freese covering third, but perhaps he can be used for trade bait if he returns to form.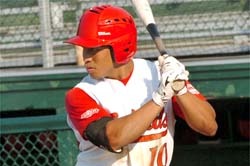 Kolten Wong has been a hit since the moment the Cardinals drafted him in the first round of the 2011 Major League Baseball draft.
Wong breezed through A ball in Quad Cities, hitting .335 with five home runs and 25 RBIs in 47 games while swiping nine bases. In his 2012 start, Wong has continued to hit at AA Springfield, batting .298 with six home runs and driving in 26 while stealing 11 bags.
The best thing about Wong is he plays second base and has good range. The Cardinals have been a revolving door in 2012 at second base and haven't had a fixture there in many years. Skip Schumaker is the closest to stability the Cardinals have had and with his injury-prone mantra, the Cardinals need some stability. Should Wong continue to progress, don't be surprised to seem him manning the middle infield in 2013 or 2014.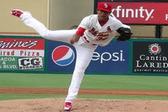 Carlos Martinez is a hard throwing, strikeout machine. During his two-plus seasons in the Cardinal organization, Martinez has struck out 210 batters in 176.2 innings. Add to that, the guy keeps the ball in the park, allowing only four home runs in those 176.2 innings.
He is an ace in the making and is only 20 years old. The one caveat is that he hasn't pitched above A+ ball yet, but the guy has a heater in the mid-high 90's and mixes his other pitches well.
With a solid staff in place in St. Louis, the Cardinals have time on their side as they continue to develop this phenom.
Tyrell Jenkins has already made an impression with big league skipper Mike Matheny during his time in spring training. Any time a youngster is compared to proven ace Chris Carpenter, you know you are on the right track.
Jenkins is quite an athlete, turning down a football scholarship to play at Baylor to sign with Cardinals in 2010. Those athletic talents are still developing in the minors, but the potential for stardom is there.
Jenkins fastball tops 95-plus on a regular basis which has translated to 96 strikeouts in 102.2 minor league innings. Once Jenkins can keep the hits allowed to a minimum (105 allowed in 102.2 innings), he'll find himself not pitching with trouble lurking.
Oh yeah, did I forget to mention the guy is only 19? The upside on Jenkins is huge and hopefully for Cardinal Nation, the upside will show up in St. Louis in a few years as a polished ace.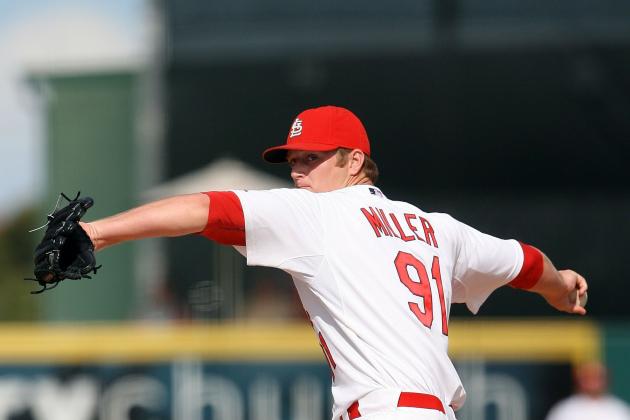 Doug Benc/Getty Images

Shelby Miller has been long touted as the top prospect in the Cardinals organization. Ever since being drafted in the first round in the 2009 Major League Baseball draft, expectations have been high for Shelby. Baseball America had Miller tabbed as the No. 8 prospect in the game to start the 2012 season.
Now is the time for Miller to deliver. He cruised through each level of the minors, striking out hitters at a 11.2 per nine-innings clip. Miller has dominated at each level except AAA. He has struggled a bit in 2012 posting a 5.72 ERA and a less than stellar 4-5 record.
The Cardinals will need Miller to pull a Lance Lynn in 2013 as they will most likely have a spot in the rotation for him with Kyle Lohse and Jake Westbrook becoming free agents after the season.
Miller has proven he can dominate at lower levels in the minor and once he shows he can dominate AAA, don't be surprised to see him the Cardinals bullpen at the end of the year.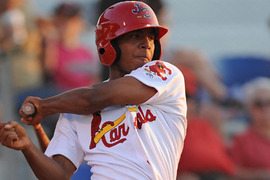 Oscar Tavares has been a hitting machine upon his arrival in the Cardinals organization. This is way too soon and probably unfair to Tavares, but the Cardinals haven't had a hitter like this since a fella named Pujols.
While Tavares may not have the raw power Pujols displayed, the guy has hit for power and average since day one. This season, Tavares is tearing up the Texas league, batting .325 with 12 home runs and 43 RBIs in 43 games. Last season, Tavares had an OPS of 1.028.
His career minor league stats are impressive, with a career .323 average in his four minor league seasons with 122 extra base hits in 265 games. Keep in mind the guy is only 20. With continued development and seasoning, Tavares could entrench himself in the Cardinals outfield for years to come starting in around 2014, possibly sooner.