Detroit Lions: 5 Reasons Matthew Stafford Can Surpass His 2011 Numbers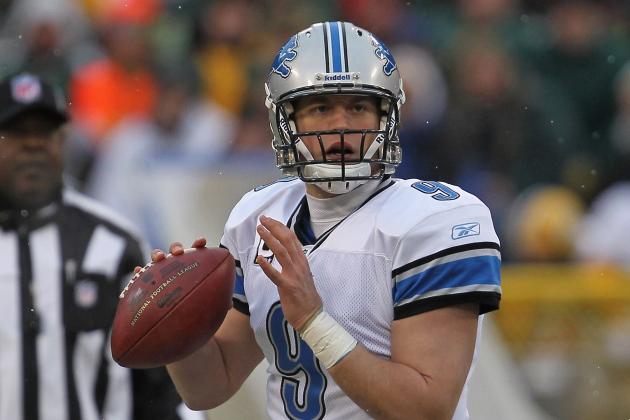 Jonathan Daniel/Getty Images

Matthew Stafford burst onto the scene in the 2011-2012 season after two injury-plagued years. Many people were doubtful on whether he could produce because he seemed to be very injury-prone.
The Lions will need his presence at quarterback next season if they would like to have a chance at being a Super Bowl contender. Stafford is trying to prove people wrong who are calling last year's Lions team a fluke.
Stafford has the confidence of an NFL veteran and the arm of a superstar quarterback. He is poised to have another breakout season in 2012. Look for him to improve on his numbers from last year and lead the Lions into a deep playoff run.
Begin Slideshow

»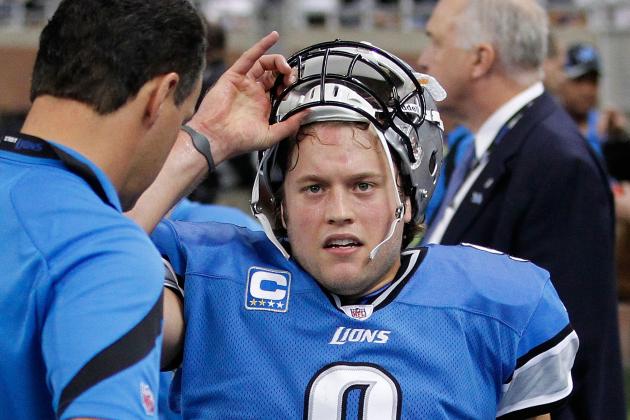 Gregory Shamus/Getty Images

It's been a tough start to the career of Matt Stafford. He is just 24 years old and entering his fourth season as the Lions' starting quarterback, but has had many health issues.
Before he came to the NFL, you would never even mention injury and Stafford in the same sentence. That is the only reason Detroit Lions fans have been optimistic for the past three seasons, two of which have had an absence of Stafford at some point.
He seems to be healthy and ready to contend in 2012. He played in every game last season and played as if injury wasn't an issue like in the past.
If Stafford can remain healthy this year and be the leader that he has been for the team, he can bring this young Lions team to the Super Bowl.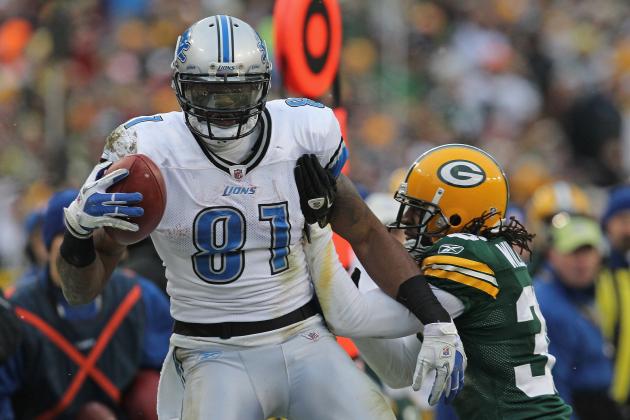 Jonathan Daniel/Getty Images

Solid is an understatement. Calvin Johnson is nothing short of spectacular, and he is easily the top receiver in the entire league.
With that said, he will surely add to the reasons that Stafford can surpass his 2011 numbers. Johnson led the league in receiving yards (1,681) and touchdowns (16) last year and looked to be the most dominant receiver in the league.
Although Johnson is the best at the position, the Lions have other options at receiver that Matthew Stafford will sure take advantage of.
Nate Burleson is the veteran presence that they need at the position, and Titus Young is a young deep threat who will be dangerous if he matures a bit.
Receivers won't be a problem for Matt Stafford and the Detroit Lions, but will only ensure an improved 2012 for the young quarterback.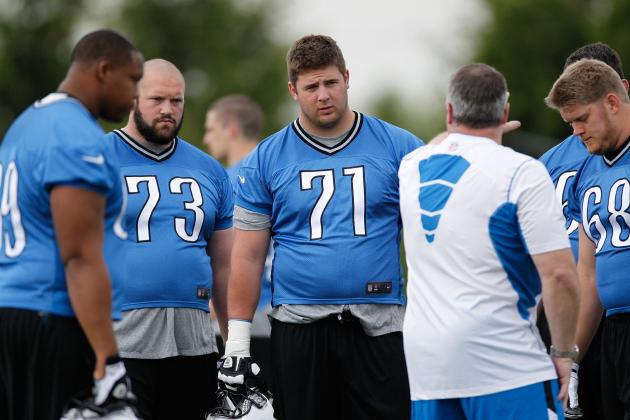 Gregory Shamus/Getty Images

Riley Reiff is a great addition to the otherwise aging offensive line. He was thought to be one of the best available lineman in the entire draft and many thought he could have been a top-10 draft pick.
The Lions waited around for the lineman, although they had needs at cornerback as well. They look to build the offensive line in order to protect the young Stafford.
Stafford has been injury-plagued early in his career and Reiff looks to add depth to the line. Jeff Backus and Dominic Raiola are getting old and nearing the end of their careers with the Lions and that means they have to look at a line for the future.
Reiff seems to be the guy who they can build a solid young line off of. The Lions made a great draft pick and are looking toward the future, one thing they didn't do in the past. The culture of Detroit Lions football seems to be changing for the better.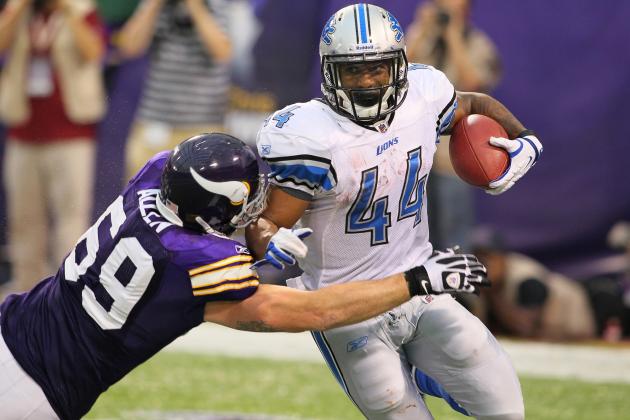 Adam Bettcher/Getty Images

The Lions haven't had a solid running game since Barry Sanders torched the turf in the 1990s. Jahvid Best was supposed to change that, but he seems like more of a receiving running back than an actual runner.
Yes, I could be wrong and Best could have a breakout season this year, but he has not shown a great rushing attack yet as a pro. He has only been in the league for two seasons but only rushed for 555 yards in 2010 in 16 games and just 390 yards in six games last year.
He showed progress last year in yards per carry before getting injured for the duration of the season. Best is quick and has the potential to turn the running game around, but if he performs like he has in the past two seasons, the Lions will be forced to pass more often.
Stafford threw an incredible 663 passes last season and that was because of an unpredictable running back position. Look for him to carry the load again in 2012.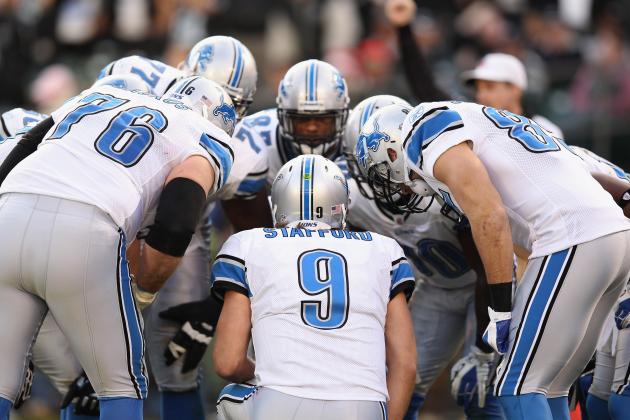 Ezra Shaw/Getty Images

Matt Stafford has developed a relationship with seemingly everyone on his offense.
He seems to have a solid relationship with the offensive line—it shows by the way they have his back and respect his leadership. He knows exactly where his receivers are going to be and what their tendencies are.
He will need to develop a relationship with the running backs because they will have a rushing tandem that Stafford hasn't played extensively with. Once he develops a solid relationship with Jahvid Best and Mikel Leshoure, if they are both healthy and staying out of trouble, the Lions offense will be unstoppable.
Stafford will look to drop the ball off with his running backs and run more screens than he did last year, and they have just the running backs to do so. Stafford is a born leader and his offense has his back every step of the way.
Don't be surprised if you see the Lions playing into late January this year because Stafford will have MVP-type numbers.