Republic of Ireland vs. Italy: Why Robbie Keane Can Stun the Azzurri
June 17, 2012

Laurence Griffiths/Getty Images
If the Republic of Ireland's penchant for conceding early goals and imploding on attacks continues into their third group match against Italy, the Boys In Green will easily earn themselves a 16th-place ranking in a 16-team Euro 2012 tournament.
Is it crazy to think that things might just turn around on Tuesday against the Azurri of Italy? 
Ireland's pattern thus far has been to give up quick goals (of four halves of football, opponents have scored within the first five minutes of three of them) and then to do everything in their power not to string together more than three passes as the opposition intercepts possession and goes down to score on poor ol' Shay Given.
But something tells me the Italians are ripe for Irish wonderboy Robbie Keane to score a goal or two, and I don't think it's the green Guinness talking.
Firstly, I believe the Irish midfield will actually control possession in this match, thereby giving Keane more chances than he's ever had in either of his side's matches.
According to ESPN, their first two matches against Croatia and Spain, Ireland held the ball just 45 percent and 34 percent of the time, respectively.
That number's going to be above 50 percent by the end of the match Tuesday, and I believe it's because Italy's midfielder maestro Andrea Pirlo will finally be disrupted.
Despite the fact they were outgunned against Spain, Ireland continued to play an up-tempo, high-energy match. Irish midfielders were switching opponents among each other in a hybrid man-to-man/zone defensive strategy.
In the first half against the Spaniards, they hardly had the ball and were completely outclassed, but except for a lucky bounce to Fernando Torres in the fourth minute, Ireland was able to use spirited play to keep La Roja out of goal.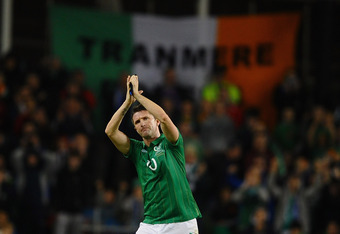 Laurence Griffiths/Getty Images
That up-tempo, high-energy match will work to Ireland's advantage as they play an Italy midfield that (to put it mildly) struggled against Croatia on Thursday.
Emanuele Giaccherini committed several unfortunate fouls due to the fact he was beaten quite often, Christian Maggio was also chasing Croatia's forwards much of the match and Claudio Marchisio couldn't string together an attack all night.
Except for Pirlo, Italy has been subpar in midfield. If Ireland marks up Pirlo and they can play in high spirits all match, they'll make up for their disadvantage in athleticism and frustrate the Azurri into a costly mistake or two.
Midfield aside, if Italy's first two games are any indication of their tactics, the Azurri will employ a 3-4-1-2 formation with just three men at defense and two midfielders, Thiago Motta and Claudio Marchiso, supporting in back when need be.
The Irish offense can be summed up in two tactics—counter-attacking and long crosses.
Keane is at his best when he's poaching at the midfield line and waiting for a long ball to come his way. Focusing on countering after an Italian attacking possession and getting a long pass to the Irish captain will limit the effectiveness of Motta and Marchiso in helping the defense as they won't have time to transition into defensive support.
With a long bomb to Keane, and help from fellow forward Simon Cox, Italy's back three will be susceptible to a quick turn and lucky strike.
Lastly, Ireland's fans have been top-quality at the tournament, and even though they're the first to get booted, they still have something to play for in their third and final group match—the satisfaction of sending Italy home early as well.
The Irish fans will absolutely revel in their role as spoilers, and will continue to eat, drink, sing and dance on Tuesday night in Poznan.
Robbie Keane feeds off of Ireland's supporters, not to mention the underdog role that's been cast for them the entire tournament.
You can say a lot of things about the Boys In Green, but one thing you can't say is that they don't play with energy, excitement and spirit. Robbie Keane will sneak one past Italian goalkeeper Gianluigi Buffon, stun the Azzurri and make sure that if the Irish are going down in flames that they're taking the Italians with them.