Oklahoma Sooners Football: Top 5 Linebackers of the Bob Stoops Era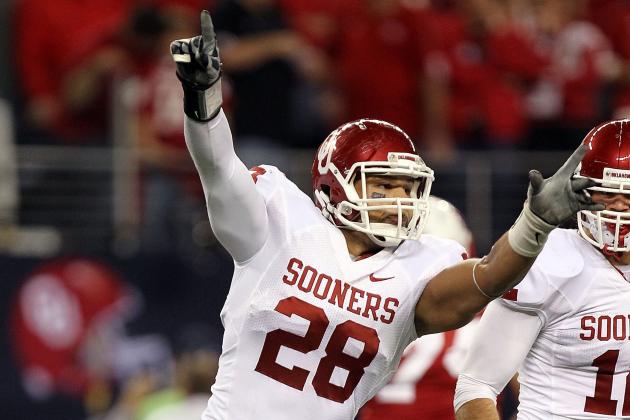 Ronald Martinez/Getty Images

The Oklahoma Sooners may not be the official "Linebacker U," but the program has had more than it's share of dominant players at the position.
In Bob Stoops' 13 seasons at the helm, many gifted LBs have left indelible signatures on the team, making their forebears proud and raising the bar for their followers. Marshall, Calmus, Alexander, Lehman and Mitchell are just some of the accomplished defenders that shone brilliantly in their college careers.
Of course, the discussion becomes more interesting if we attempt to narrow the impressive list down to just five. Here are the top five linebackers of the Stoops era.
Begin Slideshow

»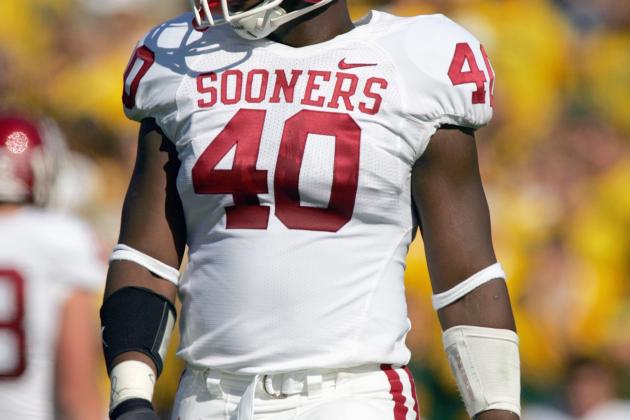 Ronald Martinez/Getty Images

Although he only started 19 games in three seasons for the Sooners, Lofton was an absolute beast at linebacker. His astounding 142 tackles in 2007 are tops among Sooners under Bob Stoops.
He earned First-Team All-American, First-Team All-Big 12 and Big 12 Defensive Player of the Year honors that season. He was also on fire against Missouri in the Big 12 Championship. Lofton racked up nine tackles, with three for loss, a sack and a clutch interception to propel the Sooners to a 38-17 triumph.
Lofton could have returned in 2008 for what could have been a dominating senior season. Instead he made the leap to the NFL and the Atlanta Falcons. He has already become a star as a pro, and he should continue to play at a high level for the foreseeable future.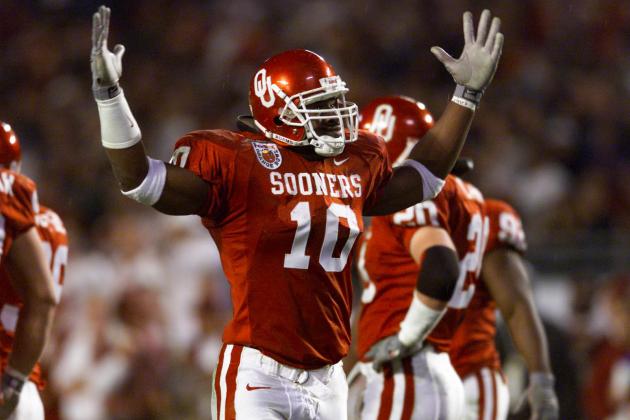 Brian Bahr/Getty Images

The Miami, Fla., native made the most of his two years in Norman. After two years of JUCO, Marshall landed at OU and became an integral part of the national title team.
His 41-yard interception return for a touchdown against Texas A&M was one of the best plays of the Sooners' storybook season. Without it, OU may not have made it to the title game at all.
But Marshall's magnum opus came on his stomping grounds, in Miami against the Seminoles. His six tackles and interception off Heisman winner Chris Weinke earned him MVP honors.
In his short time donning the crimson and cream, Marshall made 202 tackles, 34 of them for losses, and 12 sacks. The Sooners' seventh national title wouldn't have been possible without him.
Ronald Martinez/Getty Images

Also a two-time consensus All-American, Lehman possessed an enviable combination of size and speed. His athleticism and nose for the ball resulted in 229 tackles between his junior and senior seasons as well as another Butkus Award for the Switzer Center.
Lehman also had 36 tackles for loss between his last two campaigns. He anchored a suffocating defense for a dominant team that came up just short in the national title game against LSU.
Like all great players, he delivered in the clutch. Memorable plays include his interception off Roy Williams' legendary strip of Texas quarterback Chris Simms as well as another timely interception the following year in the Red River Rivalry.
WIthout a doubt, Lehman has to be considered one of the most prolific and athletic linebackers in Sooner history.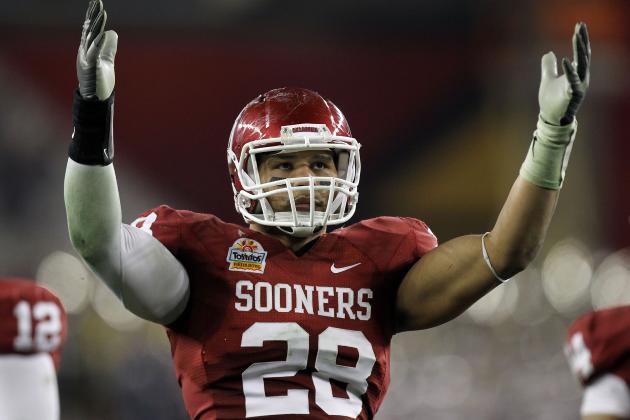 Ronald Martinez/Getty Images

Perhaps the most impressive accomplishment for Lewis is starting 53 games over four years, more than any other Sooner linebacker. If that isn't enough, he also led the team in tackles every year, a first in OU history.
Lewis brought amazing instincts, reliability and toughness for four remarkable seasons as a Sooner. His resilience was on full display when he shocked everyone by starting against Florida State in 2011 despite a foot injury.
He earned either first or second team All-Big 12 honors in each of his four seasons and was a key contributor for a team that reached the national title game and another that beat Connecticut in the 2011 Fiesta Bowl.
It's unlikely we'll see another player play at as high a level for as long a period of time as Travis Lewis did in Norman between 2008 and 2011.
Scott Halleran/Getty Images

An absolute beast at 6'3", 234 lbs, Calmus was a defensive captain of a national championship defense in 2000. He led the Sooners in tackles for three seasons, earning All-Big 12 honors each campaign. He also was Big 12 Defensive Player of the Year in 2000 and 2001 and took home the Butkus Award his senior year.
A two-time First-Team All-American, Calmus' turned in a clutch performance against Florida State in the 2001 national title game. He logged six tackles and forced a key fumble that led to Oklahoma's only touchdown, sealing the game.
Reflective of his nose for the ball, he had 10 games with double-digit tackles between 1999 and 2000. He also tied the OU school record for tackles in a game with 22. Perhaps the best evidence of his dominance is his place atop the Sooner charts for career tackles for loss by a linebacker. Amazingly tough, he also played most of the 2000 season with a broken bone in his thumb.