Big Ten Football Q&A: Will Denard or Braxton Rush for More Yards?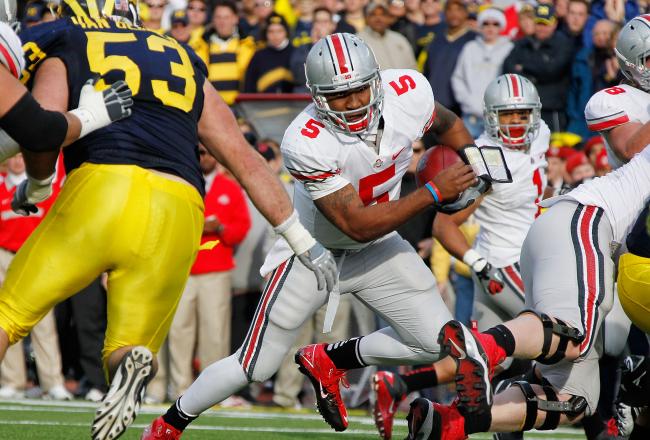 Gregory Shamus/Getty Images
On Thursdays on The Big Ten Blog, we will feature questions from the B/R inbox, Twitter and email. Do you have a question for next week's Q&A? Send them to Big Ten lead blogger Adam Jacobi via the B/R inbox, on Twitter @Adam_Jacobi or at ajacobi@bleacherreport.com.
@Adam_Jacobi More rushing yards this season: Denard Robinson or Braxton Miller?

— PlannedSickDays (@PlannedSickDays) June 14, 2012
Oh, good question. I'm glad you asked. The easy thing to do is look at each player's previous history and see an overwhelming trend of Denard Robinson out-rushing Braxton Miller and assume that'll continue.
But I'm not so sure that'll be the case.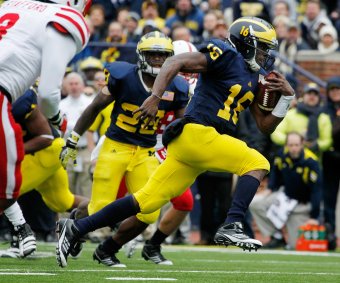 Gregory Shamus/Getty Images
Robinson is, historically, just about the best rushing quarterback ever. If he has another year like last season (which was, from a rushing standpoint, a marked step down from 2010), he'll come close to matching Pat White's all-time NCAA record.
However, Michigan's offense, with its current personnel profile, doesn't seem to be set up for that to happen. Once Fitzgerald Toussaint was installed as the full-time starting halfback for the Purdue game, Robinson averaged just 69 yards rushing per game. That's pretty good, but it's not "all-time" good.
Who'll rush for more yards in 2012?
Ohio State, meanwhile, can't possibly go as run-heavy as it did last year with Miller under center, but Urban Meyer's offenses have always worked the best when there was a threat of the quarterback rushing—especially out of passing sets, where Miller has best proven himself as a weapon already.
Miller averaged a hair more than 65 yards rushing per game as a starter last year, and that's even without a "big" game in the sample size, like Denard's 170 against Ohio State. He is much too fast and talented as an open-field runner to not be given a similar amount of rushing opportunities as before.
So, in review: In 2011, with a full-time Toussaint in the backfield, Denard rushed for 69 yards per game. As a true freshman starter without so much as a passing game to speak of to keep the eighth man out of the box, Miller averaged 65. I'm betting on Miller's average to go up by at least four more yards per game than Robinson's, so my answer to your question is Miller.
Whew, that was fun.
@Adam_Jacobi Adam - which Mad Men character would you hire as your head football coach? Peggy?

— Bleacher Report (@BR_CFB) June 14, 2012
As you can see I brought this question on myself, but all the same, I'm glad you asked. Even though Don Draper is basically Nick Saban with Urban Meyer's self-regard—and that's a lot of rings for two guys who aren't even close to being done coaching—if I'm really picking my perfect Mad Men football coach, it's one man and one man only: Roger Sterling.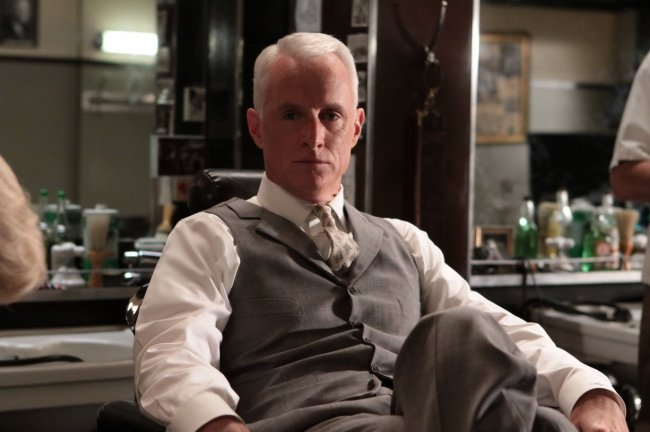 Photo via GentlemansGazette.com
[Spoiler alert for some of the stuff herein, we guess, but not really, and if you're still catching up on this past season that's really not our problem anyway.]
Sterling has the quicksilver wit of a Mike Leach, the person skills of a Bobby Bowden, the casual disregard of prudence of Les Miles and the sex appeal of Pete Carroll. Oh, like Carroll couldn't sleep with any one of his assistants' mothers-in-law if he really wanted.
What's particularly worrisome, though, is Sterling's willingness to resort to cash as a motivator for his subordinates to circumvent proper procedure. That's an NCAA violation for sure. Also, he's not exactly a faithful man, but as long as he doesn't buy a motorcycle that probably won't ever blow up in my program's face...
Oh, and I would want Peggy as my offensive coordinator. I trust her judgment more than anyone else's on that show.
@Adam_Jacobi Athlon sports that said Ohio State will go 11 and one this year they know it's not 2013 right?

— Dave Fitzgerald (@buckeyefitzy) June 14, 2012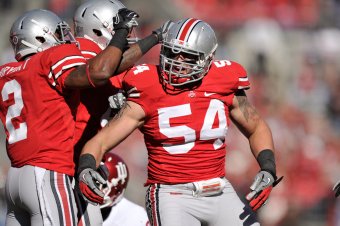 Jamie Sabau/Getty Images
I'm glad you asked. I'm in full agreement that Ohio State looks like it'll be much stronger in 2013 than 2012—the line in particular will be a major strength, and all of their young first-year stars from last season will be seasoned veterans. Ohio State is an atrociously early favorite for 2013 champion for me.
That all said, the Buckeyes should be favored in at least nine of their games this year, if not 10, and Athlon is notorious for not hewing to conventional wisdom all across the board. Yeah, some of their predictions don't make sense, but a lot of seasons, in retrospect, don't make a ton of sense based on what we knew in the preseason. Could Ohio State plausibly win 11 games this year? Sure, totally. I can't wait to actually find out.
@Adam_Jacobi Once again, what's the point of Indiana Football?

— Kevin Bartner (@heshsson) June 14, 2012
@Adam_Jacobi Does Kevin Wilson know what he's doing at IU? Is improvement coming?

— Charles R. Seger (@crseger) June 14, 2012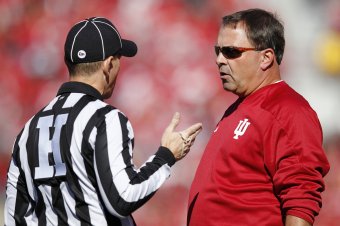 Joe Robbins/Getty Images
I'm glad you two asked. For one, I do think Kevin Wilson knows what he's doing. He was one of the most decorated assistant coaches in the nation by the end of his tenure at Oklahoma, and his courtship of Gunner Kiel showed that the guy has proper aspirations for returning Indiana football to some sort of decency.
The problem is, just because he knows what he's doing, doesn't mean it'll matter.
In terms of facilities and national standing, Indiana's football program belongs more in the MAC than the Big Ten. That's just how it is right now, and that's the way recruits are going to keep perceiving Indiana unless Wilson can do something to make the program more appealing than, say a single other one in the conference. And he can't pay the kids, so that's out.
So, honestly, I think Wilson's going to struggle until he's got a broad senior base of talent, especially on the lines and at quarterback, and then if that team gets it together and Indiana can withstand the ensuing onslaught of coaching offers (because it's coming if Indiana goes to a bowl game), then maybe long-term improvement comes. If not—if Kevin Wilson can't win there—well, hey, we hear your basketball program's good again, Hoosiers!
This article is
What is the duplicate article?
Why is this article offensive?
Where is this article plagiarized from?
Why is this article poorly edited?