So far, the Netherlands team that has been playing in the Euro Cup has failed to impress. They have been lacking in quite a few areas. Their defense just hasn't been good enough to stop the attacks of the opposition. In the match against Germany, the adversary's players were playing with such ease, and they were able to split open Holland's defense too easily.
Another part of Holland's game that has been lacking is their offense. Despite the numerous talents such as Robin van Persie, Arjen Robben, Wesley Sneijder and many more, they have just been struggling to score. In the group stages so far, they have only scored one goal.
The problem is that this team needs to have an attacking mindset throughout the game. In the first half, Holland came out with two defensive midfielders. This was the reason that Holland just wasn't able to get a goal.
Throughout the half, they were possessing, but when they would lose possession, they would find themselves under pressure with Germany's strong offense. Meanwhile, the Germans ended up finding the net twice with the same scorer, Mario Gomez.
The second half however was much different. Klaas-Jan Huntelaar and Rafael van der Vaart came on for Mark van Bommel and Ibrahim Affelay, and Robin van Persie ended up scoring. This just proves that with more attacking players, they can get better build ups and ultimately get more goals.
After a loss to Germany, Netherlands find themselves last in the table with zero points and in desperate need of a win. Holland will need to play against Portugal the way they played against Germany in the second half. One of the players that I feel needs to start to keep the offense going is Klaas-Jan Huntelaar.
Should Klaas Jan Huntelaar start against Portugal?
Klaas-Jan Huntelaar is a goal scoring machine; he scored 48 goals in 47 appearances for Shalke last season. It takes something special to get goal scoring numbers like that.
Klaas-Jan Huntelaar has also scored 31 goals in 53 appearances for the national team. He is a poacher for club and country.
He has scored various goals in the qualifiers of the Euro Cup but is yet to score in the tournament.
So far, he has only been used as a substitute because his teammate, Robin van Persie, starts at striker. However, at some point in the second half, he usually comes on and replaces Ibrahim Affelay and moves to striker alongside van Persie.
That is a dream striker pair.
You have the top scorer of the Bundesliga partnered with the top scorer of the English Premier League. The only thing I can't understand is why they don't start together.
Klaas-Jan Huntelaar needs to start so that he can get his attacking rhythm going at an early point in the game. This way, he can have a higher chance of scoring multiple goals.
With Klaas-Jan Huntelaar entering the game in the second half, he isn't getting as much time as he would like to establish himself and influence the attack.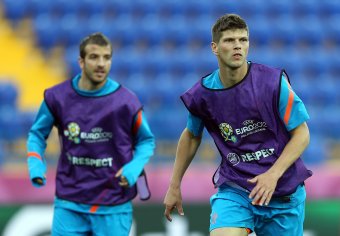 Julian Finney/Getty Images
It should be later on in the second half that Bert van Marwijk brings on defensive reinforcements to secure a lead.
The difference that was made when Klaas-Jan and Rafael van der Vaart came on in the second half of the match against Germany was extremely clear, and if something is to be taken from that game, it should be to start out the game with a completely attacking mindset.
The number of chances that were created increased drastically in the second half. The style and swagger of Holland's play changed, and this change was clear in the second half.
If Klaas-Jan Huntelaar starts in the match against Portugal, it would help the Netherlands with establishing their attacking presence in the match.
So, should Klaas-Jan start in the final round of the group stages? If not, what will Holland do to change their tactics?
Thank you for reading. Here is another article regarding what the Netherlands must do to defeat Portugal in the final match.