Which Boston Red Sox Starter Is the Best Bet to Throw a Perfect Game?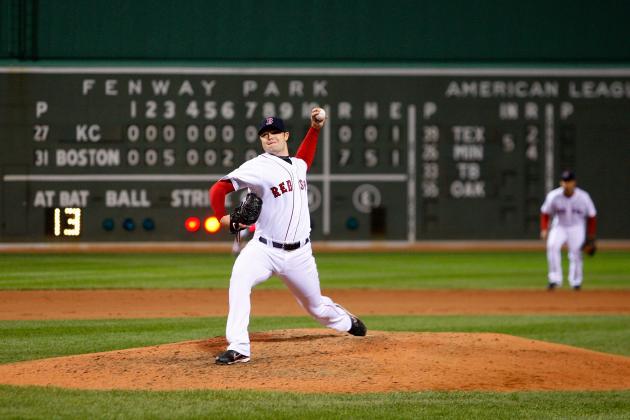 Jim Rogash/Getty Images

Matt Cain's perfect game against the Houston Astros on Wednesday night is all the talk in baseball.
And rightfully so. It is already being lauded as one of the best statistical pitching performances ever—without hyperbole.
But now that Cain's 14-strikeout gem is in the books, a new question arises: Who is next in line to throw a perfecto?
Don't be shocked if it happens again soon. Five of the 20 perfect games thrown in the modern era have come in the past four seasons: Mark Buehrle in 2009, Dallas Braden and Roy Halladay in 2010, and Philip Humber and Cain in 2012.
The Boston Red Sox's starting pitching has been up-and-down this season, but they have developed a reputation for no-hitters in the past decade. No team in baseball has thrown more than Boston's four no-nos since 2001.
So which current member of the Red Sox starting rotation is most likely to catch lightning in a bottle and throw a perfect game?
Begin Slideshow

»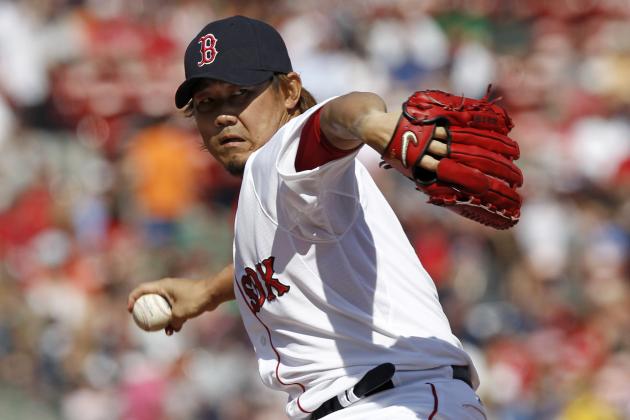 Winslow Townson/Getty Images

Dice-K's fastball no longer has the life that it once had, and it travels in a pretty straight line.
The multitude of breaking pitches that the Red Sox thought they were getting hasn't come to fruition either. Matsuzaka's slurve and changeup can be baffling at times, but when he misses with them, he misses badly and in the zone.
And his penchant for nibbling—not to mention his history of injuries—makes complete games a rarity. He hasn't thrown one since his major league rookie season of 2007.
But as recently as last year, he's shown flashes of dominance. In consecutive starts against the Blue Jays (April 18) and Angels (April 23), Dice-K surrendered just two hits in 15 innings while walking four and striking out 12.
It's understandable why most pundits have given up on Matsuzaka at this point. But in his contract year, near no-hitters like the ones he had in 2011 are distant possibilities.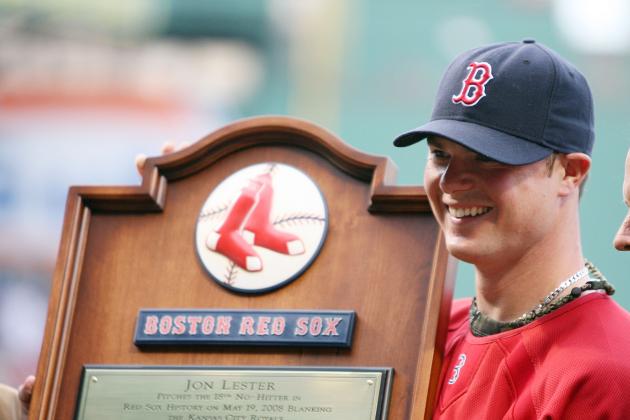 Elsa/Getty Images

Lester holds the distinction of being the last Red Sox pitcher to throw a no-hitter, having held the Royals hitless on May 19, 2008.
Since then, he has been one of the better, more consistent lefty starters in baseball. But he has yet to make the leap to dominance occupied by contemporaries such as CC Sabathia, Cliff Lee and Cole Hamels.
If anything, Lester has shown signs of regression in 2012. His ERA (4.57), WHIP (1.36) and batting average against (.272) would be the highest they've been since his 2007 comeback season. His strikeout rate (6.9 K/9 innings) is the lowest it's been since 2008.
What works in Lester's favor is that June (2.59 ERA) and July (2.99) are his best months career-wise. When the weather warms up, so does Lester.
And the 28-year-old lefty is a horse. With 190-plus innings pitched in every season since 2008, he knows how to go the distance.
Never count out a hurler who knows what it takes to be perfect—or close to it.
Marc Serota/Getty Images

Buchholz would have been an easy choice for No. 5 as recently as three weeks ago, his struggles were so pronounced.
Since then, he's been the most reliable starter on Boston's staff. He's also shown that his own no-hitter—against the Orioles in September 2007, in his second career start—was no fluke.
In his last four starts, Buchholz has only given up five runs in 31 innings while striking out more batters (28) than in his first nine starts combined (27).
The key has been command. Buchholz has always had a good late-life fastball to go along with his looping curve, and he's starting to get a handle on his new slider and split-fingered pitches.
In his last few starts, he's put those pitches where he wants to. When he's missing, it's out of the zone and not over the plate.
The stronger he gets—remember, he's recovering from a stress fracture in his back that cost him most of 2011—the more confident he'll pitch, and the harder he'll be to hit.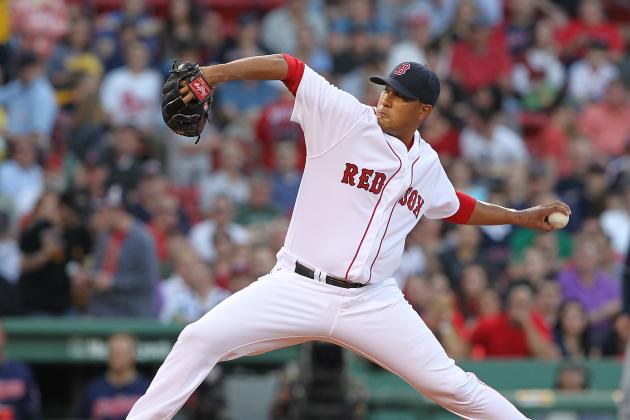 Jim Rogash/Getty Images

In terms of swing-and-miss ability, Doubront is in a class of his own among the Sox starters.
He's the only member of the rotation to average more than a strikeout per inning (9.9). And as a relative newcomer to the majors, Doubront continues to confuse opposing batters with a deceptive delivery. Not to mention a plus fastball and a sharp slider.
What the Sox have to be most happy about—and what makes Doubront Boston's No. 2 perfect game candidate—is his increased control of his repertoire.
In three of his last four starts, the 24-year-old Venezuelan has walked one batter. Doubront went at least six innings and gave up three runs or fewer in each of those three starts.
Wednesday's game against the Marlins was Doubront's best performance in the majors to date. In seven innings, he allowed two runs on three hits while fanning nine and walking just one. He held Miami hitless through the first 5.2 innings.
At Doubront's current rate of improvement, it won't be his last stretch of dominance this season.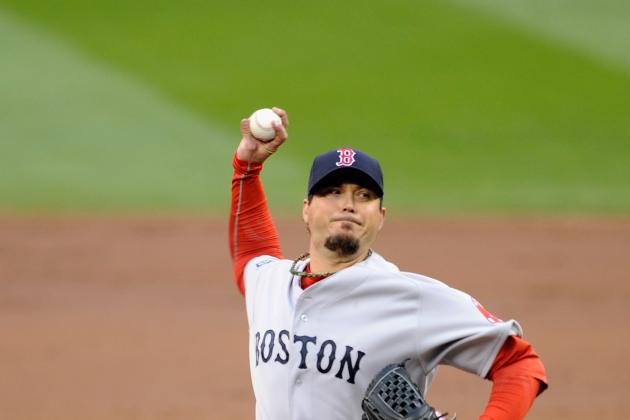 Hannah Foslien/Getty Images

He's prickly, inconsistent and somehow convinces people he's underperformed for his career in spite of two World Series titles and a reputation for postseason heroics.
But on a good day, Beckett can mow through batters without breaking a sweat.
Take his 4–1 loss to Miami on Monday as an example of Bad and Good Josh. He labors through the first two innings, at which point it looks like it'll be a short night for him.
Then all of a sudden, a switch seems to go on in his head. Before anyone realizes it, he's retired 16 straight batters, gotten through seven innings and given his team an honest chance to win.
The question that's been on the minds of Red Sox fans recently is: What does it take for that switch to always be on?
Whether it's pride, anger or a combination of both, when Beckett taps into that reserve, he is downright unhittable.
Add to that his pinpoint command (two walks in his last 29 innings pitched), and Beckett isn't just Boston's best perfect game candidate. He's also one of the best in baseball.