Quick Hits from Cleveland Browns President Mike Holmgren's Presser
June 14, 2012

Jason Miller/Getty Images
Cleveland Browns president Mike Holmgren held a press conference Thursday afternoon, touching on a wide variety of issues, from him taking a more public role to the wide receiver situation to the team wearing brown jerseys at home again in 2012. Here are some quick hit notes from the conference:
Holmgren said he would track improvement in 2012 based on several factors, including the overall record, a better run game, fewer sacks, more interceptions and fewer dropped passes.
Wide Receivers
Holmgren said that the team keeps track of how many passes are dropped in practices. He said that while the wide receivers have been dropping passes, the catching is better this year over last.
"We had way too many dropped passes last year and it hurt us tremendously," Holmgren said. "We're catching the ball better."
He repeated his assertion that he thinks WR Mohammed Massaquoi hadn't fully recovered from a big blow from Steelers LB James Harrison in 2010. He praised the work Massaquoi is doing now, though.
The Big Show expects rookie fourth-round draft selection Travis Benjamin will help the production of the wide receiver group as a whole with his speed.
He added that in 2011, the WRs were open more than people think, and they just didn't get them the ball.
Quarterbacks
Holmgren on rookie QB Brandon Weeden: "He's as prepared to come in and start as any rookie I've seen in a long time.''
 
He said that he still likes Colt McCoy, however, adding that McCoy had a "tough go" in 2011.
"He didn't get as much help as I thought he would get, but heck, that's football," Holmgren said.
He said that at this point, the plan is to keep all three quarterbacks—Weeden, McCoy and Seneca Wallace—with the team. But he warned, "Don't be surprised by anything." He said the Browns will listen to propositions from other teams.
When asked about what qualities Holmgren looks for in a No. 2 QB, he said it needs to be someone able to be ready without much prep time, has mobility and is a good presence in locker room.
 
Regarding his history with Wallace, Holmgren said he has to put those feelings aside when it's time to make roster decisions.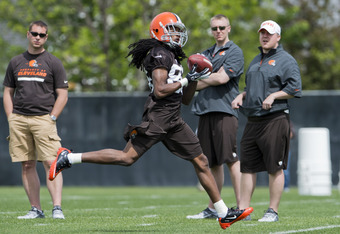 Jason Miller/Getty Images
Defense
Holmy praised the defense.
"Our defense really did a nice job last year, now we just have to score more points," he said.
Jim Brown
The legendary Browns tailback has been critical of the Browns recently, including shots at rookie RB Trent Richardson, Holmgren and owner Randy Lerner (h/t NFL.com).
Holmgren said he'd love for Jim Brown to come back and be a part of the Browns, adding that Brown had been a childhood hero.
"I'd welcome him with open arms," he said.
Does Holmgren Care?
On Thursday, the Browns president sought to give fans an emphatic "Yes."
When asked whether fans distrust him, Holmgren responded, "I don't know. I would hope not. If they feel that way, it's a good reason for me to be out there more."
 
Holmgren said fans have a perfect right to get angry at him about anything, but said he's sensitive and bothered by those who say he doesn't care or isn't committed to Cleveland.
"This is my last job," he said, emphasizing his commitment. "If anything, I probably care too much. We like it here."
 
Holmgren has two-and-a-half years left on a five-year contract. 
 
 
The Great White Jersey Question
Holmgren also confirmed the Browns' brown jerseys are coming back at home games this year. 
 
He said the team will wear both brown and white jerseys at home this season. The main factor, he said, will be weather. For instance, if it's hot, the team will wear white, he said.