NBA Rumors: Ranking Best Draft Options If Bobcats Can't Deal 2nd-Overall Pick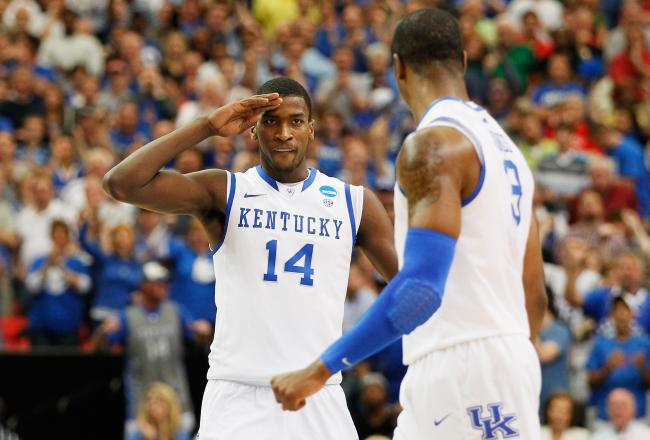 Kevin C. Cox/Getty Images
The Charlotte Bobcats moved down to No. 2 in the 2012 NBA draft, which means that they actually have to think about who to take instead of just settling for a certain unibrow-clad player.
Now, Michael Jordan and the Bobcats brass are attempting to trade the pick away, recognizing the fact that just one top-tier rookie isn't going to make the difference and turn around this franchise.
If, as CBS' Jeff Goodman suggests, a player like James Harden could be coming back to Charlotte in return for the pick, then Rich Cho shouldn't even hesitate to pull the trigger. That's a big if, though.
There's always a chance that the Bobcats keep the pick and elect to draft a college stud after all. If they do so, here's how the team's draft board should look at the top when deciding between Bradley Beal, Andre Drummond, Michael Kidd-Gilchrist and Thomas Robinson.
What the Charlotte Bobcats are Dealing With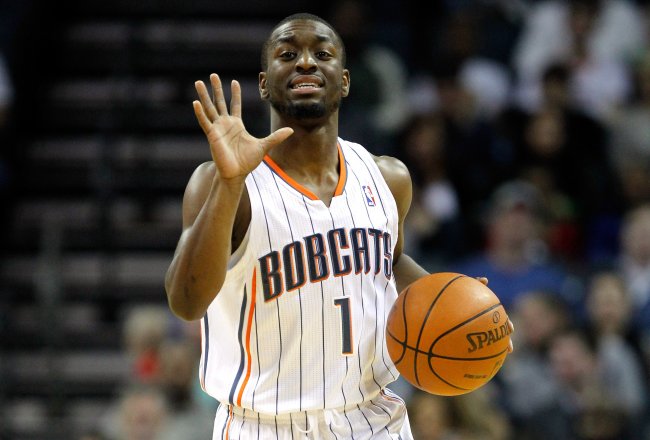 Streeter Lecka/Getty Images
The team that set the NBA record for futility could look quite different next season. After all, there are a ton of players who could be leaving in free agency.
Eduardo Najera is the only unrestricted free agent, although DeSagana Diop could soon join him, seeing as he has a player option and Charlotte is a rather unappealing place to want to return to. Matt Carroll has an early termination option and may leave as well.
As for the restricted free agents, D.J. Augustin is the only one that Charlotte must pursue. Derrick Brown, Cory Higgins and D.J. White aren't exactly crucial pieces to the puzzle.
So what does that leave the Bobcats with?
Kemba Walker should be running the show next year, as the former NCAA champion continues to make the transition from college to the ranks of the pros. Gerald Henderson and Corey Maggette will be back at shooting guard and small forward, respectively, along with Jamario Moon and Reggie Williams.
As for the big men, Tyrus Thomas, Byron Mullens and Bismack Biyombo are the only returning ones. Mullens had a surprisingly solid season, while Thomas and Biyombo still have a lot of potential.
Replacing the declining, 32-year-old Maggette at small forward should be the No. 1 priority, especially because Kemba and Augustin could both play at the same time and form a small but quick backcourt.
No. 4 Option: Andre Drummond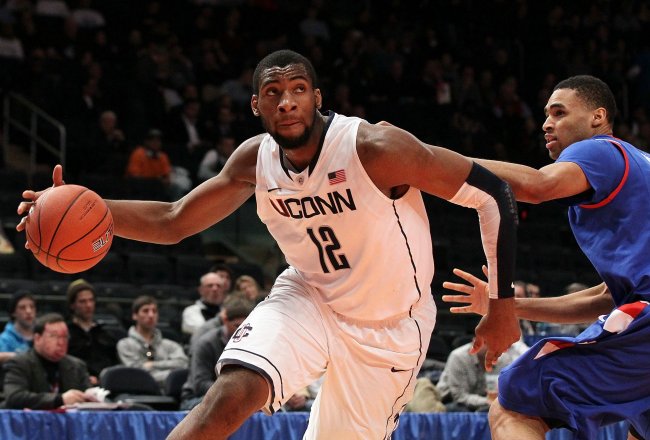 Jim McIsaac/Getty Images
Not only is Andre Drummond one of the riskiest picks in this draft class, but he's also one that doesn't make sense at all given the current roster.
Other than Anthony Davis, Drummond has the highest ceiling of any player eligible to be taken in the 2012 NBA draft, but he's about as raw as they come. If you were in a restaurant and ordered a steak as raw as Drummond, they'd refuse to serve it to you for health reasons.
Moreover, drafting Drummond would essentially be giving up on Biyombo after just one season. The Congolese big man is still learning the game, and patience is necessary in order to maximize the returns on last year's lottery pick.
Jordan and Cho should steer well clear of the center, who could become the reincarnation of Jordan's first big draft mistake.
No. 3 Option: Thomas Robinson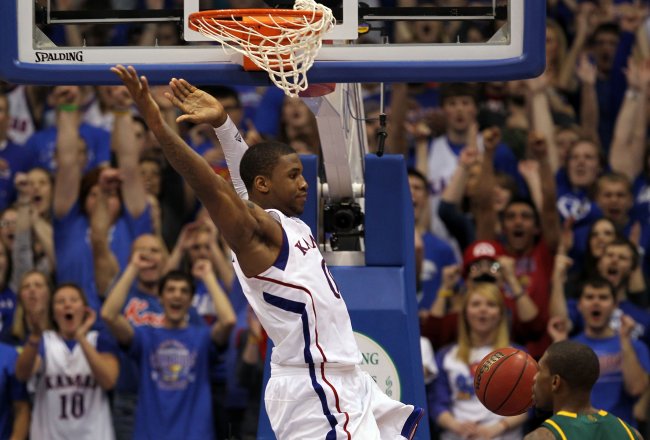 Jamie Squire/Getty Images
Thomas Robinson is a much safer pick than Drummond, but a similar argument applies here as well.
The former Kansas Jayhawk is a true power forward, and the frontcourt is the one area that the Bobcats are actually fairly strong in. If they're attempting to turn this franchise around, it can't be by focusing on areas that are already serviceable.
Although Mullens is relatively unheralded, the progress he showed last year was encouraging, and Charlotte should be committing to letting him and Biyombo form the backbone of their frontline for at least the next season in an effort to identify what talent is actually present on the roster.
The only reason that Robinson is coming in one spot ahead of Drummond is that he's a safer pick and a player who I expect to put up numerous double-doubles no matter which of the first four teams picking drafts him.
No. 2 Option: Bradley Beal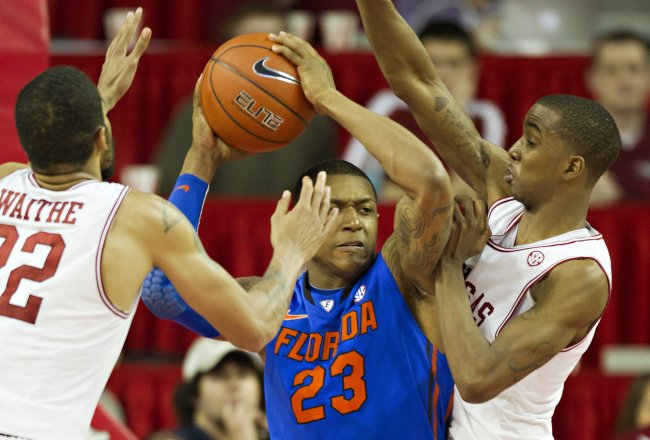 Wesley Hitt/Getty Images
Bradley Beal is more of the No. 1B option than the No. 2 option because he and the next player that will appear in the article are both about equally viable options for the Charlotte Bobcats.
Beal gets the downgrade in my book for two reasons.
Reason No. 1: He's a slightly worse prospect on my big board than Michael Kidd-Gilchrist. While Beal is a fantastic offensive player in all respects, he is a bit undersized and doesn't possess nearly as many intangibles as the Kentucky small forward.
Reason No. 2: Shooting guard, while a need for the Bobcats, isn't as big a need because of the ability to re-sign Augustin and go with a small backcourt. There also may not be enough shots to go around in the resulting backcourt if Beal and Kemba are on the court at the same time.
No. 1 Option: Michael Kidd-Gilchrist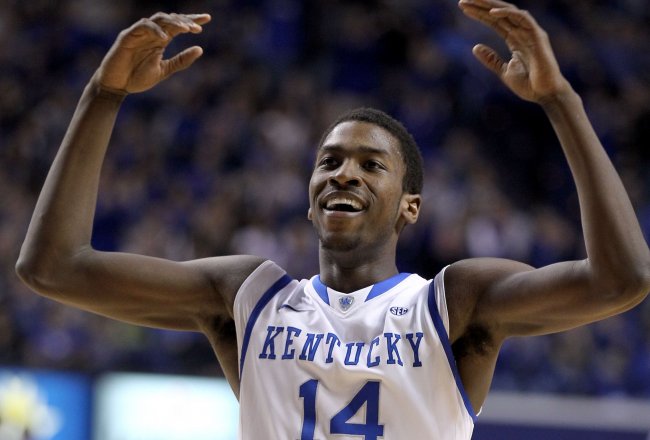 Andy Lyons/Getty Images
Michael Kidd-Gilchrist is the player that the Bobcats should be looking to take at No. 1, but only if they can't swing a deal with another team and add an established veteran while keeping a relatively high position in the draft.
As talented as MKG may be, his biggest weakness is his offensive game. Thanks to the almost complete lack of a jumper in his arsenal, the former Wildcat is best served driving to the rim and scoring off his hustle.
First and foremost, he's a leader and a defensive stopper, which doesn't help solve the Bobcats' offensive woes.
As the second-best player in the class, the Bobcats should look here first, but first, they should see if a trade is a possibility.
Fortunately for the beleaguered fans of the franchise, that's exactly what's happening.
This article is
What is the duplicate article?
Why is this article offensive?
Where is this article plagiarized from?
Why is this article poorly edited?

Charlotte Bobcats: Like this team?