WWE No Way out 2012: 10 Best Pay-Per-View Matches in IZOD Center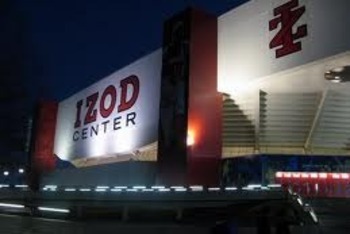 The IZOD Center in the New Jersey Meadowlands will host No Way Out this Sunday night. The center is no stranger to WWE live events, as well as WWE pay-per-views. Aside from countless RAW and Smackdown episodes, the IZOD Center will host its sixth PPV for WWE with No Way Out.
The building has been through such names as The Meadowlands, Brendan Byrne Arena and Continental Airlines Arena, but it has still kept its importance.
In all, the IZOD Center has hosted SummerSlam on three separate occasions, tying the facility with Madison Square Garden and the Staples Center for the most times hosting the event. That tie will be broken this year when the Staples Center hosts SummerSlam 2012.
Still, for a building noted as being in notoriously poor condition and no longer hosting any professional sports teams, the IZOD Center has been the site for many important WWE events.
There may be an added chapter to the storied history between WWE and the IZOD Center from the events of this Sunday.
For now, there is plenty to look back fondly on from this building. Here are 10 of the greatest PPV matches in the history of this building, which sits right across the street from MetLife Stadium, site of WrestleMania XXIX.
SummerSlam 1989: The Ultimate Warrior Wins Intercontinental Championship

The Ultimate Warrior vs Rick Rude [c]

The SummerSlam in 1989 was the first PPV event in this arena's history. Still known as Meadowlands Arena, it was the second-annual SummerSlam event.
A year earlier at the first-ever SummerSlam, The Ultimate Warrior had a 30-second match to end the reign of The Honky Tonk Man as Intercontinental Champion, the longest such regin in WWE history. The Warrior would hold that title until WrestleMania V, further down New Jersey in Atlantic City. Rude would win the title and enjoy his first-ever reign with the title.
On this night at SummerSlam, The Ultimate Warrior seemed determined to get the title back from the man who proclaimed himself to be "ravishing." After more than 15 minutes, The Warrior ultimately gave Rude more than he could handle and won his second Intercontinental Championship.
It was a good match that put Warrior back in possession of the title belt. The Ultimate Warrior would not relinquish the title until he was forced to vacate it by virtue of winning the WWE Championship.
SummerSlam 2007: Triple H Defeats King Booker in Return Match

Triple H Returns to Face King Booker

Triple H has always been about as tough and resilient as they come. He has had issues with injuries rather frequently over the years, especially in his legs. It was a tear in his right quadriceps that put Triple H on the shelf for a few months.
Six years earlier, it was the left quad that did a similar act. Then, it was the return of The Game to help fend off the annoying acts of King Booker and Queen Sharmell.
This match wasn't the best, but it had a lot of meaning. After a second quad injury and nearly nine months of rehabilitation, nobody was quite sure what Triple H had left. This was the return of The Game, and he returned in fantastic shape.
Six Million Dollar Man tributes aside, Triple H really did return better than he was before. This was also around the time that he became The King of Kings. Triple H returned at SummerSlam 2007, and it was time to play The Game once again.
King of the Ring 2001: Edge Wins Twice, Starts Rise in Company

2001 King of the Ring Finals: Edge vs Kurt Angle

The 2001 King of the Ring tournament was decided inside the IZOD Center, which hosted the semifinals and final match of the night. Earlier in the night, Kurt Angle defeated Christian, while Edge defeated Rhyno in the semifinals.
Angle was the King of the Ring from the year before, while Edge was still trying to make a name for himself in singles competition. Angle cut a promo before the match to discuss that he had another match already scheduled for the night, which will be addressed later on in this list. Despite being friends with one another, Edge still fought Angle and won the King of the Ring.
There were no crowns for Edge, but rather a Stanley Cup-like trophy he would carry around. As the Invasion wore on, Edge would end up with both the Intercontinental and United States Championships at Survivor Series.
He would also see the attention that he was getting force Christian to turn on him. The next decade for Edge was an eventful one, as he won just about any and every title possible, including multiple world championships.
That all began for Edge, as it has for many before him, by becoming King of the Ring.
No Mercy 2004: Billy Kidman and Paul London Steal Awful Show

Part 1 of Paul London vs Billy Kidman

No Mercy in 2004 was a bad PPV. It was just one awful match after another.
But Paul London and Billy Kidman had a match with one another that was not awful whatsoever. London and Kidman were former tag team champions together who shared an emotionally charged storyline with one another.
After Kidman hit his Shooting Star Press on Chavo Guerrero and injured the fellow cruiserweight, Kidman began to feel anxiety about the move. It ultimately turned him heel as he battled his inner demons and fought back against London, who tried to talk him into doing the move again.
Kidman and London never exactly "main evented" a PPV in WWE, but their match at No Mercy was the highlight of the night with awful matches all around it.
If you wanted to see what wrestling was all about and had to watch No Mercy in 2004, here was your only hope; a good match with a good storyline between two superstars you didn't expect much from.
SummerSlam 2007: Cena and Orton Begin Great Rivalry

Part 1 of John Cena vs Randy Orton for the WWE Championship

John Cena and Randy Orton have had one of the great rivalries in this generation. Their string of great matches, which lasted for a few years, had to begin somewhere. Bring in SummerSlam 2007, which saw the first PPV bout between these two.
Cena had been WWE Champion for nearly a year at this point, while Orton was still walking out to Burn in My Light and calling himself the Legend Killer. Cena would injure his pectoral muscle a few weeks after this match, and Orton would be crowned WWE Champion twice in the same night at No Mercy, weeks after this match.
Cena and Orton have had so many PPV bouts over the years, and this isn't the best of them. But it isn't the worst. It was also the first, so the build from all of that began right here. As the match wears on, you can tell that this was far from their last fight against one another.
King of the Ring 2001: Kurt Angle Throws Shane McMahon Around

Kurt Angle vs Shane McMahon (Street Fight)

Kurt Angle had already fought twice in the night, but he was scheduled to take on WCW owner Shane McMahon in a Street Fight. Angle had three matches on this night and won twice, including this particular match.
This event had two things written all over it: Kurt Angle and WCW, both of which were on display in this match. Angle destroyed Shane McMahon, and McMahon showed how much of a beating he could take. Incredible spots came in this match, including the images of Shane McMahon being thrown through panes of glass.
It is a defining match for the toughness of Shane O'Mac and one of the more entertaining one-sided street fights you'll ever see. In some ways, it began the WCW Invasion, but I'll leave that true honor for another match on this list.
SummerSlam 1997: HHH and Mankind Start Event off Right Inside Steel Cage

Mankind vs Hunter Hearst Helmsley (Cage Match)

The SummerSlam in 1997 is easily the greatest PPV in the history of this building. Its opening contest was nothing short of entertaining. Hunter Hearst Helmsley and Mankind rekindled their rivalry inside of a steel cage match to begin the night.
This was the classic blue cage, which always is entertaining to watch. Helmsley had a chance a few minutes into the match to walk out of the cage, but he decided to punish Mankind even more. This would help make Mankind a real fan favorite.
Mankind and his other alter egos were very popular with WWE fans at the time, while Triple H was recently crowned King of the Ring and a rising star in the company.
D-Generation X was developing its early legs at the time. Chyna was an enforcer on the outside of the ring, which often wouldn't matter in a cage match. The bodyguard on the outside actually did get herself involved.
Still, Mankind would come out victorious in a great SummerSlam bout.
King of the Ring 2001: Austin Retains as WCW Invasion Begins

Stone Cold Steve Austin [c] vs Chris Jericho vs Chris Benoit

This is the match that, in many eyes, began the WCW Invasion. It was the main event of the 2001 King of the Ring. Stone Cold Steve Austin, the WWE Champion at the time, was facing both Chris Benoit and Chris Jericho, who were recently tag team champions with one another.
It was a Triple Threat bout with the WWE Championship on the line.
Austin had to fend off both men, who were essentially working together. It didn't look good for Austin, who had been going through some quirky changes with his personality. This was the Stone Cold Steve Austin who would hug Vince McMahon and attack women.
As Austin was out of the ring, seeming to not have a chance to retain the title, WCW's Booker T suddenly appeared, putting Austin through an announcer's table. Even with Booker T's presence felt, Austin managed to get into the ring and still retain his WWE Championship.
However, the message was sent. The Invasion of WCW was just beginning.
SummerSlam 1997: Bret Hart, with Help from HBK, Wins Last WWE Championship

Bret Hart vs The Undertaker [c] (Shawn Michaels as special referee)

It was the main event of SummerSlam and, to that point, the most memorable match of 1997. SummerSlam 1997 was nicknamed "Hart and Soul" for the clash between The Undertaker and Bret Hart.
Hart was a heel at this point, at least when he was in the United States. The pro-Canadian Hart proclaimed that he would win this match at SummerSlam or else. This match came with a stipulation, which most of the matches on this card did. The stipulation this time around: If Bret Hart did not win the WWE Championship at SummerSlam, he would no longer wrestle within the United States for the rest of his career.
To make things more interesting, the special guest referee of the match was none other than Shawn Michaels, a hated rival of Hart. To keep matters fair, Michaels was not to show preference to The Undertaker simply to have Hart lose the bout. Doing so would mean that Michaels would also not be allowed to wrestle in the United States again.
At the conclusion of the match, Michaels prevented Hart from using a chair. After Hart spit in Michaels' face, The Heartbreak Kid intended to hit Hart but missed and hit The Deadman. Determined to call the pinfall despite his mistake, Michaels struggled internally to count to three.
Hart was WWE Champion, his final reign with the title. Little did we know what he had in store a few months later at Survivor Series in Montreal.
SummerSlam 1997: Austin Breaks Neck, Wins Intercontinental Championship

Stone Cold Steve Austin vs Owen Hart [c]

It is the defining story of Stone Cold Steve Austin as a tough guy. Austin took on Owen Hart with the Intercontinental Championship on the line. Seeing as it was SummerSlam 1997, there was an intriguing stipulation to the match.
If Austin was to lose the match, he would have to kiss Owen Hart's ass. Seriously. Since Austin had never kissed anyone's rear end, be it literally or physically, you knew that this was going to be a victory for The Texas Rattlesnake.
There's just one issue that went on in this great match: Austin broke his neck. A piledriver from Owen Hart legitimately injured Austin and caused temporary paralysis. Realizing the issue, Hart wasted time by playing to the crowd.
Austin, still dazed and in bad shape, would roll up Hart, winning the title despite the legitimate injury. Austin would need assistance to get out of the ring and into the back. Austin would be forced to relinquish the title, as well as his Tag Team Championship, which he was holding at the time too.
Keep Reading