2013 NFL Free Agency: Buffalo Bills Should Sign Andy Levitre Before Jairus Byrd
June 14, 2012

Rick Stewart/Getty Images
Buffalo Bills left guard Andy Levitre has been told that there have been some preliminary talks regarding a contract extension, according to WGR 550's Joe Buscaglia. 
Speaking with Buscaglia after practice, Levitre stated,
"There have been some small talks, but I don't know how far along anything is," he remarked. "I don't know if they're just getting started or what not. There hasn't been any numbers thrown around or anything like that, so maybe just getting started." 
Levitre is entering the fourth year of his rookie deal that paid him $3.5 million, according to www.rotoworld.com. Drafted in the second round of the 2009 NFL draft (No. 51 overall) out of Oregon State, Levitre has elevated his game to become one of the top interior offensive linemen in the National Football League. He has started all 48 games in his three seasons, sometimes being forced to play left tackle and even center in addition to his "natural position" of left guard...
ProFootballFocus.com, a website dedicated to in-depth statistics, continuously has high praise for Levitre's play, writing:
Levitre's play is clearly going only one direction and if the Bills can provide him with some stability in where he lines up (though he proved himself adept at providing cover when needed) then there is no reason to believe that the Bills won't have one of the league's best left guard's on their hands. His +14.5 overall grade through those first six weeks was better than players like Evan Mathis, Carl Nicks, Marshal Yanda, and Josh Sitton … the only players who ranked higher than Levitre at guard for the full season.

Levitre's ability in pass protection at both guard and tackle cannot be questioned. Over the last two seasons, whether you look at our grades (+15.1) or the stats (35 total pressures allowed), he is amongst the elite pass protectors at guard. Combined with clear improvements in his in-line run blocking, and his consistent quality blocking in space, Levitre is ready to use the 2012 season to break into the NFL's upper echelon of guards.
On the other side of the ball, Bills free safety Jairus Byrd is also slated to become an unrestricted free agent at the end of the 2012 season.
Drafted with the No. 42 overall pick in the 2009 draft, the 25-year-old Byrd has quickly risen to the upper echelon of free safeties in the National Football League in just three seasons of play. 
Starting 40 games, he has racked up 228 tackles, two sacks, 21 passes defensed, 13 interceptions and has forced six fumbles. 
He has been a cornerstone of the Bills secondary since entering the league, and WGR's Joe Buscaglia has high praise for the ball-hawking safety, but also thinks it could be tough to re-sign him. 
Byrd has transformed himself in to a complete NFL safety. His nine interceptions in 2009 was certainly impressive. However, it's his instincts, recognition, tackling and the playmaking ability that showed through as a complete package in 2011. He was the best defensive player for the Bills throughout last season. I also believe he'll be the toughest player to re-sign for Buffalo. They need to start on him early on and not let the situation potentially affect his play throughout the season.
ProFootbalFocus.com also had extremely high remarks about Byrd, explaining
This was the year where Byrd established himself as one of the league's top safeties, with a season that earned him our third-highest grade of all his peers (+13.0). He broke up seven passes to go with his three interceptions, while only allowing 51.5% of passes into coverage to be completed. What's more, for a player who spends most of his time playing deep (84.1% of all snaps), he notched up 35 tackles in run defense, good for 16th of all safeties. He's a rare beast; a free safety who is active on every play.

Best Performance: Week 16 versus Denver (+3.3)

Key Stat: Missed one tackle for every 14.3 attempts; eighth-best of all safeties.
So why should Levitre be re-signed before Byrd? The answer lies in the monetary value at the position.
With ProFootballFocus' best guards listed as Carl Nicks, Marshal Yanda and Josh Sitton, who are relatively the same age as Levitre, we'll take a look at their salaries. All contract details are courtesy of www.rotoworld.com
Carl Nicks (27 years old): Signed a five-year, $47.5 million deal with the Tampa Bay Buccaneers.
Marshal Yanda (27 years old): Signed a five-year, $32.5 million deal with the Baltimore Ravens.
Josh Sitton (26 years old): Signed a six-year, $34.95 million deal with the Green Bay Packers.
Taking a look at these numbers, if Levitre keeps up his solid play throughout the 2012 season, he could be in line for a Nicks-like deal. It would be very wise to re-sign him prior to the season to a team and player-friendly contract in the $38 million range. If they fail to re-sign him, using the franchise tag on an offensive lineman is extremely costly, as the cap number for linemen is set at $9.383 million
As for Byrd's situation, Bleacher Report's own Matt Miller has him ranked as the No. 3 free safety in the league.  However, while I love the idea of Byrd being a top-three safety in the National Football League, I don't think many General Managers would.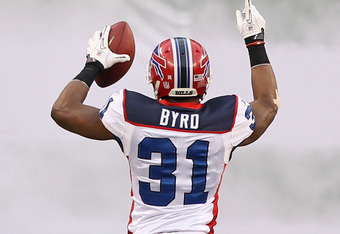 Al Bello/Getty Images
The contracts given to safeties are far more team friendly than those given to offensive linemen, as you will see in these deals recently given out to players similar to Byrd in production and age. 
Eric Weddle: Signed a five-year, $40 million deal with the San Diego Chargers.
Roman Harper: Signed a four-year, $25 million deal with the New Orleans Saints.
Dawan Landry: Signed a five-year, $27.5 million deal with the Jacksonville Jaguars.
As you can see, there is a big dropoff between Weddle's deal and Harper's. Byrd should command an amount in the $27 to 35 million range. 
However, it is far more important to get Levitre's deal done in the season mainly due to the franchise tag numbers. The tag for the safety position is $6.212 million, which means the front office at One Bills Drive could put Byrd's deal on the back burner until Levitre's is completed. Both are key pieces to the building going on in Orchard Park, but it is far more important to get Levitre inked first.