NBA Draft 2012: Cleveland Cavaliers Big Man Options
June 18, 2012

Chris Graythen/Getty Images
In the 2011 NBA draft, the Cleveland Cavaliers used the No. 4 pick on a power forward in Tristan Thompson. They also have a center in Anderson Varejao, who the team feels is a building block rather than a trade asset.
With that as our base, I do not believe that Chris Grant will use the No. 4 pick in the 2012 draft on either a PF or C.
I could be wrong, though. So with that, let's take a look at a few of the big-man options for the Cavs.
Thomas Robinson, Kansas
When you look at Robinson, it's tough not to be in awe of his impressive body. The dude is ripped; there's no other way to put it. At the combine, he only registered 5 percent body fat. That's impressive.
When you look at his game, what is he?
He didn't get major minutes until his junior year, when his stats took a big jump in large part because he was playing twice as many minutes: 31.8 MPG, 17,7 PPG, 11.9 RPG, .505 FG%.
The success that Robinson had in college was predicated on the fact that he busted his butt every minute, rebounded, played good defense, and basically out-athleted his opponents.
Sound like anyone you know?
That description sounds eerily similar to our No. 4 pick last year, Tristan Thompson.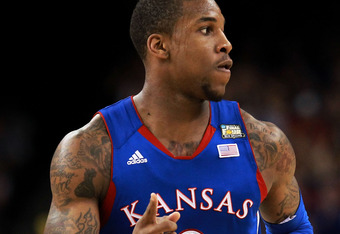 Ronald Martinez/Getty Images
He measured in at 6' 8.75" (with shoes) which is short for an NBA power forward who struggles to step away from the basket and hit a jumper. Oh yeah, that's also the exact same height as Thompson, who also struggles to shoot.
What Tristan does have on Robinson though is a two and half inch taller standing reach which allows him to play taller than his frame and average 1.5 more blocks per game in college.
The one thing that I see that Robinson really does better than Thompson is rebounding where he put up very impressive numbers, especially for college.
From an NBA stand-point though, I don't see Thomas Robinson as that much of an upgrade over a guy that the Cavs already have on the roster at the same position.
The only way I'd draft Robinson at No. 4 is if the Cavs already had a deal in place to trade Thompson for another lottery pick. Otherwise, it just doesn't make much sense to me.
Jared Sullinger, Ohio State
Sullinger, on the other hand, is a much different player than Robinson.
The former Buckeye bears the dreaded label of being a "below the rim" player, which is seldom seen as a good thing for a big man.
Sullinger is the same height as Robinson but with a shorter wing-span and a taller standing reach.
There's no real question who the better athlete is, just look at their bodies. But I found it interesting that while Robinson dominated Sullinger in the Max Vert category at the combine (35.5" to 31"), he had a lower Standing Vert (28.5" to 29.5").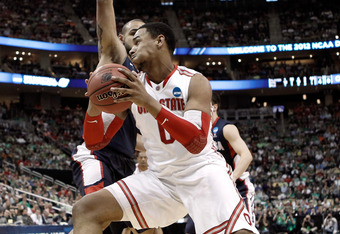 Jared Wickerham/Getty Images
It's also interesting to note that it was Sullinger who blocked more shots in college (1.1 to 0.9). Okay, so it's basically the same, but isn't it interesting that the player with the greater athleticism isn't benefited by it when it comes to blocking shots or jumping around the rim where you can't get a running start?
Look, I realize that in a dunk contest that Robinson can probably wipe the floor with Sullinger. But I'm not sure that Sullinger isn't the better basketball player.
Like Robinson, Sullinger is also a very good rebounder. Both players appear to have what many people call the "rebounding gene" which is a smart way of saying that they have a natural grasp and feel for rebounding the basketball.
What Sullinger has on Robinson, though, is the ability to step away from the basket and hit a mid-range jumper or even float out and knock down threes. He has a natural pick-and-pop game that would be nice to have with Kyrie Irving.
Robinson, and Thompson for that matter, is a pick-and-roll player who is best crashing toward the hoop and taking either a bounce pass or a lob and finishing with a thunderous dunk.
Sullinger can pick-and-roll too, but he just doesn't finish with a thunderous dunk typically.
There are two current NBA players that I think Sullinger could become: Kevin Love and Antawn Jamison (the non-old and broken down version that we watched in Cleveland the past two years).
Both are power forwards whose game is "below the rim" but can still rebound very effectively and are good jump shooters.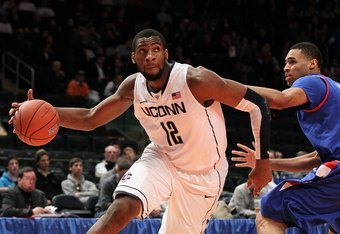 Jim McIsaac/Getty Images
I don't know that Sullinger can be as good of a rebounder as Love, but then again, who is? But the comparison is a good one.
Both played center in college and didn't measure great in the "athleticism" portion of the combine. Both were considered "short" and "heavy" coming out of college. But what both players are is good basketball players. And being a good basketball player usually translates to the NBA.
One more thing: Love only made 35 percent of his threes in college at UCLA but is now the reigning Three Point Contest champion. Sullinger was 40 percent (16/40) from three this past season. Just sayin'.
But for the Cavs, I think Sullinger would be a complementary piece because they want Thompson and Varejao as the starters. So I wouldn't take Sully at No. 4 if I were running the Cavs.
But...if they were to trade back up into the latter part of the lottery, I'd be more than happy to come away with Sullinger. Mark my words, he'll be a player in the NBA. And don't be surprised if he's better than Thomas Robinson.
Andre Drummond, Connecticut
Oh boy.
Let me start by saying that if you thought my glowing praise of Sullinger was because I'm a homer Ohio State fan, you should know that I'm actually a UConn fan.
So with that in mind let me say, as I have before, that I wouldn't touch Andre Drummond.
Yes, he's everything that you could ever ask or desire when it comes to physical abilities. His body is large and chiseled and he can jump and throw down ferocious dunks.
But remember when I said that Sullinger and Love where "good basketball players"? Yeah, that doesn't apply to Drummond.
What Drummond is at this point is a very athletic and large shot blocker (2.7 blocks per game). What he is NOT is a very good post defender, rebounder, and to say that he has no offensive skills is putting it nicely.
I've seen people who guffaw over Drummond refer to him as a "prototypical center." These people also often say that Varejao is a power forward. Just so everyone is aware, Varejao is actually taller than Drummond, who showed up at the combine with what must have been two-inch flats.
The difference in his height with and without shoes was the greatest of any player at the combine. (For most players it was a one-inch difference.)
I find it very intriguing that super-human Andre Drummond was out-rebounded (7.6 RPG) by "fat, slow, below the rim player" Jared Sullinger (9.7 RPG).
Besides the fact that Tristan Thompson has a Swiss army knife for post moves in comparison to Drummond, what he really lacks is seemingly desire. And that, frankly, scares the crap out of me.
If a guy is playing to supposedly earn himself a pay-check and doesn't work at all, how hard do you think he'll work when he's actually getting paid?
I watched a lot of UConn games last season. It's not that Drummond doesn't work hard some of the time...it's that he doesn't work hard most of the time!
I found it amazing that a player of his immense size could seemingly disappear for long stretches in a game.
Don't get me wrong, when he showed up it was impressive, with either a swatted shot into the fifth row or a rim-rocking dunk that threatened to bring the whole hoop down. He's like a solar eclipse. He doesn't come around often, but when he does, it's very impressive.
To say that Andre Drummond is a "project" is putting it mildly. It's not just his game that needs to be re-formed, it's his attitude and drive.
He actually said at the combine that he compares his game to Kevin Durant. This blows my mind! I'm not sure that he's even entirely aware that he shot below 30% from the free throw line last season.
As a coach, I've learned from experience that the most difficult players to coach are the ones that either don't work hard or that think that they're something they aren't. I'll take a lesser talented player who busts his butt and knows his role over the lazy, delusional super-athlete any day.
Let's put it this way: If Drummond is still on the board at No. 24, I'd take be happy to take him. But I don't think I'd touch him any earlier than that. And yes, I'm serious.
For all the reasons that I've stated I do not believe that the Cavs will go in the direction of selecting a big man at the No. 4 pick. Look for them to do that later in the draft, possibly at No. 24 where there should be a few capable big guys still available.
A couple names to watch for are the following:
Fab Melo, Syracuse
I'm not a very big Melo fan at all. The character is a huge issue for me and it's very obvious that over the past two years that the Cavs have been placing a premium on character.
But there's no denying that Melo is a talented player and getting him this late in the draft as a developmental back-up player could be a very good value.
Andrew Nicholson, St. Bonaventure
Nicholson is a stretch PF player in a similar mold to David West. And I confess that that's just about all I really know about the guy. I didn't catch many St. Bonaventure games this season; I apologize. But he's been moving up draft boards, so there must be something there.
Festus Ezeli, Vanderbilt
Ezeli possesses the prototypical 7-foot frame that you want in a center. He's also fairly athletic for a big guy and is a very good shot blocker.
At this point, he's mostly just a defensive player who you'd look at as a back-up. He needs quite a bit of work on his offensive game.
It should be clear that Ezeli, while a nice player, certainly is going to have some shortcomings in his game. Why else would a 7-footer stay in college for four years? Or why would he be projected as a late first/early second-round pick?
I'd be happy with Ezeli, but don't expect him to come in and start.
Royce White, Iowa State
There's some question about what position White will actually play in the NBA. He's only 6'8" which is a little short for a PF but his game could be very effective. He's a versatile player like a Boris Diaw who can play both in the post and facing up.
He's a good rebounder, of which I'm obviously a big fan. I saw him play a couple times and he certainly stood out as someone who worked really hard.
I'm not sure he'll be on the board at No. 24, but he will contribute right away in the NBA with how hard he plays. I like everything about this guy.
Oh yeah, he does have an anxiety disorder and suffers from a severe fear of flying. But whatever, no big deal.
Miles Plumlee, Duke
Just under 7 feet and pretty athletic, there's a lot to like about Miles Plumlee. But his game didn't usually shine at Duke and he was particularly over-shadowed by his younger brother, Mason, who's more athletic and flashy.
But Plumlee is clearly a guy who works very hard, despite not being as physically gifted as his brother. He won't go in the first round, I don't think, and wouldn't be a bad pick with one of those early second rounders.
You can follow Benjamin Flack on Twitter @ClevelandFlack.