Predicting the Fates of Cleveland Browns RBs Not Named Trent Richardson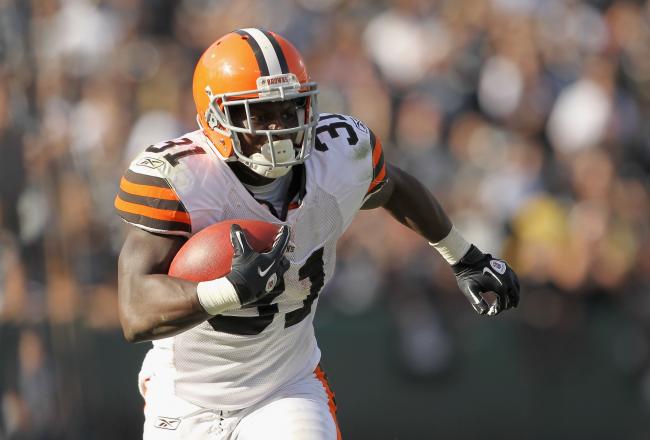 You'd think Montario Hardesty has the best chance to win the Browns' No. 2 RB job, but that's not the case.
Ezra Shaw/Getty Images
We all know that the running back getting the most carries for the Cleveland Browns this year will be first-round pick Trent Richardson. We all know the myriad of things Richardson brings to the table as the draft's top running back and we all know he's going to be a significant part of the Browns fielding a much-improved offense this year.
But Richardson is not going to be the only Browns running back getting carries this year. There are four other backs on the roster—Montario Hardesy, Brandon Jackson, Chris Ogbonnaya and Adonis Thomas—who are angling for carries.
So what to make of this? Well, first, it seems like the competition for Richardson's primary backup is coming down to Hardesty and Jackson, two players who had injury-plagued 2011 seasons. Jackson missed all of last year with a turf toe injury after joining the Browns as a free agent and Hardesty, who tore his ACL in 2010, ended up sidelined with a torn calf muscles in 2011.
In his final season with the Green Bay Packers, Jackson had 190 carries for 703 yards and three scores and 43 receptions for 342 yards and a touchdown, helping the team reach the Super Bowl before moving on in free agency.
Brandon Jackson's ability to catch passes (which Hardesty lacks) could propel him to the No. 2 spot on the depth chart.
With Richardson as the team's starting back, Jackson has no chance to repeat that 2010 success, regardless of how healthy he is. However, he does have the greatest chance of winning the No. 2 job.
Jackson is far more versatile than Hardesty, who was drafted to be a short-yardage and third-down complement to the now-departed Peyton Hillis. Jackson can catch passes, has the requisite shiftiness of a change-of-pace back and has experience in a West Coast system.
With Hardesty's short-yardage carries likely going to Richardson, Jackson appears to be the most capable Browns running back to reliably get handoffs and passes thrown his way this season.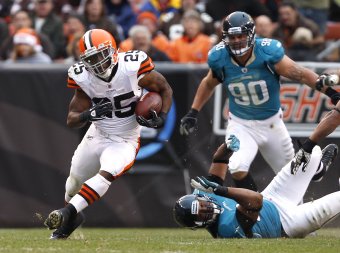 Matt Sullivan/Getty Images
Furthermore, there's no guarantee that Hardesty is yet healthy or can remain that way. Two years removed from knee surgery, Hardesty apparently still has a noticeable "hitch" in his step when he walks, reports Steve Doerschuk of the Canton Repository.
That's not a good sign for a player already surrounded by durability issues, and the Browns likely know that limiting his time on the field is the only way to keep him relatively fresh.
But Hardesty's spot on the roster is no guarantee. With the Browns less in need of a goal line or short-yardage back this year, they may go with someone with less injury history and more upside—Chris Ogbonnaya.
Ogbonnaya filled in for Hillis and Hardesty last November, starting four games. He racked up 334 yards on 73 carries (averaging 4.6 yards per carry) with one touchdown, coming against the Jacksonville Jaguars, upon whom he ran for 115 yards. He also caught 23 passes for 165 yards on the season.
The problem with Ogbonnaya is that he struggles in pass protection, but he is less of an injury risk than Hardesty and has a similar profile as a running back. It's quite possible that the Browns could find Hardesty and his $500,000 salary worth cutting from the roster if Ogbonnaya keeps impressing in training camp—and if he can become a productive member of their special teams unit.
How do you see the Browns' depth chart at RB looking this year?
Finally, there's Thomas. An undrafted rookie free agent, the odds are stacked against him on a team with four other backs, one of them being a nearly every-down starter like Richardson. However, if the Browns choose to move on from Hardesty, Thomas could find himself snagging a roster spot.
At 5'9" and 185 pounds, Thomas is different in size from the other Browns backs; that, coupled with his speed and elusiveness and the heaps of praise (via Canton Rep) he's gotten from head coach Pat Shurmur, seems to indicate that he'll have a chance to bump one of the other backs off the roster.
It's going to be a long shot, but the fact that he provides a different profile than the other three non-Richardson backs, as well as the same pluses that Jackson offers (shiftiness, good hands, speed) at a much better price, might convince the Browns to keep him around. At the very least, with the way he's managed to impress thus far, he'll earn himself a practice squad job.
Just one look at the stable of running backs the Browns have on their depth chart behind Richardson seems to indicate a team that will have far better success at running the ball this year.
All four non-Richardson backs will be hard at work during next month's training camp to stand out, impress and earn themselves the few carries and targets that won't go Richardson's way.
In my estimation, I see Hardesty as the odd man out, but things can certainly change as the summer wears on. Regardless of the depth chart behind Richardson, the Browns seem to finally have this running back thing figured out.
This article is
What is the duplicate article?
Why is this article offensive?
Where is this article plagiarized from?
Why is this article poorly edited?

Cleveland Browns: Like this team?