Ukraine vs France Euro 2012: X-Factors in Pivotal Group D Match
June 14, 2012

Martin Rose/Getty Images
France and Ukraine's Group D match features two of the better attacking nations in all of Euro 2012. You wouldn't necessarily expect it out of the Ukrainians but the Andriy Shevchenko-led attack found the back of the net twice against Sweden and created a number of other chances.
It remains to be seen if 35-year-old Shevchenko can keep pace, but he'll have to if the Ukrainian's are going to survive against the hungry French attack.
Les Bleus played to a disappointing draw with England in the group opener despite dominating the game from start to finish. They created more opportunities, put the ball around the woodwork, but couldn't find the back of the net more than once.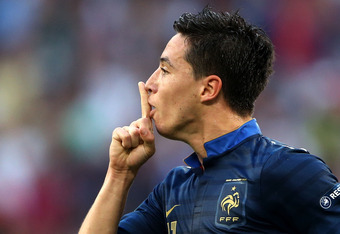 Scott Heavey/Getty Images
A win would be huge for this group (they haven't won in their last eight major tournament matches) but they need more than just a result.
The French squad is extremely temperamental. We saw them implode at the 2010 World Cup and now they're off to an inauspicious start at Euro. Things aren't terrible though, as they haven't lost yet, but they're about to walk into what is basically a home game in front of an inspired Ukrainian fan base.
Here are a few x-factors in this game.
Samir Nasri, France
The lone goal-scorer in the opener, Nasri was consistently on the move and created a number of opportunities. Unlike a number of players who've struggled to maintain form from their domestic teams to their national teams, Nasri didn't miss a beat.
The Manchester City striker is crucial to the French attack and will have to be big again today.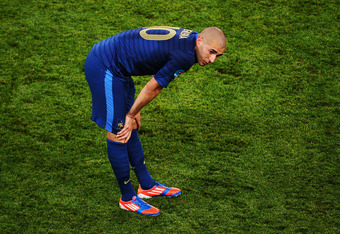 Lars Baron/Getty Images
Karim Benzema, France
This Real Madrid superstar put five shots on goal, but could've done better against England and Joe Hart.
He has a nose for the goal and should see more space to operate if the Ukrainians pay attention to Nasri.
He's simply too good to be kept off the score sheet again.
Philippe Mexes, France
Considered the weak link in the French defense, Mexes will have his hands full with Shevchenko.
He cannot be the guy who is caught ball watching, not with Shev flocking to the ball so regularly, and his performance could be huge for France today.
Andriy Shevchenko, Ukraine
Is there any way Shev can conjure up some magic again? He was brilliant against Sweden, but certainly won't sneak up on the French.
His team's success is tied directly to how much attention he attracts and what he can do with his opportunities.