Texas A&M Football: 5 Reasons Ricky Seals-Jones Will Commit to A&M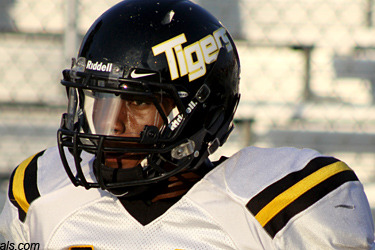 The nation's consensus No. 1 wide receiver prospect, Ricky Seals-Jones, has decommitted from the University of Texas. Leaving the program due to his desire to play basketball as well as football, or so he has said, Seals-Jones has opened up his options to programs like Baylor, LSU and Texas A&M.
For new head coach Kevin Sumlin and the Aggies, this opportunity is too good to pass up. It almost seems like fate that just as an air-raid offense enters College Station under Sumlin, the best wideout recruit in the country decides to take another look at Aggieland for his four-year home.
However, Seals-Jones won't exactly be an easy pick-up. With some of the nation's top recruiting powers chasing after him, A&M will have to step up their game to steal the five-star big-shot.
The Aggies do provide a great attraction for Seals-Jones, though. The new conference, new coaching staff and new attitude gives Texas A&M a unique aura many fans haven't seen in decades.
With many programs praying for Seals-Jones to commit to them anytime before National Signing Day, lets take a look at five reasons he will take his talents to College Station for the 2013 season.
Begin Slideshow

»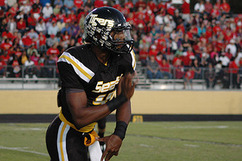 As of right now, Texas A&M has gained 21 commitments for its 2013 recruiting class. Despite a seemingly overbearing quantity for June, new head coach Kevin Sumlin has sought and acquired high-quality athletes, many of which rank nationally in the esteemed ESPN 150 (5) and heavily-touted Rivals250 (8).
Further proof of this comes in the overall class rankings where the Aggies place fourth and sixth at Rivals and ESPN, respectively. Put simply, Sumlin and his big-time scouting staff have been burning up the recruiting trail.
The Aggies' top prospect Derrick Griffin, however, has remained the centerpiece of this class since his commitment in early January. The 6'7" monster TE/WR is A&M's second oldest commit on the board, meaning that Sumlin, while having brilliant success overall, has failed to "reach" beyond where he was back when this all started up.
Ricky Seals-Jones' commitment to Texas A&M would place the spotlight directly on him.
At Texas, Seals-Jones would sit backseat to big-shot five-star QB Tyrone Swoopes. Over at Baylor, he would receive major attention yet be surrounded by a mediocre program. LSU has been, and will continue to be, a defensive-oriented SEC team. Where would that leave his receiving skills?
Seals-Jones signing with the Aggies would place him at the top of an already stellar class. He would, essentially, find the perfect compromise between being Baylor's "diamond in the rough" and playing second fiddle to Texas' top prospect.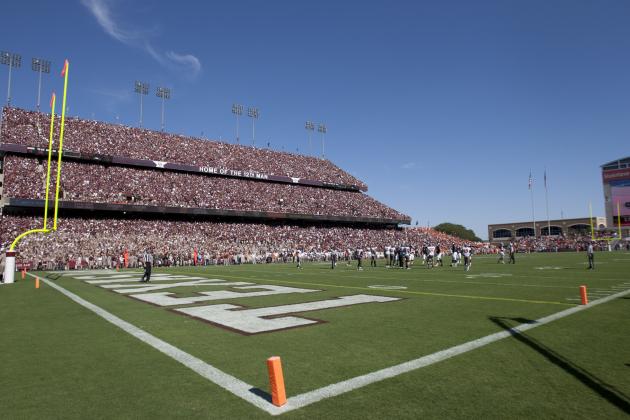 Bob Levey/Getty Images

The moment Seals-Jones steps onto Kyle Field, he becomes the best receiver on there, hands down.
In fact, Seals-Jones could step onto any field in the nation and immediately be the best wideout there without breaking a sweat.
No coach would bench that kind of talent, especially Kevin Sumlin.
The 6'5" 220 pound consensus No. 1 wide receiver would easily start for A&M his freshman season. Actually, I would be shocked if he didn't occupy the top slot on the WR depth chart the minute he signed in February.
The young man from Sealy, Texas has enough talent to bolster any offense to championship-contender status right away, so how does Texas A&M stand apart from all the rest?
One word: development.
The Aggies have a reputation for being able to mold recruits into deadly athletes quickly. In all honesty, A&M has been forced to develop players aggressively due to their heavy competition from Texas, Oklahoma and Nebraska on the recruiting trail, leaving them with classes that had something to be desired compared to their Big 12 peers.
While Seals-Jones has loads of natural talent to use, there is always room to improve. Sumlin and his staff will be able to mold Seals-Jones like no other program in the country, giving the Aggies a slight edge overall.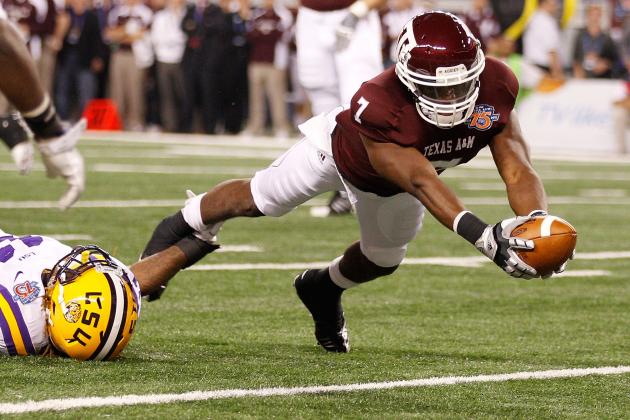 Chris Graythen/Getty Images

The SEC is, and will continue to be, the best college football conference in the nation. With the last six national titles coming from four SEC universities, there is no dispute.
The league has also produced the most NFL talent in recent years, dominating the draft on a consistent basis. Put simply, the SEC is a magnet for the country's top prospects; success during and after college is exactly what these high-caliber recruits are a looking for.
For most of the nation's best high school athletes, they look to compete at a college that is not only in the SEC, but also is close to home. The proximity factor can be huge for many prospects due to the fact that players enjoy knowing their parents can make a relatively short drive to watch them face off against the top programs in the country.
The state of Texas, known also as the nation's No. 1 ranked recruiting ground, now has just one university in the SEC. Texas A&M dominates the unique aspect of residing in the country's top conference while also sitting directly in the middle of the state's three biggest urban areas of Houston, Dallas-Forth Worth and San Antonio.
Ricky Seals-Jones hails from Sealy, Texas, a Houston suburb west of the biggest city in the state. It sits just an hour and a half from College Station, Texas A&M's home. The next closest SEC university is a five and a half hour drive to Baton Rouge, LA. Even his former commitment to UT-Austin is further away than Aggieland at just over two hours.
Basically, Seals-Jones committing to Texas A&M would allow him to be close to home while also having the ability to compete at an SEC affiliated university. There is literally nowhere else in the nation that can offer this top prospect that kind of opportunity.
Head coach Kevin Sumlin has been able to pick up some of the state's top wide receiver talent so far this offseason, snaring three-star Quincy Adeboyejo and four-stars Derrick Griffin and Laquvionte Gonzalaz.
Overall, the grouping forms one of the best WR corps in the country, hands down. With Griffin's size, Gonzalez's speed and Abedoyejo's all-around play, the Aggies would own the title of one of the best in the SEC right off the bat.
Adding the top WR in the country in Ricky Seals-Jones would just go to improve the already stellar position. Can you envision Seals-Jones, the 6'5" 220-pounder, lining up opposite the monster 6'7" 215-pound Griffin? The speedy Gonzalez sliding in at the slot and Adeboyejo substituting when Griffin moves over the tight end? The sight would be awe-inspiring.
The combination of talent would literally be unstoppable, let alone defendable. Even the experienced and dangerous SEC defensive secondaries would have trouble against this star-studded cast of receivers.
As for Seals-Jones, he would become recognized as the group's leader. On the front of all the magazines and newspapers featuring for the Aggies, Seals-Jones would stand as the centerpiece amongst the giant and the speedster.
He would be the in-house star at a position that is filled to the brim with them. Of the other three programs he is looking at, none of them can offer the kind of supporting cast that Texas A&M can in the WR corps.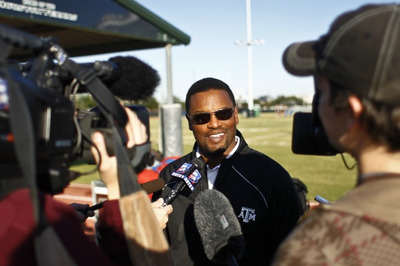 As Texas A&M transfers into the SEC for the 2012 season, they let former head coach Mike Sherman go and hired on Kevin Sumlin to take over the head coaching duties. The former Houston head coach was an interesting choice considering his offensive-minded reputation, especially with the Aggies entering a defensive-centric hell.
However, many A&M analysts, fans and writers have drifted into a shallow contentment with Sumlin. His spring practices were impressive, particularly on the offensive side of the ball. His past success was stunning, especially in the passing game. Maybe, just maybe, Sumlin was the right man for the job.
Basically, the young Aggie head coach loves to throw the ball, so expect a strong passing offense while he is in charge. Even his choice for offensive coordinator, Kliff Kingsbury, is representative of how Sumlin is aiming to make this A&M offense one of the best air-raid attacks in the country.
What does this mean for top WR recruits such as Ricky Seals-Jones?
It means this is the place to be. This is where you want to play football.
Sumlin is basically guaranteeing his future wideouts that they will be centerpieces in his overall offensive schemes. For a young man with talent like Seals-Jones, he gains coaching from one of the best in the nation while also receiving on-the-field experience week-in and week-out. As mentioned earlier, no coach, especially Sumlin, would bench a high-caliber prospect like Seals-Jones.
Seals-Jones won't find this kind of offense in any of the other programs he's looking at. Only in College Station could he stand out like no other receiver in the country.