Bengals LB Dontay Moch's Short Leash Got Even Shorter with Suspension
June 14, 2012

Joe Robbins/Getty Images
In May, it was revealed that Cincinnati Bengals linebacker Dontay Moch would be facing a four-game suspension for violating the NFL's banned substance rule. The punishment was formally announced yesterday, and represents the latest setback for the second-year player as he tries to finally get on the field and prove his worth.
Moch was drafted by the Bengals in the third round last year, but didn't play a game his rookie season after suffering a foot injury in training camp. That lack of playing time hasn't helped his development much—defensive coordinator Mike Zimmer told the Cincinnati Enquirer's Joe Reedy that "he needs to get better," adding:
"It's frustrating not just for that reason. He's been here for a year and he's making mistakes that he shouldn't be making. He's sat in the meetings and heard stuff but that's not the best way for him to learn. He has to get out there and do it. He's behind schedule that way."
The Bengals' linebacker situation is anything but stable right now. Rey Maualuga likely has the starting middle linebacker job locked down for the year, but may also be facing a suspension of his own. Manny Lawson will be back, Roddrick Muckelroy will return from his Achilles' injury, and undrafted rookies Vontaze Burfict and Micah Johnson have been impressive in camp.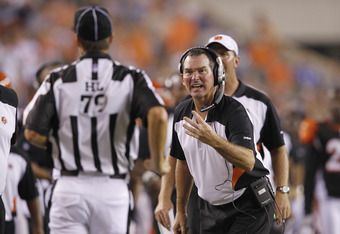 Joe Robbins/Getty Images
All of this gives Moch a good chance to win a starting job, but the fact that he's so behind and now faces this suspension makes his future in Cincinnati very much up in the air.
Clearly, Moch was on a short leash before the suspension was formally announced, if Zimmer's comments are any indication. And now, even if Moch manages to get up to speed during training camp, the four-game suspension will be a serious strike against his chances to win a starting job.
Moch is going to have to work twice, or even three times as hard when camp commences next month to keep hold of a roster spot. He'll need to fully dedicate himself to learning on the field, which he had little chance to do last year, and try to ignore the looming suspension while he does so.
Moch is literally standing outside of the Bengals' doghouse, with Zimmer trying to push the reluctant pup into it. He'll have to grow up and show some fight to stay out of there and keep his job, or else there are a number of younger, hungrier players more than happy to steal that roster spot.