Sweden V England: Roy Hodgson Must Pick Theo Walcott for Crucial Euro 2012 Match
June 14, 2012
Shaun Botterill/Getty Images
England is going into its second game of Euro 2012 against Sweden needing a full three points. A draw or loss does not necessarily knock them out of contention, but it certainly gives them the most difficult path possible to the knockout stage.
With that in mind, it's time for Roy Hodgson to put out a starting 11 that gives them the best chance of succeeding by waking up their docile attack. It means going with Theo Walcott.
Many were shocked to see Walcott on the bench to open their tournament against France last Sunday. The Arsenal winger had an exceptional campaign with the Gunners and looked like he had finally turned that corner from youthful talent to skilled footballer. The speed and technique that got him to this level is now balanced by a better understanding of the game and higher footballing IQ.
His 11 goals for Arsenal last season was not a career best, but his 13 assists were. It was an exponential growth that Arsenal's success this past season owed itself too. Walcott had to be honored by defenders as much for his passing as for his abilities in front of goal, making him the dual threat winger every manager desires.
That's everyone, except apparently, for Hodgson.
Going the predicted route of conservative against France, Hodgson played two rows of four, with James Milner and Alex Oxlade-Chamberlin on the flanks. It was a defensive philosophy, recognizing and respecting the amount of fire power the French have and their intricate style of play. Pushing on the counter was the way England would score from open play, which, in theory, is a perfectly reasonable approach. An opening loss would not only hinder their chances for progressing, but destroy the team's morale, which already teeters on the brink of uncertainty.
Milner, who is comfortable on either the right, left or center of the midfield was put on the right mostly to assist Glen Johnson in stopping Franck Ribery. Milner is by no means the best defensive player on the team, but he certainly would do (and did) a better job than Walcott, who plays only on the right.
But against Sweden, this kind of tepidness would spell disaster for the Three Lions. A defensive approach where they sit back and attempt to impose their physicality can be countered by an equally physical Swedish side that boasts Zlatan Ibrahimovich playing everywhere from the central-mid to central striker, and big bruising center-backs who will make their presence known in the box on set pieces.
Not to mention the lack of big men England have up front. It should not be too difficult of a task for the Swedish defenders to deal with the isolated forwards, which they need to do no more than lean on to throw them off their game.
The more balanced game England must play has to have a more competent attack and that means making Walcott the primary mover of the ball through the midfield as opposed to getting Ox in stride.
The left side of the midfield should not feature Ox at all from the start, as he is far too untamed for this kind of game. I saw it as almost insulting to include him on the 23-man roster with only a handful of average-at-best performances against "lesser" teams last season, over the likes of Daniel Sturridge and Adam Johnson, who have proven much more over a longer period of time.
The inexperience shone through vividly against France as nice buildups were routinely disrupted by a player who's sense of the game and situational awareness is not quite up to par. The stats support this as he completed only 75 percent of his passes and finished with a 6.4 rating according to whoscored.com, both second lowest of the starting players.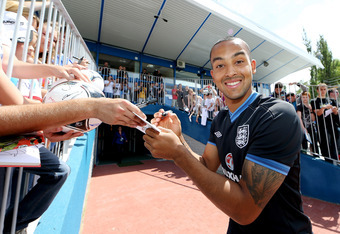 Scott Heavey/Getty Images
The Ox of today is the Walcott of 2006, a marketing tool to promote and excite fans to the future of English football. But unlike in 2006, Ox is playing, and the thin veil of fiction that is the foundation of all advertisements is being lifted, and he very well might have cost England a full three points.
Taking Ox out of the lineup and moving Milner to the left will open the right side up for Walcott to come in and make something happen. For those who think taking Ox out of the starting lineup is losing some sort of dynamism, this is untrue. All that is happening is moving it to the other side of the pitch, and improving the quality of the play.
With Wayne Rooney still unavailable, whatever goals England scores are going to have to be crafted through the midfield. Hodgson needs to put playmakers in the center of the pitch, not just individual talents. The connection between the forward attackers and the midfield must be precise if chances are to be generated.  Players out wide have to be better at making decisions than making cuts.
Walcott can do both better than anyone else on the roster.
For all my articles, follow me on Twitter: @thecriterionman