London 2012: 10 Things You Need to Know About US Swimmer Ryan Lochte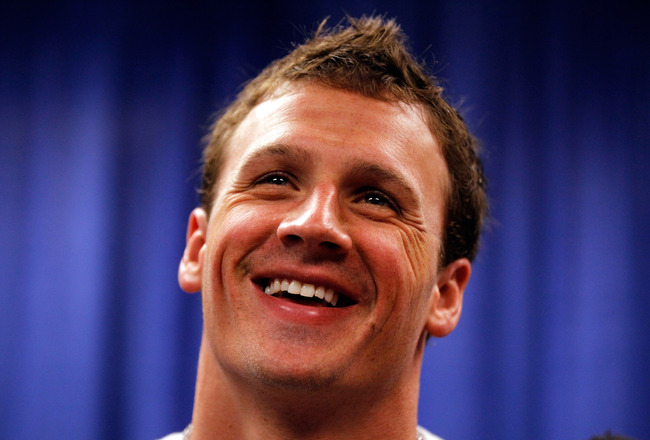 Streeter Lecka/Getty Images
Ryan Lochte is set to dominate in the pool at this summer's Olympic Games in London.
No one could forget the way Michael Phelps captured the attention of the world as he swam to Olympic history at the 2008 Beijing Games.
The games in London may be dominated by Lochte, who has emerged as arguably the best swimmer in the world.
Let's start with some of the basics on Lochte. He is a 27-year-old American who specializes in the backstroke, although he has become an excellent all-around swimmer.
He is a six-time Olympic medalist, with three of those medals being gold, two being silver and one bronze.
At last year's FINA World Championships, Lochte won five gold medals and one bronze. It is safe to say that Lochte was the best swimmer at the event, and he made a strong statement to the rest of the world.
Lochte promises to bring viewers on a journey this summer, and here are 10 things you need to know about the fun-loving American.
He Was the NCAA Swimmer of the Year Twice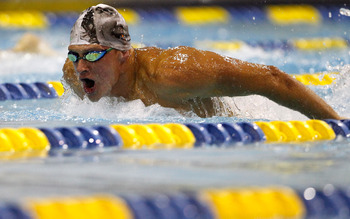 Streeter Lecka/Getty Images
Ryan Lochte won the prestigious NCAA swimmer of the year award twice while he was a student-athlete at the University of Florida.
As if that was not impressive enough, he also won seven national titles as a Gator. Not to mention that he competed at the 2004 Athens Games while still enrolled at Florida.
At the Athens Games, he won a gold medal in the 800-meter freestyle relay with Michael Phelps, Klete Keller and Peter Vanderkaay and captured silver in the 200-meter individual medley.
The head coach of the Florida swimming team at the time was Gregg Troy and he said the following about Lochte:
Ryan is probably the hardest worker we've had the pleasure of coaching at the University of Florida," Florida head coach Gregg Troy said. "He listens to instruction well and isn't afraid of taking on a challenge. The most amazing is that he is the same beach boy as he was when he first came in. Success has not gone to his head one bit.
Lochte proved that he was an elite swimmer while at the University of Florida and has only continued to improve since.
He Is the World-Record Holder in the 200-Meter Individual Medley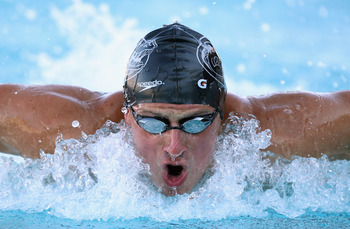 Ezra Shaw/Getty Images
Ryan Lochte set the world record in the 200-meter individual medley with a time of 1 minute and 54 seconds at the 2011 World Championships.
In that race, Lochte set the first world record since the high-tech body suits were banned. In fact, Lochte topped his own mark to set the new world record. He is so dominant in the 200-meter IM that his biggest competition is himself.
Another notable aspect about that race was who Lochte beat to win the event. He overcame none other than the legend that is Michael Phelps, who finished second to Lochte.
Look for Lochte to give his world record a serious run at the 200-meter IM this summer in London.
He Is Fun-Loving and Laid-Back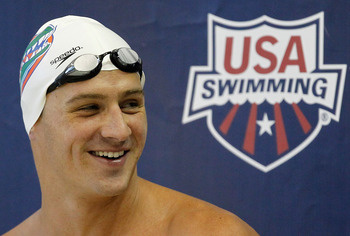 Streeter Lecka/Getty Images
Ryan Lochte is about as laid-back as a world-class athlete could be. He gives his mother a lot of credit for shaping him into the swimmer that he is today, because she never forced him to swim.
In youth sports today, it is entirely too common to see a child playing a sport that they are being forced to compete in. This often leads to the young participants hating the sport that they are playing, which ultimately stunts their development as an athlete.
Lochte was never forced to swim so he never took it too seriously. This allowed him to grow into the sport, and when he finally started taking it seriously during his junior year of high school, it was his decision.
According to guardforlife.com, he said the following about how much he loves swimming:
"I told everyone I will stop swimming once I stop having fun. And honestly, I don't see that ever happening," Lochte said. "I'm having so much fun with swimming, it's a blast."
Lochte has attributed his laid-back style as a key reason for his success and considering how successful he has been, no one should question him.
He Has Some Cool Sponsors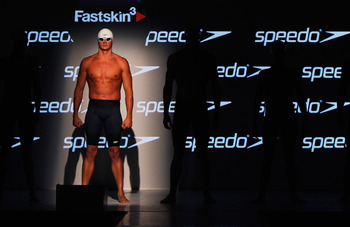 Mike Stobe/Getty Images
Ryan Lochte is a good-looking, world-class athlete who is going to be competing on a worldwide stage this summer.
So clearly there are going to be quite a few companies that want to endorse him. Lochte has been endorsed by Gatorade and Speedo for years but he has recently partnered with some new companies.
He is now endorsed by Nissan, Mutual of Omaha, Gilette, Ralph Lauren and AT&T as the Olympics loom in the not-so-distant future.
According to Fortune.com, Locthe is set to make $2.3 million this year due to his strong team of sponsors.
Both Gatorade and Speedo will pay him a substantial bonus if he meets their medal bonuses, so there is potential for Lochte to make even more money this summer.
He Has a Tatoo of the Olympic Rings on His Right Bicep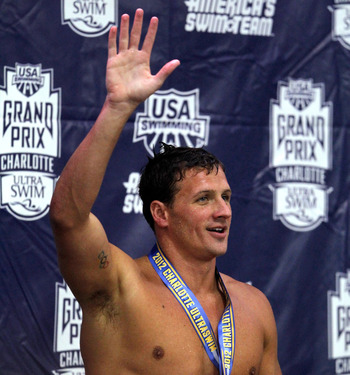 Streeter Lecka/Getty Images
How important are the Olympics to Ryan Lochte?
Just look at his right bicep and that question is quickly answered. He loves the Olympics so much that he had the Olympic rings tattooed onto his arm.
It certainly makes sense, as the Olympic Games have given Lochte an opportunity to do what he loves on the biggest stage in all of sports.
He is a battle-tested Olympian and will look to become an even bigger Olympic legend this summer in London.
His Grill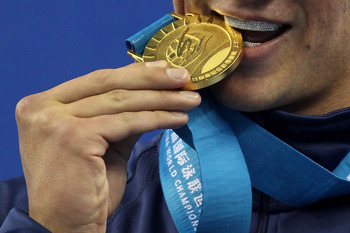 Clive Rose/Getty Images
During an interview with Yahoo, Ryan Lochte said Lil Wayne as his favorite musical artist, so that could be the reason that Lochte has worn a grill on many occasions.
Considering that Lochte is almost a lock to be on the medal stand this summer, the world should know about his grill and expect to see it multiple times.
He Has Won Three Straight Golden Goggle Awards
Noel Vasquez/Getty Images
Ryan Lochte has won the last three Golden Goggle awards in the Male Athlete of the Year category.
In doing so, he tied Michael Phelps for most victories who won the award in 2004, 2007 and 2008.
He won last year's award for his performance in the 200-meter individual medley at the 2011 World Championships.
If Lochte has it his way, then he will win the award for the fourth time later this year.
He Is Not Afraid to Face Michael Phelps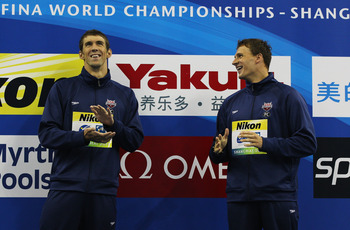 Quinn Rooney/Getty Images
Ryan Lochte and Michael Phelps have long been friends, but now they are the two best swimmers in the world.
This summer, Lochte is expected to outperform Phelps and steal the spotlight that Phelps monopolized at the 2008 Beijing Games.
According to Yahoo Sports, Lochte said the following about how Phelps has helped his development:
"I wouldn't have gotten this (award) if it weren't for Michael," Lochte said during the Golden Goggle Awards show…"He pushes me everyday and I push him. We have a great sportsmanship and rivalry."
Don't think that he has too much respect to beat Phelps though, as he said the following about his current mindset about racing against his friend:
Once I was able to beat Michael, it gave me a motivation, an edge. I told myself, I can do this. Once I beat someone, they won't beat me again.
The stage is set for this epic rivalry to have one more chapter, and the entire world will be watching.
He Has a Passion for Fashion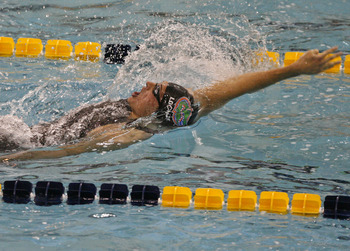 Mike Zarrilli/Getty Images
Ryan Lochte has a strong passion for fashion and he owns 130 pairs of shoes. Also, the grill that he wears after races is a fashion statement in itself.
Lochte also designed the flip-flops that are currently being sold by Speedo.
The director of marketing at Speedo said the following to The New York Times:
He wanted green, he wanted bling. He likes to make a statement when he walks onto that pool deck.
Once Lochte decides to hang up the goggles then he might have a career in fashion. In the short-term, it is important that know how much fashion means to Lochte, as he is sure to care about what he is wearing throughout the games.
Lochte will definitely have a big say in what he is wearing, and you can bet that his wardrobe will be trying to send a message to the world.
He Loves Fast Food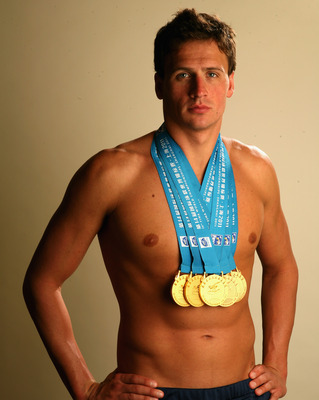 Ezra Shaw/Getty Images
Ryan Lochte is not that different from the average American, other than world-class athletic ability that is, as he used to eat a lot of fast food.
Lochte said the following about his eating habits:
As I grew up I never concentrated on what I was eating, all the way up to 2008. I would have McDonald's or other fast food for lunch and dinner every day. I thought then I need to start eating more healthily — salads with protein and carbs. I make that a big part of my training schedule.
Once Lochte cut out the fast food, he emerged as arguably the best swimmer of the world and has finally been able to beat Michael Phelps in the pool.




Keep Reading