LA Kings Parade 2012: Stars Who Will Captivate Fans During Celebration
June 14, 2012

Christian Petersen/Getty Images
There are a number of L.A. Kings players that have the ability to captivate fans during the parade, and it would seem that the partying has just begun. The Stanley Cup playoffs are a grind, and now that it is over the players can relax and let off some steam.
There are players on this roster that have been known for doing this during the season. Now with a reason to have a party, things are going to get silly in Los Angeles for a little while. The Kings have never won the Cup before this year, ending a 45-year dry spell.
Mike Richards and Jeff Carter were bounced out of Philadelphia together, and the rumors circulated that their partying had gotten out of control. There was wide speculation that their "off the ice" ways had caught up with them. If Richards and Carter were partying before a Cup win, imagine what they are doing now.
Mike Richards was the captain, and Jeff Carter was a 40-goal scorer. These are not the kind of players that you simply dismiss. The Kings hit a home run by getting these two, as they are both very good hockey players.
Goaltender Jonathan Quick has every reason to be in a joyful mood these days. He just carried his team to a Stanley Cup championship. He won the Conn Smythe trophy as the most valuable player in the playoffs, and he is up for the Vezina Trophy, a regular season award that goes to the league's top goalie.
Quick is only 26 years old, and he has many reasons to be playful during the parade and ensuing celebrations that will spread out over the summer. He has emerged as one of the league's best goalies, and the numbers he put up in the playoffs were other worldly.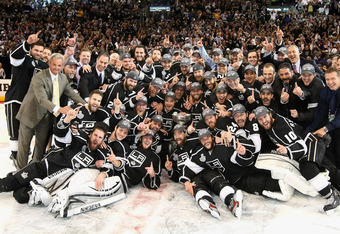 Christian Petersen/Getty Images
Anze Kopitar is all Hollywood, the perfect mix of mystery and looks. He has captivated fans with his dazzling play on the ice, and the 2012 NHL playoffs have been his coming out party as NHL fans across the United States and Canada have come to see what kind of player Kopitar really is.
Dustin Brown is the team's captain, and at one point earlier in the season it was rumored that he was going to be traded from the Kings, as it looked like they weren't even going to make the playoffs. Brown was a very sought after commodity.
Brown had an incredible playoff run, leading his team in goals and points. He finished tied with Kopitar with eight goals and 20 points and they both were +16 during their Cup run. Brown went from the trade block to a captain of a Stanley Cup winner.
Drew Doughty is another young player that has a reason to want to get the party started. He is 22 years old, and he also had a great playoff run. He led all defensemen in the playoffs with 12 assists and 16 points. Did I mention that he is 22? What would you and I be doing at 22 if we were in his shoes?
The Kings roster is loaded with young players, but they have a few veterans as well. Some of the older players that have won the Cup for the first time are really the guys to look out for when it comes to the parade and the ensuing celebration.
Willie Mitchell is 35 years old and Simon Gagne is 32 years old. They are both first time Cup winners. Mitchell and Gagne are in the running to be the most entertaining of all Kings during their celebration, and that is saying something when you look at the players on this team.
When you mix young players like Dwight King and Jordan Nolan, both 22 years old, into a parade atmosphere, anything can happen. Put them together with a few well known partiers and a massive reason to celebrate, and it is something that could be wildly entertaining.
Stanley Cup parades are always a spectacle, but a parade in Los Angeles is really something to behold. There is no telling what will go on during this celebration, but it will no doubt go down in history as one of the most celebrated Stanley Cup championships ever.