Can Jimmy Graham Become the Best Tight End of All Time?
June 14, 2012

Prior to Wednesday night's announcement on the NFL Network there were two tight ends left to be unveiled on list of The Top 100: Players of 2012, the Saints' Jimmy Graham and the Patriots' Rob Gronkowski.
Since Gronkowski was listed at No. 21, by process of elimination Graham is considered one of the top 20 players in the NFL and the league's best tight end.
We'll have to wait to see just how high the players have ranked Graham.
Graham caught 99 passes last year for 1,310 yards and 11 touchdowns. The 99 receptions led the league among tight ends, but Graham finished 17 yards and six touchdown catches behind Gronkowski.
Gronkowski didn't seem to mind his placement, even though he set NFL records for receiving yards, touchdowns and multi-touchdown games by a tight end, and even said he watches film on Graham to get tips.
Now that Graham is the top tight end in the NFL, how does the start to his career stack up against some of the greats at his position?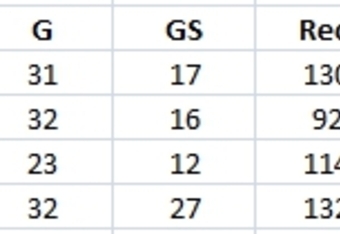 It's not necessary to leave the division to compare the first two years of Graham's career to arguably the best tight end to ever play, Tony Gonzalez.
Graham's career has blasted off to a much more prolific start. Now longevity and continued success remain the key to continue having Graham's name mentioned with that of Gonzalez and Kellen Winslow.
Gonzalez has been a 12-time Pro Bowler and hasn't played less than 15 games in a season since he became a starter in 1998. His 13,338 yards over the 15-year career means he's averaged 889 yards per season. With 95 career touchdowns, Gonzalez averages just over six scores per season.
Graham, with just two years of experience, has averaged 833 yards per season and eight touchdowns, although the 2011 season shows far more upside to those numbers. If Graham can stay healthy for 13 more years, his numbers may look eerily similar to one of the greats in Gonzalez.
But what if the rest of Graham's career looks like 2011 instead of an average of his first two seasons? With 12 more years like 2011 Graham could crush every tight end record on the books and take the title of best ever.
Graham just has to stay healthy… and keep Gronkowski is his rear-view mirror.