Tottenham Hotspur: Levy Must Appoint Right Man or Spurs Will Fall Further Behind
June 14, 2012

Michael Regan/Getty Images
And that's the end of that chapter.
After almost four years at White Hart Lane, Harry Redknapp's tenure as manager of Tottenham Hotspur has come to an end in disappointing circumstances (via the the BBC).
As was the case with Martin Jol's sacking in 2007, it has been a failure to secure Champions League football that has essentially caused Redknapp's downfall.
Much of the speculation surrounding his departure has suggested Tottenham's inability to hold onto third place having once enjoyed a healthy points advantage over Arsenal caused particular ire in the club's boardroom, especially seeing as Spurs's capitulation came in the midst of so much talk in regards to Redknapp getting the England job.
If that is true, it does beg the question would Redknapp still be in the job if Chelsea had not taken their Champions League spot by winning the competition last month? If they were that angry, would even Spurs winning their last two games and regaining third in the last possible moments of the season (as they could have done had they won, not drawn at Aston Villa) have appeased the board?
Those answers will probably be never known, though Redknapp himself has told the BBC he believes Spurs would have sacked him even if fourth had ensured Champions League football.
What is clear is Tottenham are once again on the hunt for a new manager. Though how long this process will be is uncertain, they may even already have a candidate in mind.
Whoever it may be, chairman Daniel Levy has an important decision to make.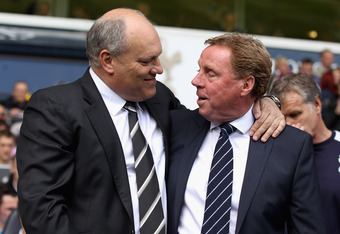 Clive Rose/Getty Images
In his statement to the club's official website on the decision to remove Redknapp from his job, Levy says that "Harry arrived at the Club at a time when his experience and approach was exactly what was needed."
Now what is evidently needed in his view is a manager who can secure Champions League football on a yearly basis.
Levy said as much in his annual end of season message, writing: "It is a mark of our progress and the quality of our squad that each season we now look and expect to be competing at the top of our game."
But in his and the board's belief that Redknapp is not the man to do this, the chairman has put enormous pressure on all concerned to get this appointment right, or risk the wrath of a fanbase whose expectations will only rise with this decision.
Not in the sense that Tottenham's supporters are delusional enough to believe their club has the right to be in the top four (an impossibility in an increasingly competitive Premier League), but in that Spurs have decided they can do better than a manager who was already doing a very good job.
Whoever comes in now must deliver almost immediately both a standard of football that has come to be expected in recent years at the Lane, and compete for a top four place and silverware straight away this season.
Positively for Levy on this front, Spurs is an attractive a job as it has been for a long time, and will be of interest to a standard of manager that could feasibly improve upon the standards set by Redknapp (and indeed Jol in the years before, excluding Juande Ramos' year in charge).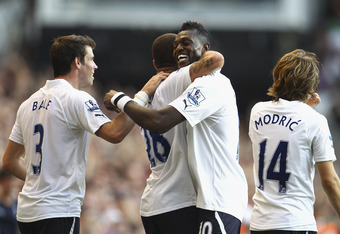 Julian Finney/Getty Images
Still, they cannot afford to get this one wrong, as they did with Ramos. If they do all the momentum that has been established in recent years could be lost, and with clubs like Chelsea and Liverpool looking awfully determined to re-establish themselves, it could become an arduous process getting back to this level.
The man appointed will have pressing tasks to deal with almost straight away.
Some will pose a headache, like the futures of stars like Gareth Bale and Luka Modric, who will need some convincing that Spurs are a club capable of fulfilling their own ambitions.
But other areas present an immediate opportunity for the new man to shape the squad, bringing players of his own liking to add to a group that remains essentially very strong, with some promising academy players to call upon too.
Re-inforcements are definitely needed in defence, whilst at least two quality strikers (possibly including a returning Emmanuel Adebayor) will be needed to augment remaining forwards Rafael van der Vaart, Jermain Defoe and Harry Kane.
Whatever is decided in relation to Bale and Modric may have an impact on what is spent here, but regardless of that there should be funds to bring in players.
At the time of writing, Oddschecker considers David Moyes the favourite for the job with other names being touted including Roberto Martinez, Andre Villas-Boas and former Spur Jurgen Klinsmann.
But in one last concession to the past before eyes are firmly fixed on the future, it is Redknapp's own evaluation of his time at Spurs with which we will end things.
"The people who support Tottenham had a lot to smile about in the last four years, I think they were proud to be Tottenham fans. That's the most important thing to me."
While Redknapp has his flaws, ones that have contributed to this situation, on the whole he has been good for Tottenham Hotspur Football Club.
Whoever replaces him will do well to match that achievement.