NL Best of the Night: Matt Cain Pitches Perfect Game, 22nd in MLB History
June 14, 2012

What a year it's been for Matt Cain.
He had already pitched two of the best games in the majors this season. On April 13, he held the Pittsburgh Pirates to one hit over nine innings, striking out 11 batters. He followed that up in his next start by battling Cliff Lee in the best pitching duel of the year. Cain went another nine full innings, allowing just two hits to the Philadelphia Phillies.
But Cain topped himself—and just about every one of his pitching peers—with his performance on Wednesday night. Facing the Houston Astros, the San Francisco Giants' right-hander threw a perfect game, striking out a career-high 14 batters. 
Not only did Cain throw a perfect game, but he may have thrown the best perfect game ever. Going by Bill James' Game Score metric (explained here by Fangraphs) that rates a pitcher on innings pitched, runs, hits, strikeouts and walks, Cain had one of the four best performances in major league history. 
An average Game Score would be 50. Cain compiled a Game Score of 101 on Wednesday, tying Sandy Koufax for the best mark in a perfect game. The only pitcher to ever tally a higher Game Score was Kerry Wood, when he struck out 20 batters in 1995. 
Cain's perfect game is the second in the major leagues this season, and the fifth no-hitter. 
Of course, a no-hitter almost always comes with an outstanding catch to preserve the gem. Cain's was no exception. In the seventh inning, the Astros' Jordan Schafer hit a ball deep into the right-center outfield gap. It looked like a sure hit, far out of the reach of center fielder Angel Pagan and right fielder Gregor Blanco.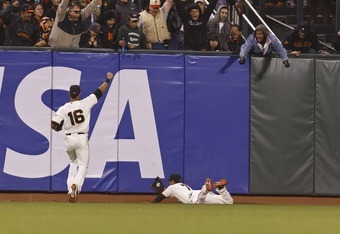 Jason O. Watson/Getty Images
But Blanco sprinted into the gap, and with his back to home plate, dove onto the warning track to make the catch. Plays like that tend to indicate that it's going to be a special night at the ballpark. 
Watch video of the catch here.
Cain has always been a quietly great pitcher, overshadowed on his own team by Tim Lincecum and hurt by his lineup's lack of run support. A cursory glance at his numbers from last year, for example, finds a 12-11 record.
Not great, right? But we know better than that now. Cain was among the best in the NL in ERA, WHIP (walks and hits per innings pitched) and opponents' batting average.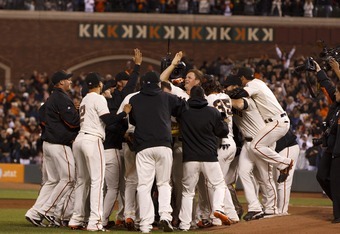 Jason O. Watson/Getty Images
Before the season, Cain cashed in big time, signing a six-year, $127 million contract extension. Not only did it cement his status as one of the best pitchers in baseball, but the contract is having ripple effects throughout the sport.
Just ask the Phillies if it's affected their negotiations with Cole Hamels. Or the Milwaukee Brewers with Zack Greinke. 
But with his perfect game, Cain showed that he is indeed the standard that current pitchers should be measured against. His contract carries status, but his performance brings affirmation. Now he has a slice of perfection to show for it.
We just hope everyone outside of the Pacific time zone stayed up late to watch Cain's gem. It was one of the best you'll ever see.
Follow @iancass on Twitter