Netherlands vs. Germany: Tactical Analysis of Euro 2012 Group B Clash
June 14, 2012

Christopher Lee/Getty Images
Germany's clinical approach to football reigned supreme once more as the Netherlands, despite finally bagging their first goal of the tournament, were plunged deeper into trouble.
Die Mannschaft turned in a performance of the highest quality, showing aggression, class and skill against a good Dutch team.
The game saw two almost identical formations being used here, as both managers opted for the 4-2-3-1.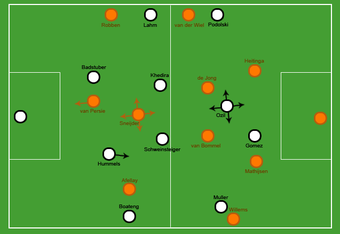 The battles were out on the flanks as both teams packed the middle of the pitch with holding players. As such, both Wesley Sneijder and Mesut Ozil drifted wide of centre to find space.
In fact, both playmakers were all over the pitch, running their respective offences. They are the best in the world in that position.
Robin van Persie played on the shoulder of the defence and, had he found his Arsenal form early on, could have had three to himself by halftime.
Germany vs. Jetro Willems
Germany locked onto Netherlands' weakness fast and exploited it. Young Williems showed against Denmark that he is far from positionally assured and continued that theme here.
Ozil and Thomas Muller would double up on Germany's right and pull Willems out of position with their superior movement. This opened up a channel between Joris Mathijsen and the left-back—a channel Mario Gomez was more than happy to drift in to.
With Mark van Bommel double-covering Ozil and Nigel de Jong worried about Sami Khedira, Bastian Schweinsteiger had all the time in the world to slot an easy pass straight to Gomez's feet in a danger area.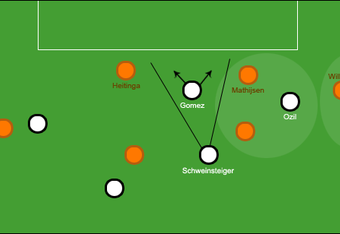 Both of Germany's goals came from good play on the right initially, causing the Dutch back line to readjust. Gomez always finds the space.
Two Critical Differences
Both teams used similar styles and similar formations for this game, but one crucial difference was there to see: Germany have ball-playing holding midfielders; Netherlands don't.
Bert van Marwijk's team place a large amount of stress on Wesley Sneijder to do pretty much all the work when it comes to creating opportunities. He drops deep to pick up the ball, initiates one-twos and drifts wide to help his wingers.
This, however, inevitably ends up with him on the edge of the penalty box trying to slot Robin van Persie through with a dinky ball.
Germany's first goal came from Schweinsteiger's excellent ball into Gomez. That kind of ball, one that travels 15 yards or so before finding its intended target, was utterly absent from the Dutch game.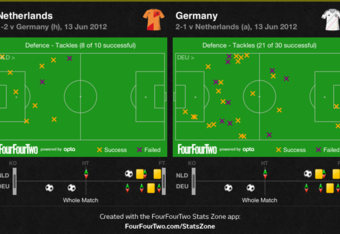 The one time they did create anything from deep, van Persie travelled with it and walloped a consolation goal for his team.
Secondly, where was the bite from the Dutch team? They were simply passengers when off the ball, and even de Jong wasn't his destructive self.
Germany, on the other hand, provided aggression and grit to supplement their wonderful passing game. They literally stomped their authority on this game, despite having less possession overall.
Conclusion
Although the scoreline doesn't show it, Germany are head and shoulders above Netherlands.
Their holding players are fully-rounded in both attack and defence, while their full-backs are capable at both ends of the pitch.
If Netherlands do go out at the group stage, they need to jiggle their lineup around. Someone like Kevin Strootman must come in for Mark van Bommel, and a new right-back must be found. Erik Pieters had better be fit for the next big tournament.
Germany look very, very strong. In fact, out of all the performances so far in the tournament, this was the most dominant. They looked excellent in every department. Faultless.
Graphics courtesy of FourFourTwo Stats Zone.